MercadoLibre Shrugs Off Amazon With Brick and Mortar Focus
This article by Carolina Millan and Ed Hammond for Bloomberg may be of interest to subscribers. Here is a section:
"Our way of competing successfully is to look at all the players, see what they have that we think is great, and if we can incorporate that into our model, we will, but mostly play our game," Galperin said while speaking from Allen & Co.'s Sun Valley conference, and musing about this year's global soccer championship. "As you know, we're looking at the World Cup -- we try to play our game and use our advantages and our strengths. We have a great network of sellers, a great brand, we're investing very heavily, we already have scale."

Shares of MercadoLibre gained as much as 2.2 percent in New York, the most intraday in almost a week.

It's also betting on brick and mortar investments to improve service. Earlier this year, MercadoLibre announced a partnership for a 38,000-square meter distribution center in the greater Buenos Aires area. In addition, the company, which is providing loans to merchants and payment processing platforms, is working on a digital wallet that offers returns on whatever money is left, Galperin said. Infrastructure -- notoriously poor in Latin America -- is also a priority.
Many commentators have made the point that social media companies require broadband by either mobile or fixed line access to generate income from a market and therefore have an interest in promoting internet access. However, that is equally true of online retail. Wherever ubiquitous internet access is available online retail flourishes, along with its disruptive influence on the conventional retail sector. These maps of the internet's pervasiveness may be of interest.
More than any other company Amazon has bet on scale over profitability. By being both the first mover, and the company most committed to pioneering the online shopping experience, Amazon has carved a completely dominant position in the online sector.
Its forward multiple of 143 versus an historic P/E of 281 is a reflection of continued expected growth albeit from already high expectations and the pace of the advance has picked up pace since October. It broke out to another new high today and a clear downward dynamic would be required to check momentum.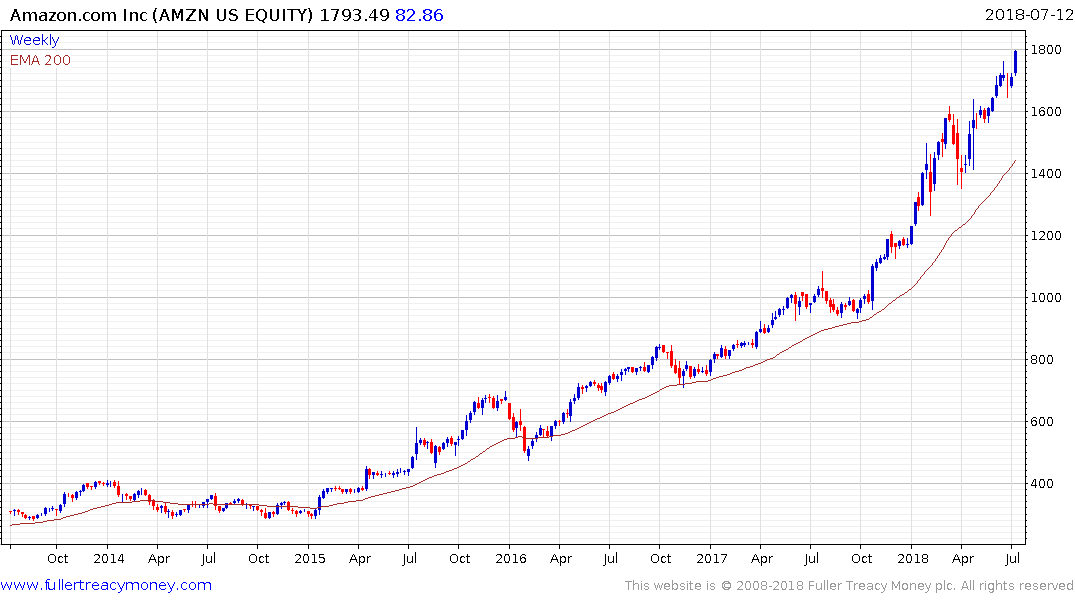 Considering the fact that overextensions relative to the trend mean are to be expected considering the history of the trend then a sustained move below the 200-day MA will be required to signal more than a near-term peak.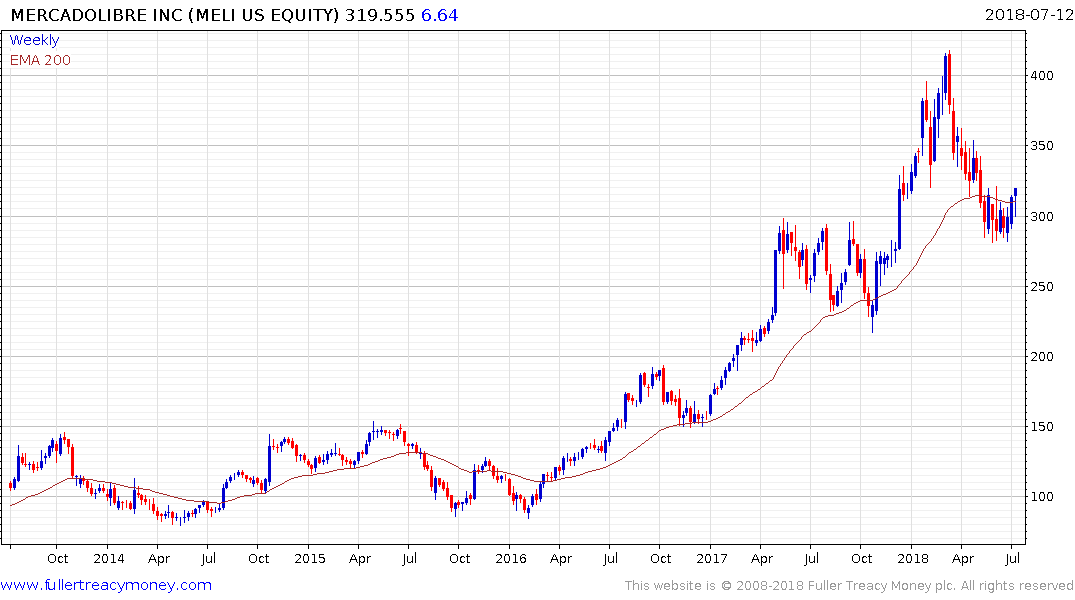 Mercadolibre is currently firming from the region of the trend mean and a sustained move below $275 would be required to question the support building hypothesis.


Alibaba is also firming from the region of the trend mean and there is the prospect it will attract additional investor interest should China go ahead with permissioning for depository receipts.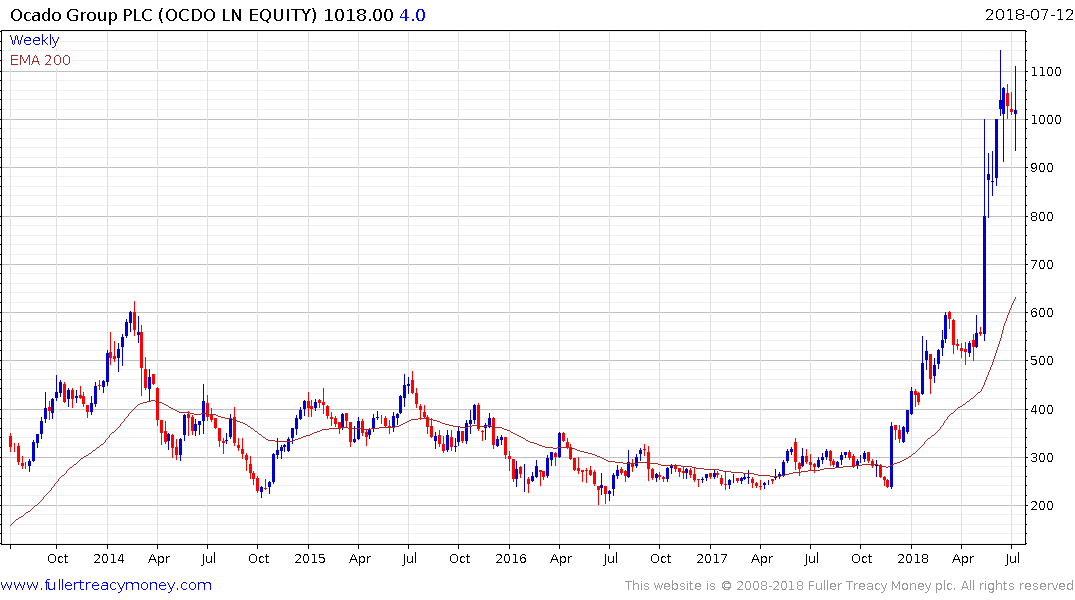 The UK's Ocado has surged higher this year following deals it has done to sell its automated warehouse solutions to conventional supermarket groups. The share has paused following its breakout but has so far held its progression of higher reaction lows.
Back to top