Mazda, Suzuki, Yamaha Motor apologise for improper vehicle tests
This article by Maki Shiraki for Reuters may be of interest to subscribers. Here is a section:
Mazda Motor Corp, Suzuki Motor Corp and Yamaha Motor Co improperly tested vehicles for fuel economy and emissions, the Japanese government said on Thursday, revealing fresh cases of compliance failures by manufacturers.

The results came to light after the government had ordered the automakers to check their operations after revelations of improper testing at Subaru Corp and Nissan Motor Co last year.

The conduct of automakers globally has come under intense scrutiny after Germany's Volkswagen AG (VOWG_p.DE) admitted in 2015 to installing secret software in hundreds of thousands of U.S. diesel cars to cheat exhaust emissions tests, and that as many as 11 million vehicles could have similar software installed worldwide.
There was news last week that Japan's capital expenditure had hit a new forty year high. It was led by auto manufacturers boosting investments in battery manufacturing infrastructure. There is now a possibility Japan's emissions cheating scandal could be larger than Germany's although Toyota is, so far, a notable exception from the above list.
There are strict emissions rules set to come into effect in many parts of the world over the coming years and these emissions revelations highlight the fact auto manufacturers have been struggling with delivering on the current targets not to mind tighter regulations. Little wonder then that big bets are being taken on electric and hydrogen fuel cell vehicles.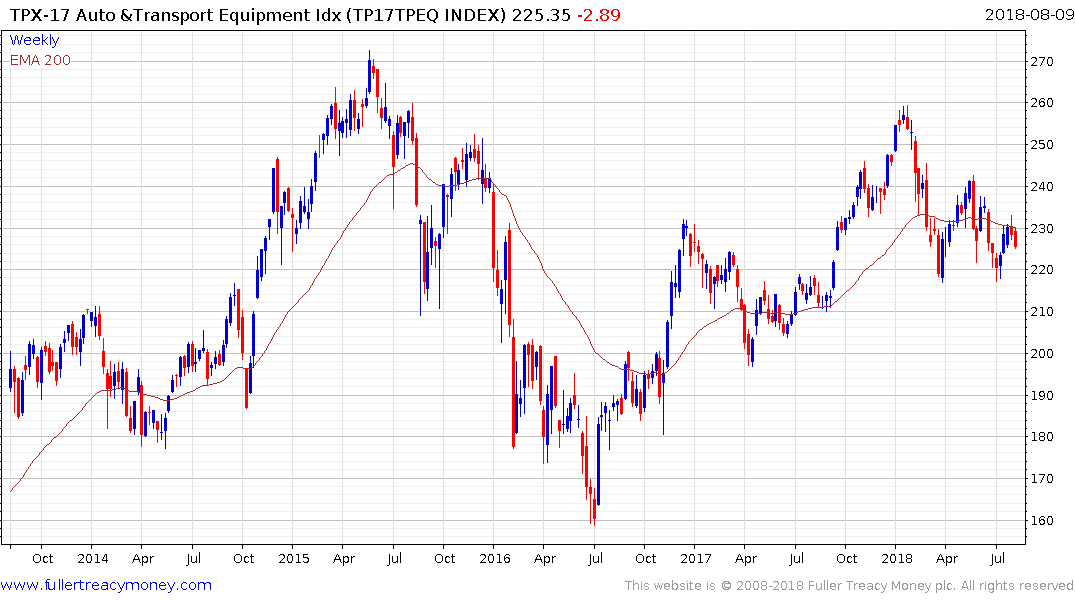 The Topix-17 Automobiles and Transportation Equipment Index hit a medium-term peak above 250 in January and encountered resistance in the region of the trend mean two weeks ago. A clear upward dynamic will be required to question check potential for a further test of underlying trading.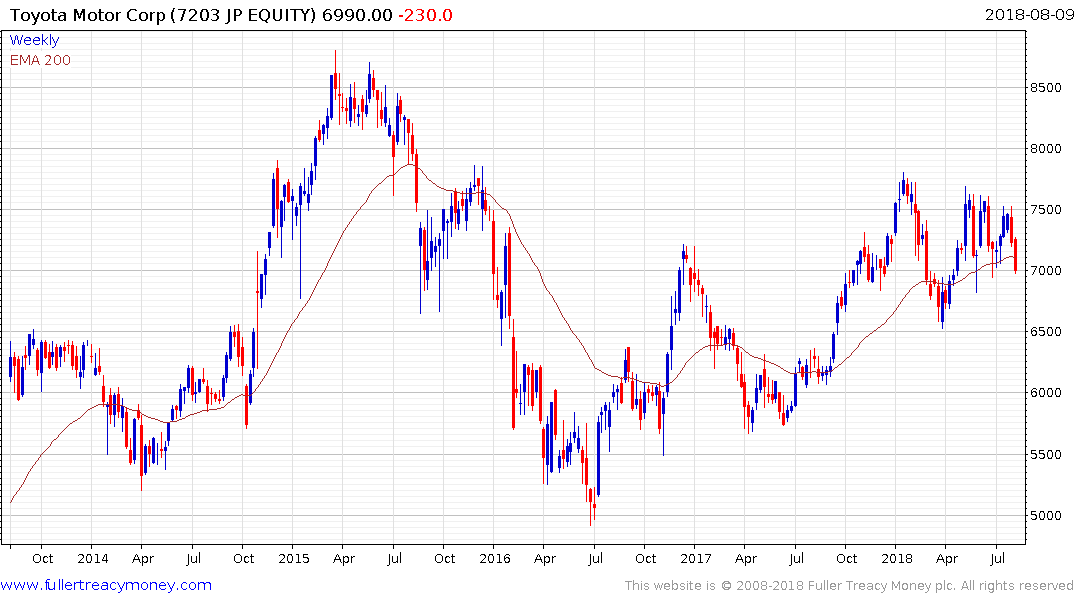 Toyota's stock shares a similar pattern. The company has spent more on pioneering hydrogen fuelled cars than just about any other company. News this week that a group at Australia's Commonwealth Scientific and Industrial Research Organisation (CSIRO) have road tested an ammonia to hydrogen process for fuel cells holds out the prospect that this technology is approaching more realistic uptake potential. Here is a link to an article on newatlas.com. Considering the challenges emissions cheating represent, this sector is worth monitoring.
Back to top