Mars and beyond: Modular nuclear reactors set to power next wave of deep space exploration
This article from Gizmag may be of interest to subscribers. Here is a section:
Rated at 10 kilowatts, the Kilopower reactor puts out enough power to support two average American homes and can run continuously for ten years without refueling. Instead of plutonium, it uses a solid, cast uranium 235 reactor core 6 inches (15 cm) in diameter. This is surrounded by a beryllium oxide reflector with a mechanism at one end for removing and inserting a single rod of boron carbide. This rod starts and stops the reactor while the reflector catches escaping neutrons and bounces them back into the core, improving the efficiency of the self-regulating fission reaction. Until activated, the core is only mildly radioactive.

And

The design is modular, so the self-contained reactor units can be hooked together to provide as much power as and where it's needed, whether it's a deep space probe or a Martian outpost. According to Lee Mason, STMD's principal technologist for Power and Energy Storage at NASA Headquarters, the technology is "agnostic" to its environment, allowing it a wide range of applications.
Small, modular and safe reactors, that can be produced in factories and transported to their destination via regular roads represent perhaps the only feasible future for the nuclear industry. The fact NASA is moving ahead with such designs, for its own purposes, increases the potential similar programs will find utility in the wider economy.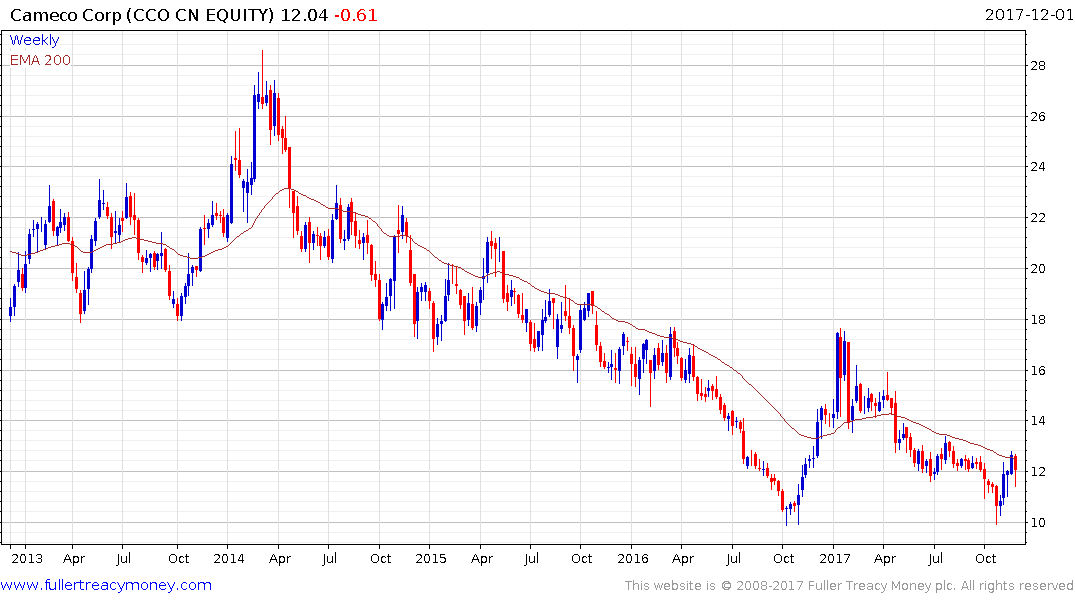 The closing of Cameco's flagship MacArthur Lake mines because prices were too low represents a meaningful catalyst for the market because uranium prices are now about as low as they are likely to get. To put it another way, the current level represents the marginal cost of production.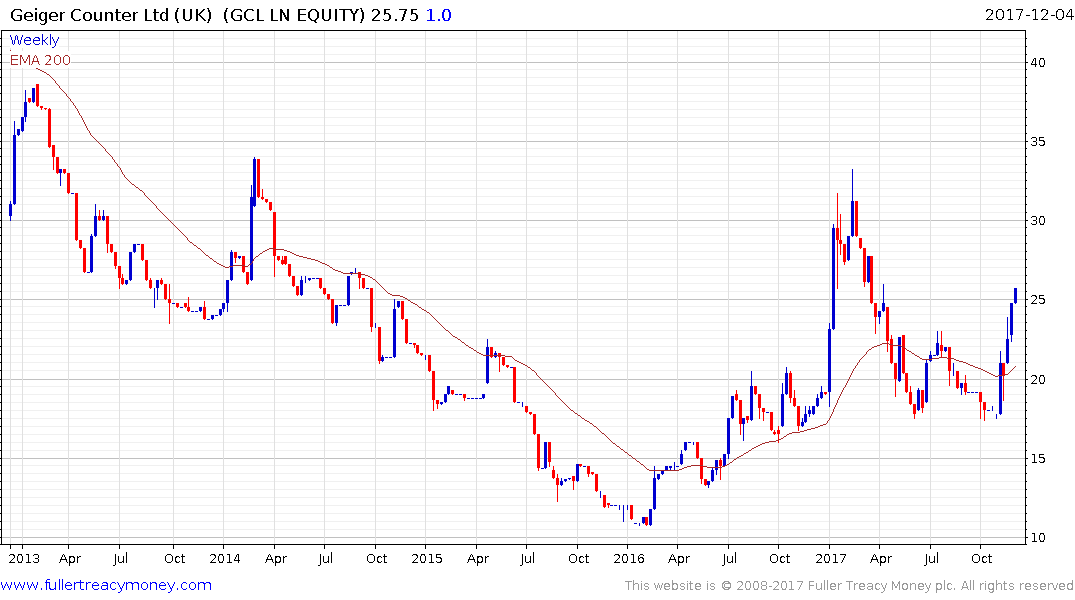 UK listed Geiger Counter Ltd is trading at a discount to NAV of 7.92% and continues to extend its rebound from the region of the trend mean.

Cameco has successfully broken back above its trend mean and will need to hold the move if the benefit of the doubt is to be given to additional upside.
Back to top