Market Contagion Tests Xi's Resolve on Evergrande, Property Curbs
This article from Bloomberg may be of interest to subscribers. Here is a section:
The response so far has been largely limited to the People's Bank of China, which injected a net 90 billion yuan into the banking system on Friday. It added another 100 billion yuan on Saturday.

Evergrande has around $300 billion worth of liabilities, more than any other property developer in the world. It's a whale in China's high-yield dollar bond market, accounting for about 16% of outstanding notes. Some $83.5 million of interest on a five-year dollar bond comes due Thursday, and failure to pay within 30 days may constitute a default. Evergrande also needs to pay a 232 million yuan ($36 million) coupon on an onshore bond the same day.

Evergrande's shares lost as much as 19% on Monday, briefly taking its market value to the lowest on record. The stock closed 10% lower.

"With policy makers showing no signs of wavering on property market deleveraging, the latest headlines regarding Evergrande likely suggest that housing activity may deteriorate further in the absence of the government providing a clear path toward an eventual resolution," Goldman economists led by Hui Shan wrote in a Sunday note.
The world is finally waking up to the contagion risk represented by China Evergrande. The big question which still needs to be addressed is who owns the company's debt. Most of the $300 billion in US Dollar bonds were sold to international investors, while there is also an undisclosed sum in off balance sheet liabilities.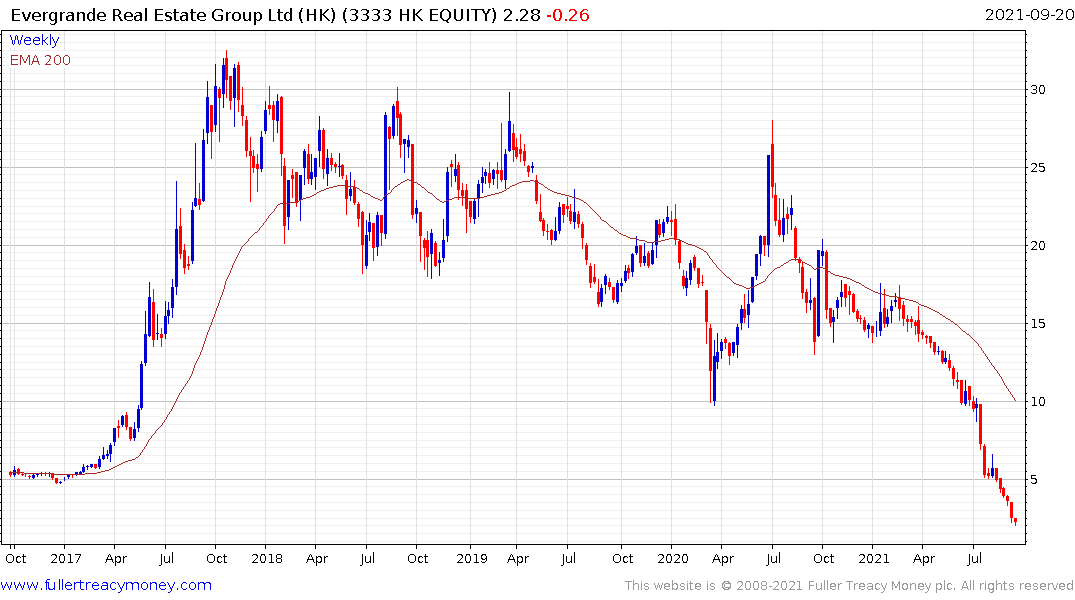 I've been saying for years that the entire purpose of China allowing foreign access to its financial markets was to ensure that its problems were internationalized. It's the most basic form of insurance; sell your risk, so the pain is spread out, and your enemies are as discomfited by your trouble as you are. Blackrock and Goldman Sachs are likely to learn that lesson eventually.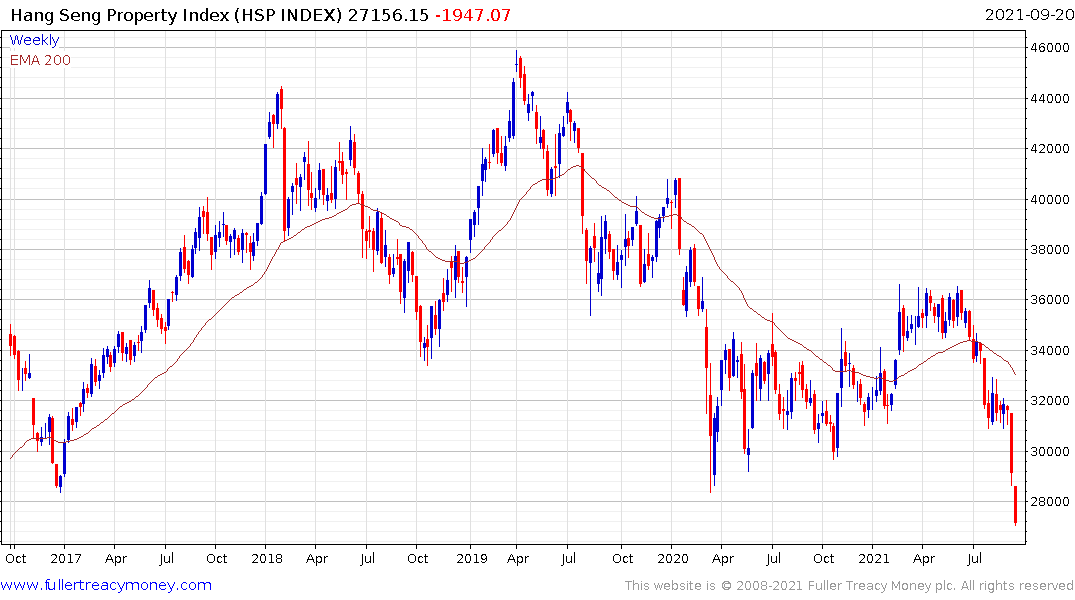 The cross-shareholdings of banks and property developers mean that isolating the trouble of one major issuer to that company's stock and debt is virtually impossible. The Party may now believe that piercing the property bubble is in the national interest but the risk of a policy mistake is non-trivial. The threat of extending property market prohibitions to Hong Kong further introduced the spectre of contagion to the Hang Seng Property Index today.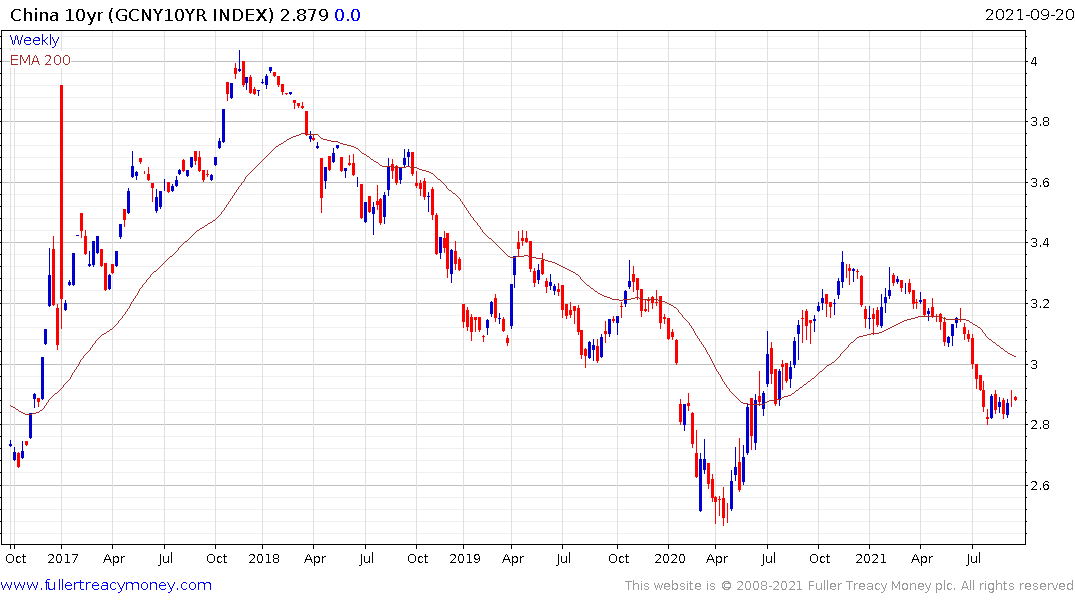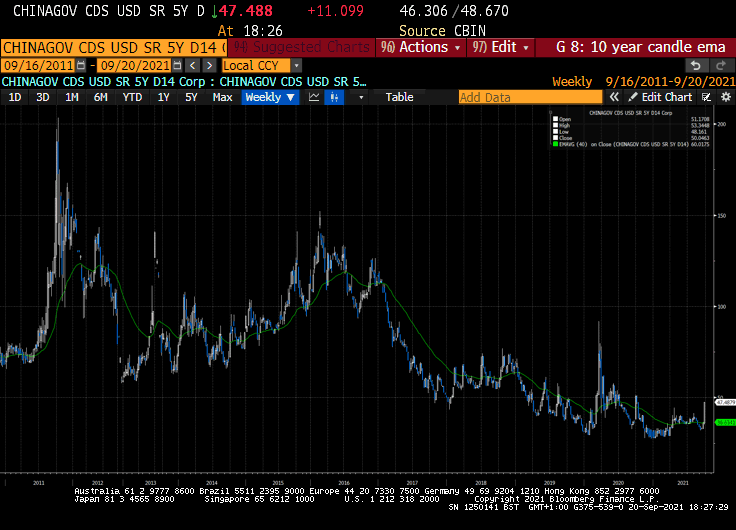 Meanwhile China's bond yields continue to compress as investors price in deflation risk; even as CDS spreads pop on the upside from historical narrows.
Ultimately, the only way to curb speculation on land and property in China is with a property tax. Local governments need to have access to additional revenue streams beyond selling land. Without a property tax, efforts to curtail speculation will be fruitless and bubbles will continue to be inflated despite occasional setbacks such as what we are seeing at present.
Even as Evergrande's default risk mounts, the potential for efforts to limit contagion are also growing. It's only a question of how bad will they allow things to get before more substantive efforts to inject liquidity are enacted.
Back to top