Mario Draghi Is Watching His ECB Rate Hike Slip Over the Horizon
This article by Brian Swint and Carolynn Look for Bloomberg may be of interest to subscribers. Here is a section:
With the economy threatened by trade tensions, European politics and temporary factors such as a slump in German car production, "we'll probably have to wait until the June meeting before the dust has settled," said Carsten Brzeski, an economist at ING. "However, it will require a very benign outcome on all these risk factors to see Draghi hiking rates before he leaves office."

UBS Group AG President Axel Weber, a former ECB policy maker and Bundesbank president, said at the World Economic Forum in Davos this week that the ECB has already missed its chance to normalize policy in this cycle.
Mario Draghi is unlikely to raise rates during his tenure at the ECB and his successors are going to have equally grim prospects of returning to normal monetary policy
There is a very real possibility the Eurozone is locked in a deflationary spiral similar to Japan's where successive bouts of renewed optimism are crushed by the debt overhang, morbid demographics social programs and taxation that deter innovation and credit growth.
Against that background, the only route to renewed credit growth is to clear the Augean stables with debt forgiveness and a foreclosure process. The foreclosure process was possible in the USA because it is a single homogenous country with social transfers from prosperous to less prosperous states. That de-levered the consumer and the banking sector which was a necessary condition for renewed economic vigour.
The questions outstanding issues with the size of the transfers of debt to the public purse and the leverage taken on by the corporate sector is the next big headache. Meanwhile, the Eurozone is still dealing with the last headache and will have less firepower to deal with the next recession.
Even if the ECB is following the USA's trajectory then the potential for QE3 has to be the base case.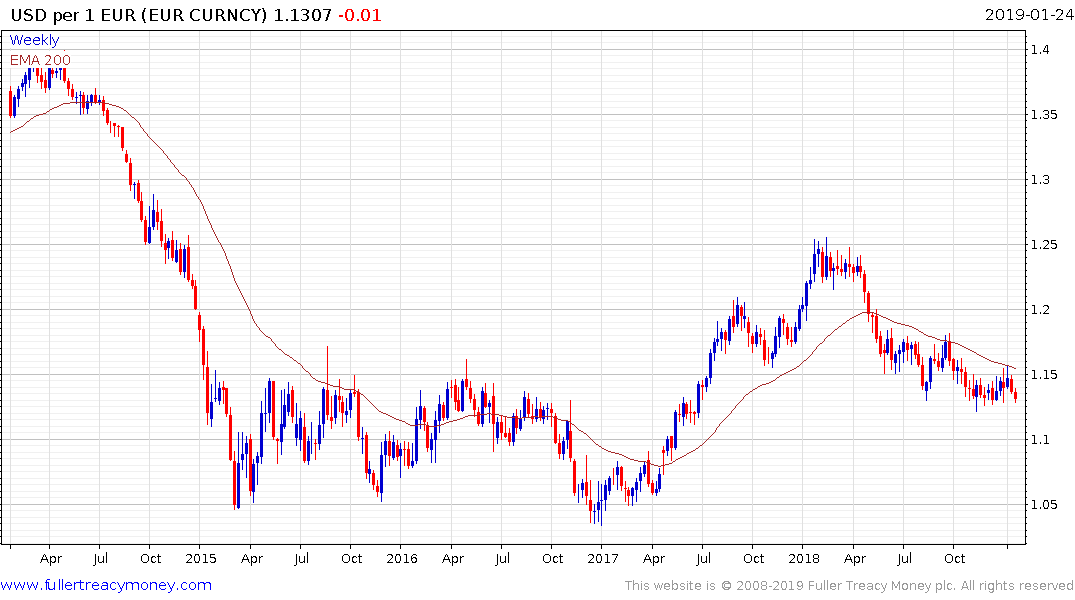 The Euro remains in a downtrend and that is likely to persist for as long as the Federal Reserve is reducing the size of its balance sheet.
Back to top