Lumber Frenzy Drives Up Home Prices as Suppliers Can't Keep Up
This article from Bloomberg may be of interest to subscribers. Here is a section:
"Each part of the supply chain has different issues," said Brooks Mendell, chief executive officer of forest-supply researcher Forisk Consulting in Georgia. "There is not a sawmill that I have talked to in two years that has all their slots filled."

This is a big turnaround from just two years ago. In 2019, weak demand prompted a steady stream of output reductions and mill closures from companies including Canfor Corp. and West Fraser Timber Co., the world's biggest lumber supplier. That left producers flat footed amid the unexpected demand boom as the pandemic kept people indoors, sparking a wave of do-it-yourself upgrades, full-scale renovations and purchases of bigger homes.

When demand held strong throughout the winter, typically a seasonal lull, mills didn't have time to replenish their inventories. Now, stockpiles are "extremely lean" as North America heads back into peak building season and lumber prices will stay high "for the foreseeable future," Devin Stockfish, the CEO of Weyerhaeuser Co., said last month.

Lumber futures have more than tripled since the pandemic started, touching an all-time high of $1,157.50 per 1,000 board feet on Monday.

The mountain pine beetle infestation has been a growing problem for more than a decade but production cuts, the closing of mills and lack of a skilled workforce are more immediate problems. The only way to encourage more workers into the sector is to offer higher wages. That suggests we have seen a step change in the price of lumber and the breakout will be sustained in just the same way as it was in 1993.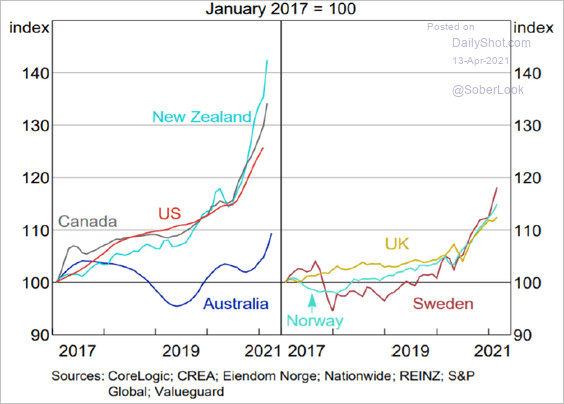 House prices are surging higher all over the world. That's a direct reflection on the easy money policies of governments and central banks. Property is a limited supply asset and with the price of construction rising the cost of building is rapidly beginning to outstrip the price of second-hand homes. That's putting upward pressure on the cost of construction which represents a significant tailwind to prices.
Bull markets tend to end when supply increases and interest rates choke of speculation. That's not apparent at present in the housing market. In the property market, the announcement of the beginning of construction of the world's new tallest building is generally a sign of significant froth.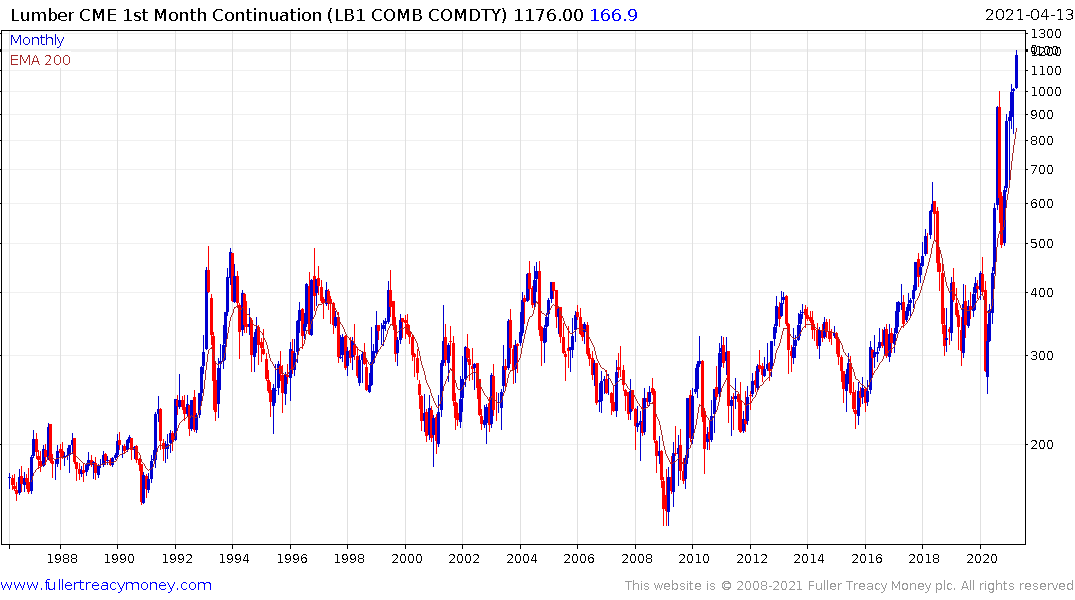 As lumber continues to accelerate it is inevitable that margin rates will be increased to stem the advance. There are only about 2900 open contracts so any effort to squeeze speculators is likely to mark a medium-term peak.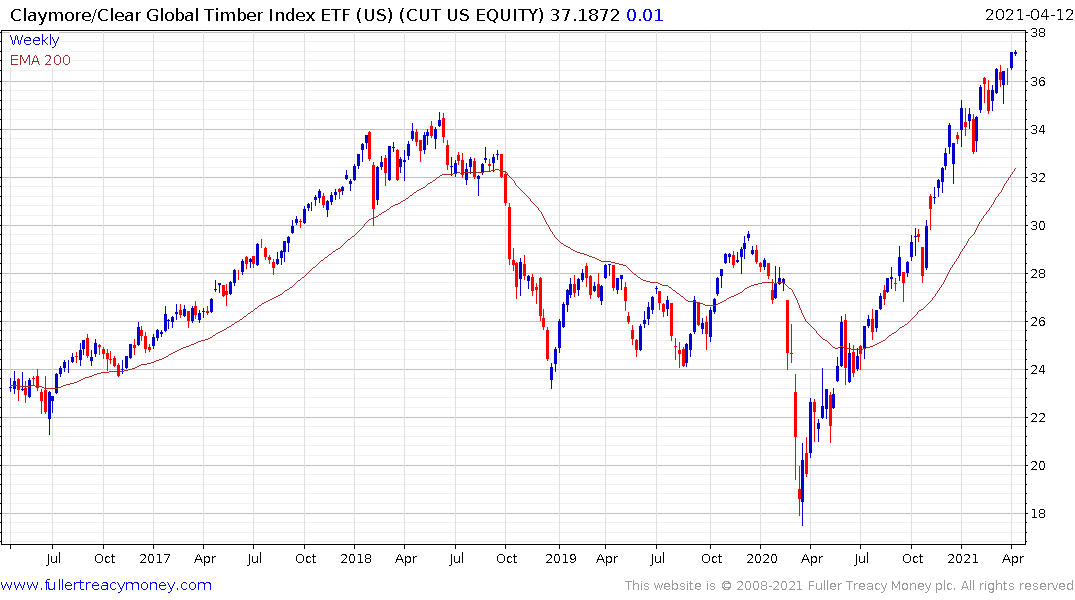 The Invesco MSCI Global Timber ETF (CUT) broke out to new all-time highs in February.
Back to top