Luckin Coffee's Stock Shoots Up After Revenue Rises Above Expectations
This article from Marketwatch may be of interest to subscribers. Here is a section:
Shares of Luckin Coffee Inc. (LK) shot up 7.6% in premarket trading Wednesday, after the China-based coffee seller reported wider third-quarter loss but revenue that rose above expectations. The net loss was RMB531.9 million ($74.4 million), or RMB3.60 per American Depository Share, after a loss of RMB484.9 million, or RMB2.24 per ADS a year ago. Excluding non-recurring items, the adjusted per-ADS loss was RMB2.08, compared with the FactSet consensus for loss per ADS was RMB2.75. Revenue rose to RMB1.54 billion ($219.6 million) from RMB240.8 million, to beat expectations of RMB1.47 billion. Average monthly items sold were 44.2 million, up from 7.8 million a year ago, while the average monthly transacting customers grew to 9.3 million from 1.9 million. "During the third quarter, sales from freshly-brewed coffee drinks continued to maintain very strong growth, and we believe we will reach our goal to become the largest coffee player in China by the end of this year," said Chief Executive Jenny Qian. The stock. which went public on May 17, has tumbled 22.7% over the past three months, while the S&P 500 has gained 5.7%.
I wanted to try a Luckin Coffee while in Guangzhou over the summer but I was voted down by my daughters who could not get enough of boba tea. Since they discovered smores frappacinos the two alternatives are more balanced but they will always still choose a boba tea over a trip to Starbucks.
Starbucks has successfully made inroads in China by promoting itself as a lifestyle destination where fashionable young people have access to free WIFI and can show off their tech gadgets. However, is also worth considering that boba tea shops now outnumber coffee shops by about 4/1. Luckin Coffee's competition is less with Starbucks and more with other domestic brands selling sweet drinks.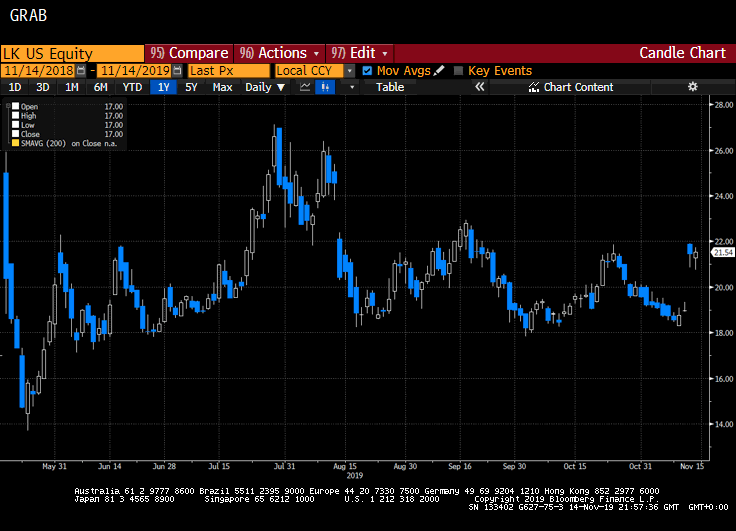 Luckin Coffee has been ranging above its IPO price since June and rebounded from the lower boundary this week following its earnings report.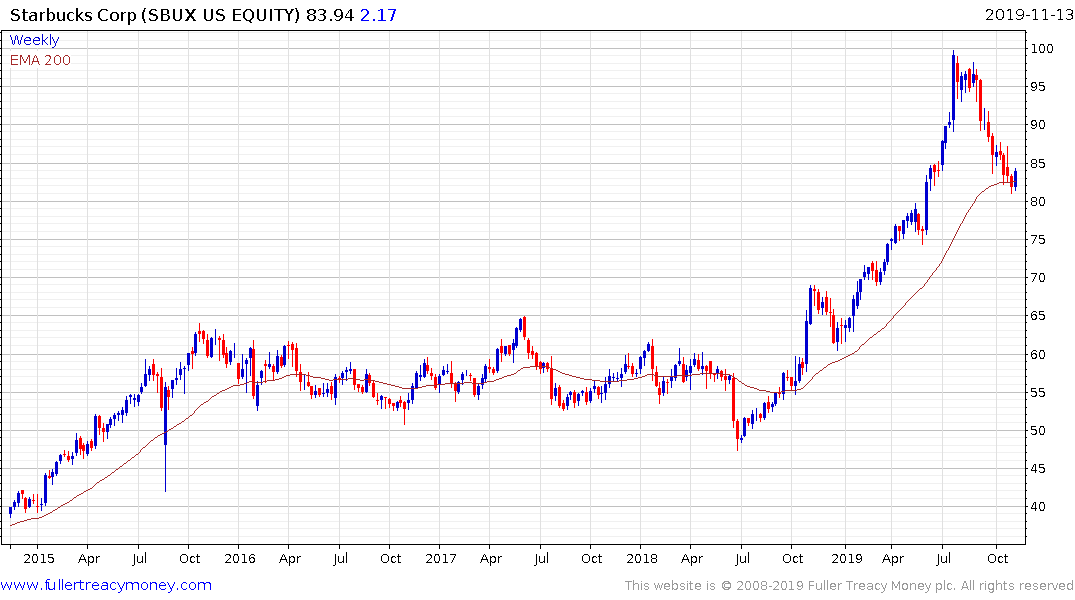 Starbucks rallied very impressively from the its mid-2018 retreat to just about double by July. It has since unwound its overextension and is steadying from the region of the trend mean.
Back to top