Londoners Cashing in Flee to Suburbs as Rally Wanes: Mortgages
This article by Patrick Gower for Bloomberg may be of interest to subscribers. Here is a section:
The slowdown in price gains and the prospect of realizing profit tied up in London homes could tempt wealthy foreigners to head elsewhere, economists say. Those who bought homes in the priciest districts of town in dollars, rubles, rupees or riyals during 2009 would double their money if they sold today, Hamptons' Morris said.

"With the prospect of increasing interest rates, and resultant strengthening of the pounds, the temptation for overseas investors to cash in is getting bigger," Morris said.

Chancellor of the Exchequer George Osborne is adding a capital-gains tax next year on homes sold by people living abroad after raising a transaction tax to 7 percent from 5 percent for properties priced at more than 2 million pounds in 2012.
London property was a safe haven in the aftermath of the financial crisis not least because of low supply and the swift devaluation of the Pound. With transaction taxes set to increase and the prospect of Russian investment being curtailed, the market has lost a potent source of demand which will likely sap potential for additional upside.
Geopolitical tensions in Europe reduce the region's appeal for investors across asset classes. Today's weakness across stock markets, bonds, gold and oil can be explained by deleveraging but the relative strength of Asia is also notable.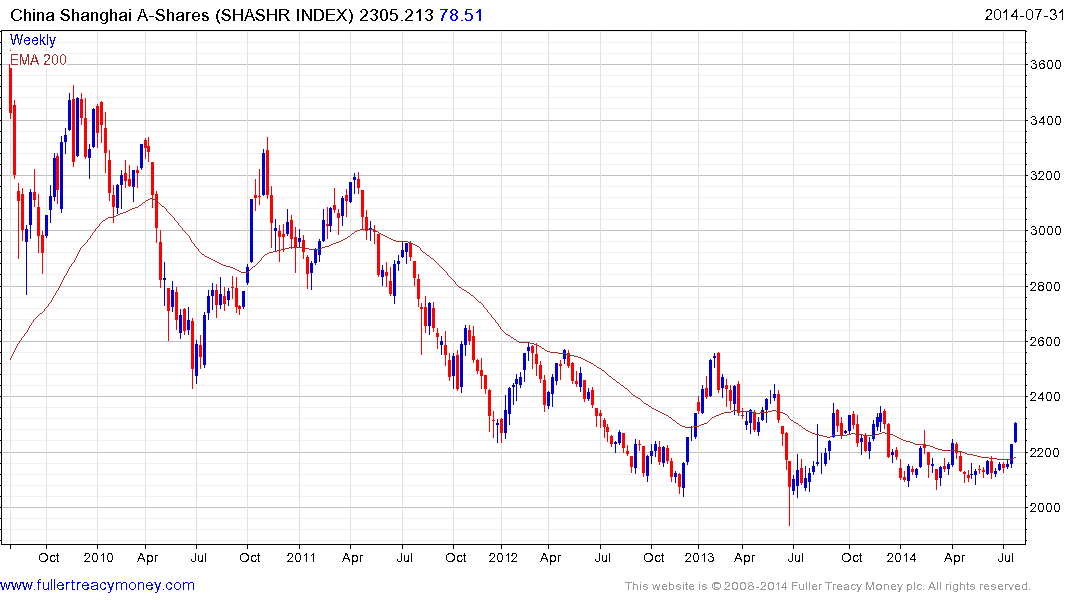 China's stock market is among the cheapest of any major market and it rallied this week to break the medium-term progression of lower rally highs. This is not the first time it has rallied above the 200-day MA in the course of the 3-year downtrend. It will need to find support at progressively higher levels following pullbacks in order to demonstrate conclusively that demand has returned to dominance.
Back to top