London Home Rents Fall for First Time Since December 2009
This article by Julie Edde for Bloomberg may be of interest to subscribers. Here it is in full:
Londoners are paying lower home rents for the first time in more than seven years amid rising supply and weakening demand from senior executives for properties.

The average rent paid in April for new lettings in Greater London was 1,519 pounds ($1,968) a month, a 1.2 percent decline from a year earlier, HomeLet, the U.K's largest reference- checking and rentals insurance company, said in a statement on Monday. Annual rental inflation across the U.K. was 0.4 percent in the same period, the lowest in seven years.

"Rents have been rising at a more modest pace across the whole of the U.K. in recent months," HomeLet Chief Executive Officer Martin Totty said. "We continue to see landlords and letting
agents weighing tenant affordability considerations very seriously."

?London's housing market is weakening amid affordability issues, new taxes and preparations for Brexit. Landlords rushed to buy homes before the introduction of a new stamp duty sales tax in April of last year, boosting supply and leading to greater competition for tenants.

The number of tenancies agreed at 1,000 pounds to 5,000 pounds a week fell 3.7 percent in the first quarter from a year earlier, Knight Frank said on Friday. Demand in that segment of the market usually comes from senior executives in industries including financial services, the broker said.

Home values in the U.K. capital grew at their slowest annual rate in almost five years in February as values in the most expensive boroughs including Camden and Kensington and Chelsea fell, according to Acadata and LSL Property Services Plc.
Uncertainty surrounding the ramifications of Brexit and the potential for several thousand workers and their families to decamp to continental Europe is likely having a knock-on effect for rental demand.

Meanwhile the relative weakness of the Pound means that from a foreign investor's perspective the market is selling at a discount. However the reform of stamp duty, targeting expensive second homes, is likely deterring purchases. There has been a building boom at the upper end of the market, with a substantial number of new properties completions within the next few years and that is where the bulk of price reductions have been. This article from the Financial Times highlights the point that there is still a substantial dearth of supply in the mid to lower ends of the market.

The greatest risk to the UK property market is higher interest rates since the vast majority of mortgages are floating rate. 5-year yields are trading in the region of 0.5% but a break above 0.75% would signal a return to supply dominance and higher mortgages costs of UK homeowners.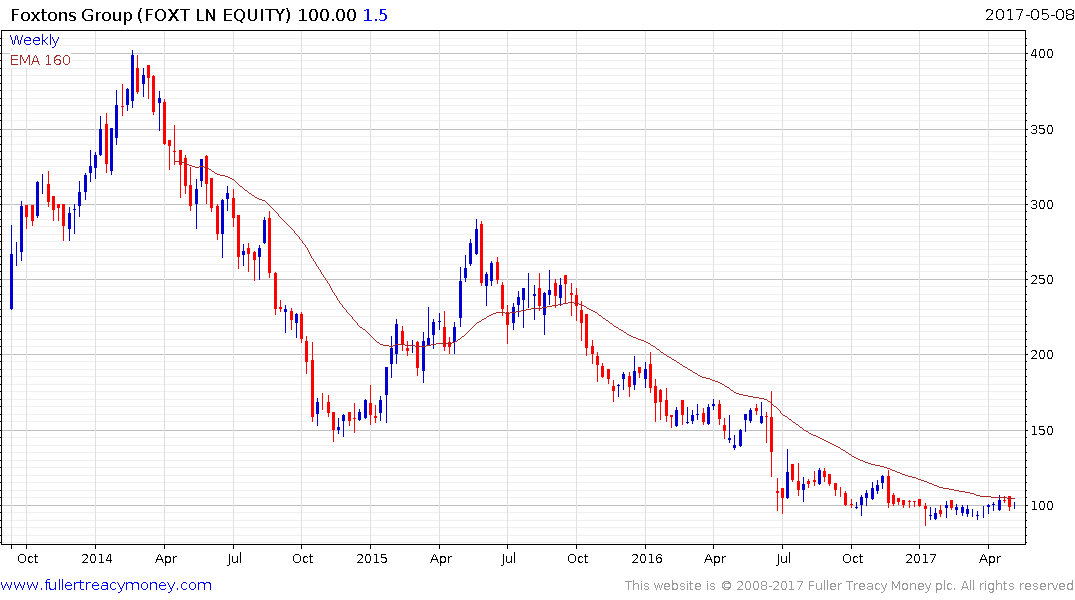 Foxton's used the property market's strength to list in 2013 and has since collapsed to test the 100p level. A clear upward dynamic will be required to begin to signal a return to demand dominance.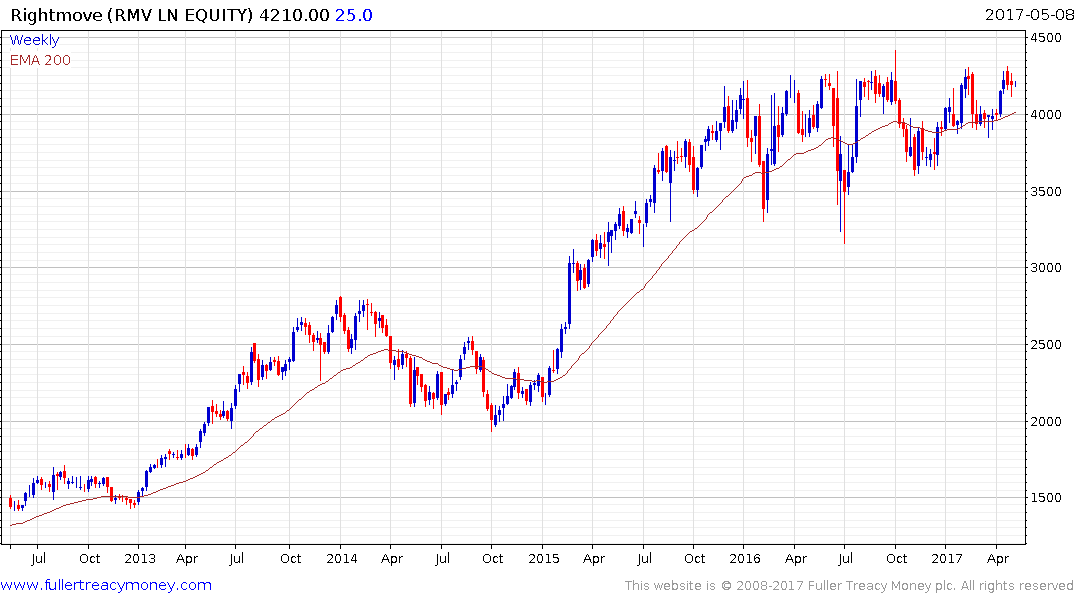 Rightmove has lost momentum over the last 18 months and a clear break above 4300p would be required to question developing Type-3 top formation characteristics.
Back to top