Lithium Story is (Quietly) Taking Off
Thanks to a subscriber for this report from Deutsche Bank which may be of interest. Here is a section:
Key takeaways
1) Q1 is firmly on track led by good growth in Lithium and solid growth in Surface Treatment, including in China, where auto/industrial demand is above expectations. The weakest region is Latin America where hydroprocessing catalyst demand is down as refiners in Brazil and Venezuela have sharply curtailed purchases. 2) Spot lithium carbonate prices in China of $21,000/m.t. are "fiction" with no relation to prices Albemarle receives or its large battery customers pay. Albemarle sells no spot lithium in China. The vast majority of Albemarle's lithium is sold under annual contracts. We estimate Albemarle's battery grade lithium carbonate prices will be up ~15% in '16 to ~$6,.900 (vs $6,000 in '15). 3) All options for Bromine have been explored. A spin does not work as it would increase Albemarle's leverage at a time when it is trying to reduce leverage. A sale does not work as there are no strategic buyers and private equity would likely only pay 7x. A JV does not work due to required divestitures. As such, Albemarle is focused on running Bromine for cash for the next 3-5 years and using the cash to fund organic growth in lithium. 4) A sale of Surface Treatment would be much easier (and valuable) as evidenced by last week's acquisition of Valspar for 15x EBITDA. However, with an onerous tax clawback until 2H'17 (stemming from the tax free separation of the business in '12), a sale before then is unlikely. 5) Assuming the recently announced MOU with Chile is formalized, Albemarle's next lithium capacity will be a 20k m.t. plant in Chile. If it is built in La Negra, where Albemarle's new 20k m.t. lithium carbonate plant is ramping (commercial sales '17), the cost would be <$200MM versus $220MM spent on the new plant. This next increment of capacity should be on-stream in '20 and will increase Albemarle's Chilean lithium carbonate capacity to 64k m.t. (70k m.t. with debottlenecking) plus 6k m.t. of US capacity. After Chile, Albemarle intends to bring on a 25k m.t. lithium hydroxide (from spodumene) plant in '22-'23 at a cost or ~$300M.
Here is a link to the full report.

With Tesla reportedly taking 180,000 pre-orders for its anticipated $35,000 Model C yesterday it is perhaps a good time to think about where the batteries to power these vehicles are going to come from. Tesla's gigafactory is expected to begin production next year and factories in China, Japan and South Korea are ramping up production for their own EV solutions. This all requires lithium.

As the above report highlights the oligarchy of lithium producers is also investing in production to meet this demand. They have pricing power right now as demand continues to exceed available supply.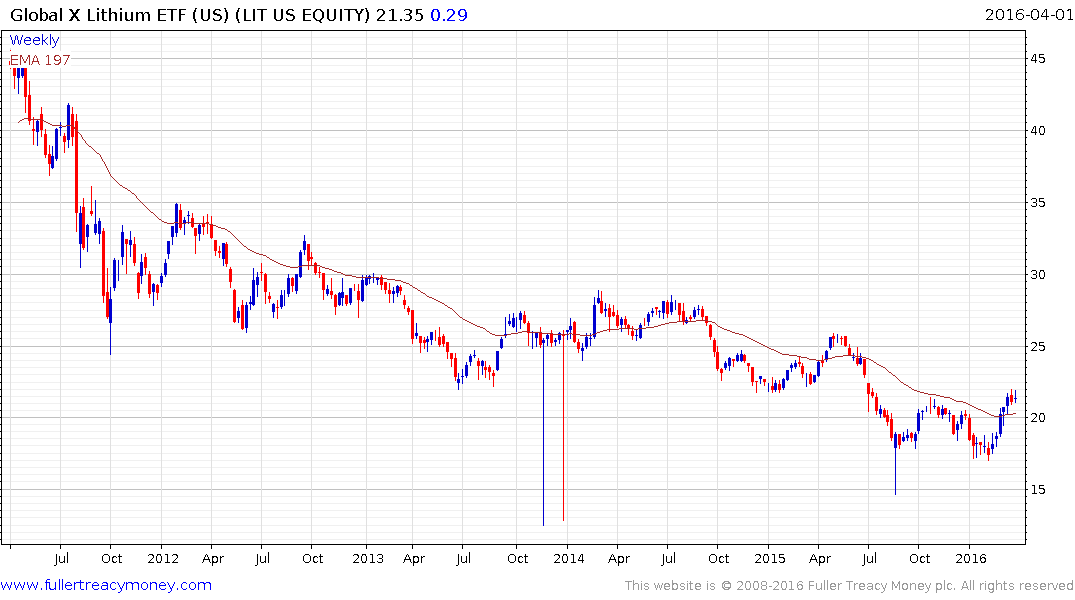 The Global X Lithium ETF which includes both lithium miners and battery manufacturers has broken its downtrend and continues to hold above its 200-day MA. A sustained move below $20 would be required to question medium-term scope for additional upside.
Back to top