Lira Surges as Turkish Rate Hike Caps Day of Chaos for Erdogan
This article by Benjamin Harvey and Ercan Ersoy for Bloomberg may be of interest to subscribers. Here is a section:
"This massive rate hike is going to stabilize the Turkish lira," said Bernd Berg, a strategist at Woodman Asset Management AG in Zug, Switzerland. "With a central bank that has gained in credibility by showing its independence, Turkish assets are poised to recover in the short-term."

The Borsa Istanbul 100 Index rebounded, rising as much as 1.8 percent led by Turkiye Garanti Bankasi AS and Akbank TAS, the nation's largest listed lenders. But the rally offered little comfort to thousands of businesses now struggling to come to grips with the snap restrictions on foreign currencies, which his government has yet to explain.

'Total Chaos'
​Erdogan's decree makes the lira the only currency that can be used in most contracts concluded between Turkish entities for any kind of product or service. Many of his own government's largest contracts, including for building motorways and operating turnpikes, bridges and airports, are currently priced in dollars or euros.

Some agreements will be exempt from the new rules under conditions to be specified by ministries, according to the decree, which didn't elaborate. All others that are either priced in or indexed to foreign currencies will have to be amended within 30 days.

That decree will create "total chaos" and be impossible to implement in the given time frame, said Hulusi Belgu, head of the national organization of shopping malls. His members have about $15 billion in collective debt and price about 70 percent of all their rent contracts in a foreign currency. "How will this debt be repaid if contracts are converted to liras?" Belgu asked by telephone.
Erdogan reiterated his view today that interest rates are a "tool of exploitation". One is tempted to ask of whom? Of course, when Erdogan makes these statements he is not speaking to the community of international investors to whom Turkey owes hundreds of billions of Dollars and Euro but to the demographic of Islamist leaning people who are leery of usury.
No one is under any illusion that in high inflation countries it is through interest rates and compound interest that people are compensated for depositing their money in the bank not to mind that it has been a proven path to long-term financial stability for many families.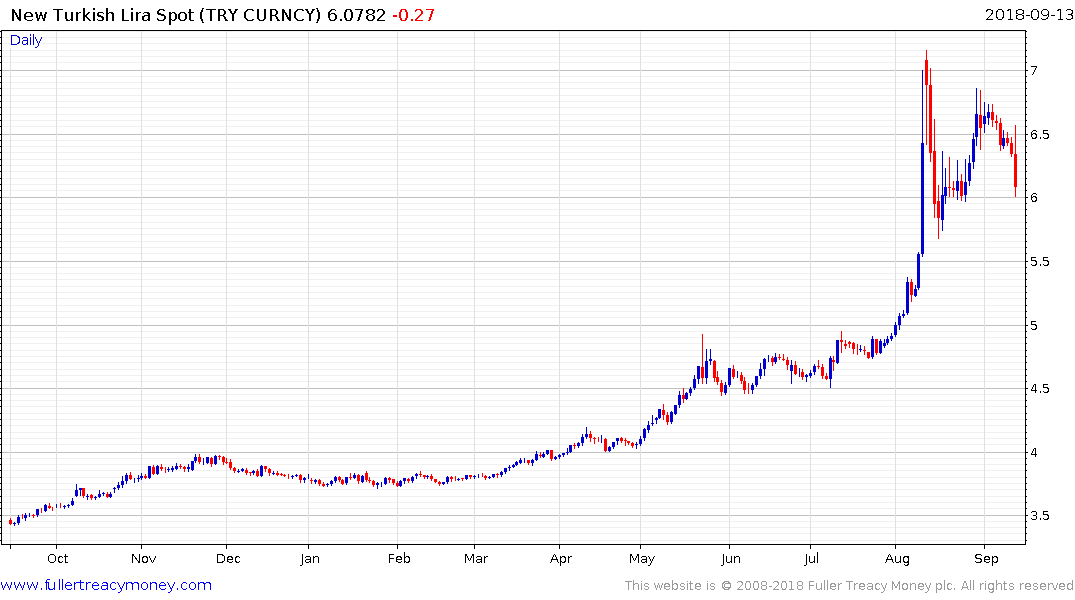 The Turkish central bank's resolve in raising rates aggressively is positive development since its independence has very much been in question during their crisis to date. The Lira has now posted a higher reaction low to confirm the worst is probably over for the market.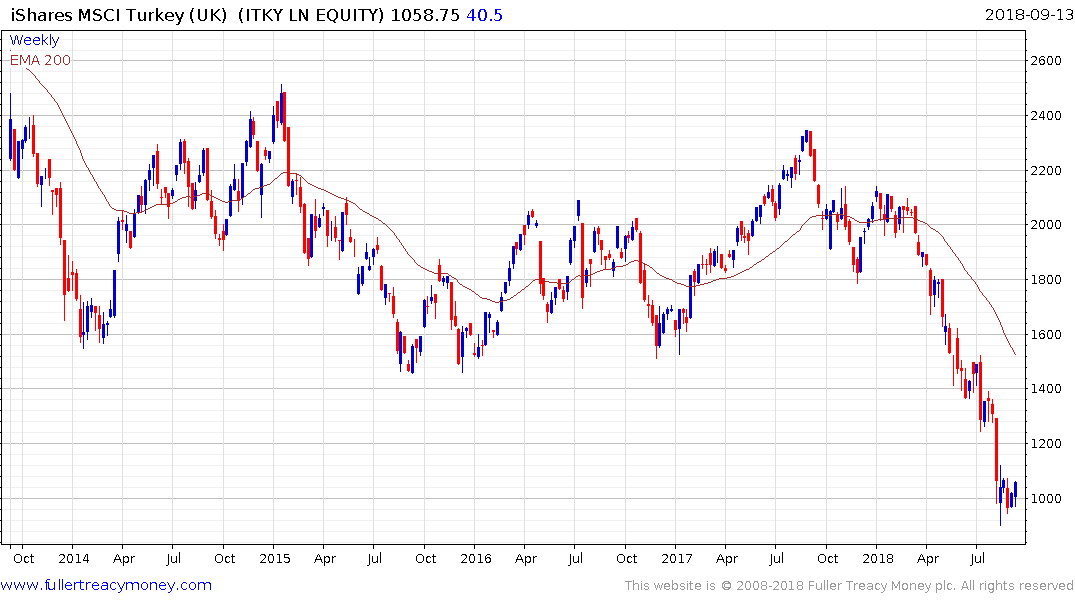 The iShares MSCI Turkey ETF has more than halved this year but has stabilised near the psychological 1000p level and potential for a reversionary rally has improved.
Back to top