Lightweight-banking via messaging services are getting Gen Z buzz
This article by Mike Butcher for techcrunch.com may be of interest to subscribers. Here is a section:
They are not alone. Other players in the "banking services via a messaging" space include Kotak Mahindra Bank in India (on WhatsApp) and ICICI in WhatsApp (India). However, neither of these can do actual provisioning of the card and addition to Apple Pay and Google Pay in the messengers, which is what Zelf can do.

With Zelf, users get an account and a virtual card via their Facebook Messenger, WhatsApp, Viber and Telegram accounts. For offline and online purchases Zelf supports Apple Pay and Google Pay. This lightweight onboarding means card issuance takes less than 30 seconds via a Passport or national ID. Users then get a virtual Mastercard debit card available in their favorite messenger app. Operating inside the EU's "Single Euro Payments Area" means it's pretty easy for the startup to scale its offering to other countries.
One of the biggest advantages emerging markets have is they are afforded the opportunity to skip whole stages of development. This is because technology is immediately available to them without having to develop it themselves. China has been able to progress meaningfully because of its adoption of technological knowhow and the introduction of India's 4G network offers India the same opportunity to evolve the entertainment, communication, banking and ecommerce sectors.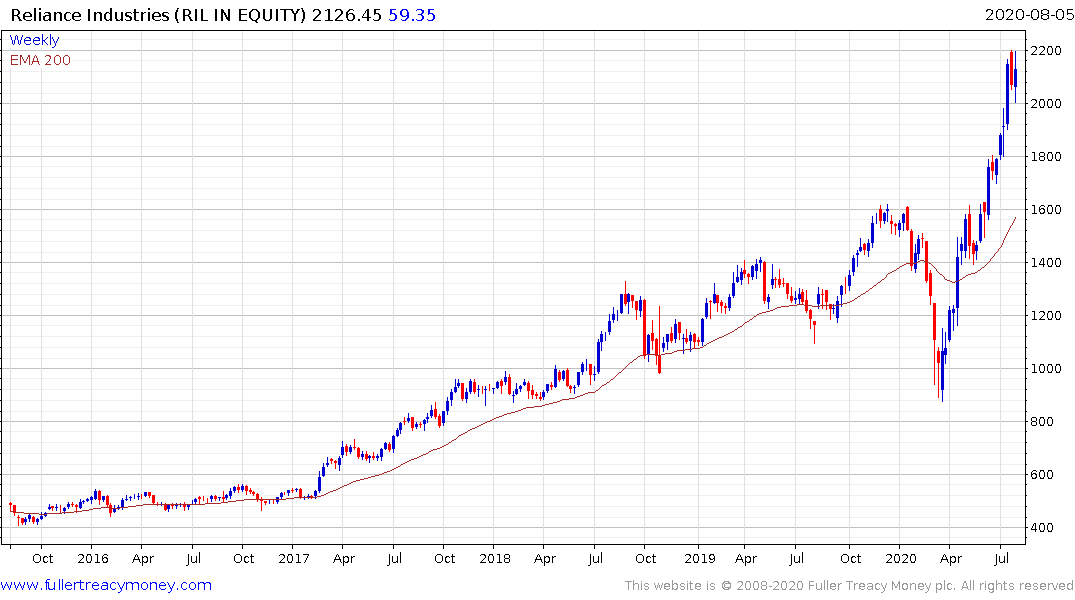 Reliance Industries remains in a steep but consistent uptrend. Reactions since March have been limited to INR200 so a sustained move below INR2000 would be required to signal a peak of more than near-term significance.
The evolution of online banking is a major innovation for India where firms have the opportunity to skip opening countrywide branch networks. Every family now has a bank account so the market opportunity rests in extending credit and microcredit to as many India's expanding middle class as possible. The biggest challenge for the banking sector is the overhang from bad loans extended to expensive property developers and nonbank lenders.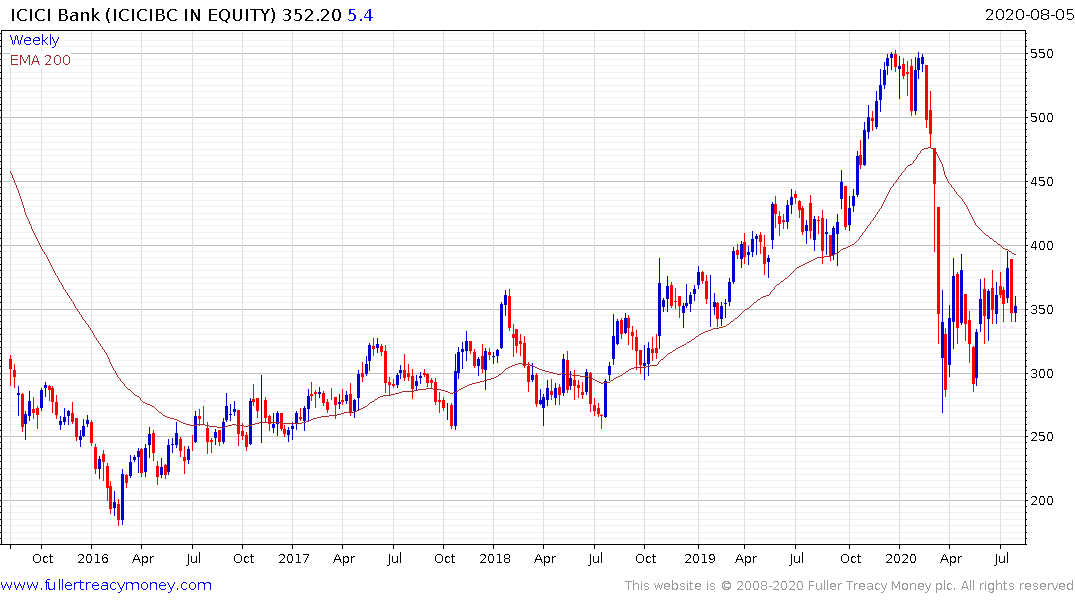 ICICI Bank continues to build support above INR 300.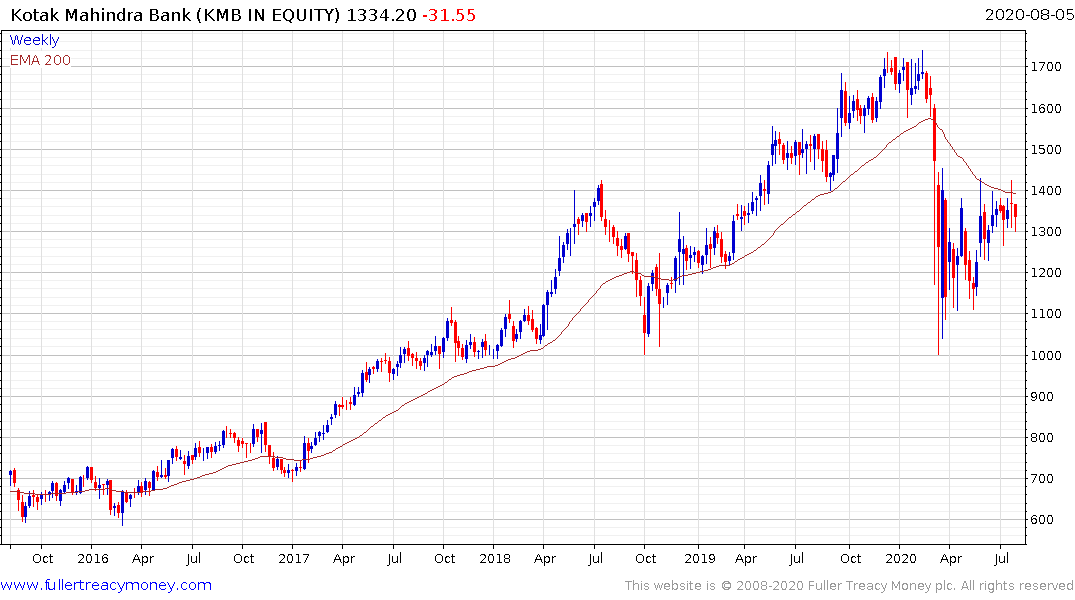 Kotak Mahindra Bank had a more consistent chart pattern ahead of the coronavirus scare and will need to sustain a move above the trend mean to confirm a return to medium-term demand dominance.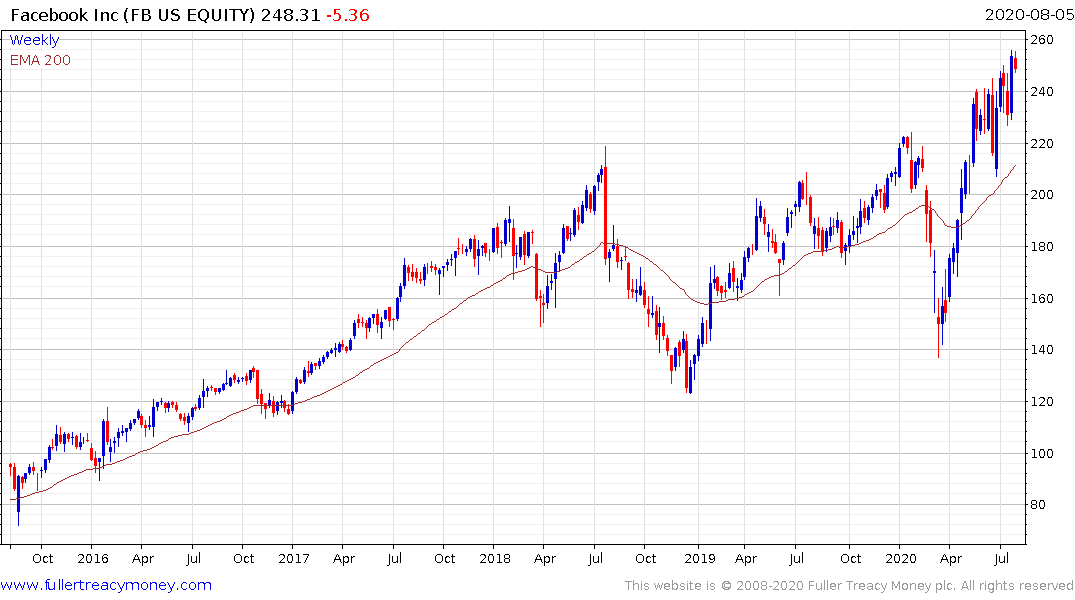 Since they are both building the banking messaging over Facebook's WhatsApp it may offer a template for how the USA's version of social media banking will eventually evolve. Facebook also just released its competing app to TikTok this week. The share continues to consolidation above the trend mean as it holds its breakout to new highs.
Back to top