Legal & General says reform will shrink UK individual annuity market by 75%
This article from Reuters appeared in the Guardian last week and may be of interest to subscribers. Here is a section
The UK market for individual annuities will shrink by some 75% after government measures freeing retirees from having to buy them come into effect next year, one of the biggest annuity providers forecast on Wednesday.

Nigel Wilson, chief executive of life insurance and pensions provider Legal & General Group Plc, said he expected the amount of money going into individual annuities to shrink to around £2.8bn a year from nearly £12bn, though he did not give forecasts for the group's own future business mix.

Wilson's comments at an investor conference in London follow a shake-up of the pensions system announced by Chancellor George Osborne in his budget last week.
A number of IFAs attended The Chart Seminar and the Global Strategy Session last week and the question of how changes to the annuities market will affect various asset classes was one of a number of topics discussed.

The immediate knock-on effect of the announcement was that shares of insurance companies such as Legal & General sold off because it represents the loss of a significant element of their business. However, the realisation that this change only applies to individual pensions and not those of companies has softened the blow for the annuities sector.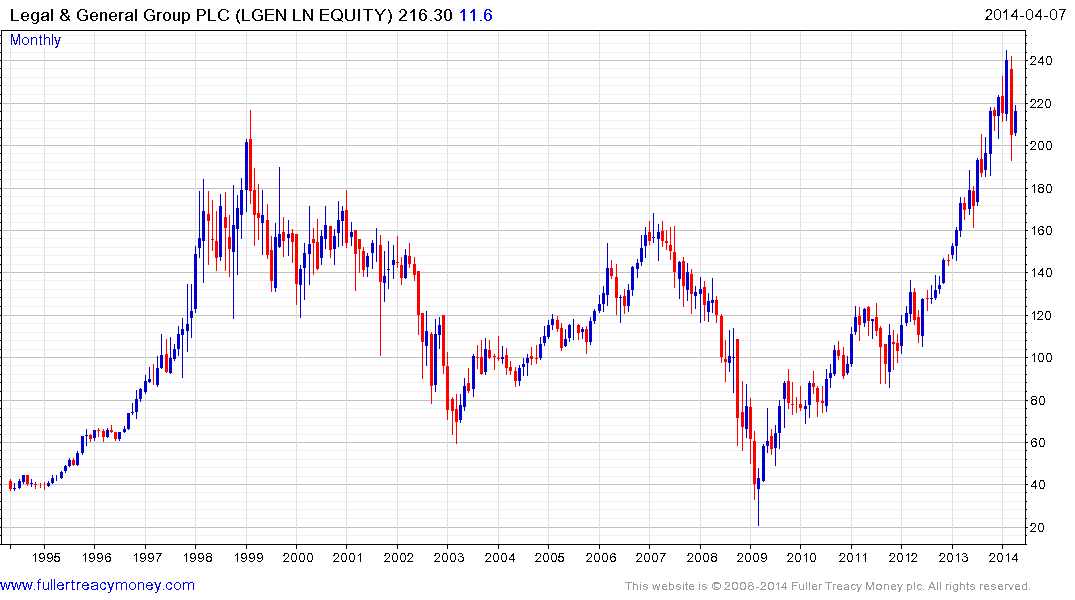 Legal & General (Est P/E 12.77, DY4.86%) found support last week in the region of the 200-day MA. Some time will probably be required to rebuild confidence, following its largest pullback in the course of a five-year uptrend, but a sustained move below last week;s low near 200p would be required to question medium-term scope for additional upside. Asset managers have benefitted from the creation of fund platforms and Legal & General shares a high degree of commonality with others in the sector.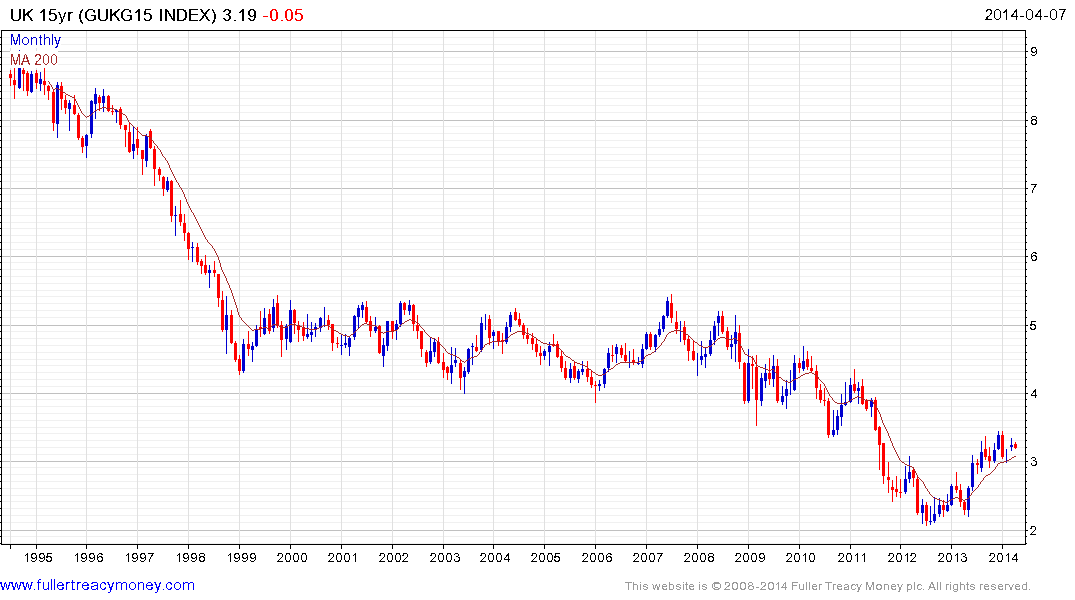 Taking a broader perspective, reform of the pensions sector highlights the challenge faced by pension providers in meeting obligations with such low government bond yields. 5.25% represented a floor for UK 15-year yields between 1999 and 2008. However the extraordinary monetary policy response to the credit crisis created an artificial environment and yields contracted to a low of 2%. They have been ranging above 3% since August and the withdrawal of the private pension requirement to purchase annuities removes a source of demand for relatively long-dated government bonds. This supports our view that bond yields will trend higher over the medium term.
Back to top