Latin America Abandons Fuel Subsidies in Shift to Austerity
This article by Sabrina Valle for Bloomberg may be of interest to subscribers. Here is a section:
"These countries are under enormous fiscal pressure and are reacting to it," said Samar Maziad, a sovereign analyst at Moody's.

President Mauricio Macri has made Argentina's economy more competitive since he took over in 2015, and an 8 percent gasoline price increase this month has contributed to Buenos Aires-based YPF's recent rally to the highest in more than a year. Argentina is moving to completely liberalize prices by 2018. YPF declined to comment on its stock price.

Mexico has lifted prices about 20 percent this month as it opens state-owned Petroleos Mexicanos's monopoly to foreign competition. It has pledged to completely phase out fuel subsidies over the course of the year. The so-called "gasolinazo," or fuel-price slam, sparked protests across the country that curtailed fuel distribution and has left President Enrique Pena Nieto's approval rating at an all-time low of 12 percent. Mexico is planning another fuel price increase on Feb.

The main outlier is Venezuela, the region's biggest exporter with the cheapest gasoline in the world at about 15 U.S. cents to fill a tank, even after the first price increase in almost two decades last year. Colombia got a head start when it began tracking international prices in 2008, a year when fuel subsidies contributed to an economic contraction.

In Brazil, where subsidies drained an estimated $40 billion from Petrobras between 2011 and 2014, Chief Executive Officer Pedro Parente has shown greater independence from the government to set fuel rates. Under Parente, the company formally known as Petroleo Brasileiro SA set a new price methodology in October and has implemented five adjustments since then.
Fuel subsidies are politically popular but ruinous for oil companies. Subsidies represent a drag on finances which are at partially offset when oil prices are high but represent an existential threat when prices are low. The collapse of regional currencies, massive deficits and challenges to growth have resulted in populist socialist governments being replaced with more fiscally minded right wing parties across the continent. As commodity prices recover that is translating into their stock markets beginning to do better.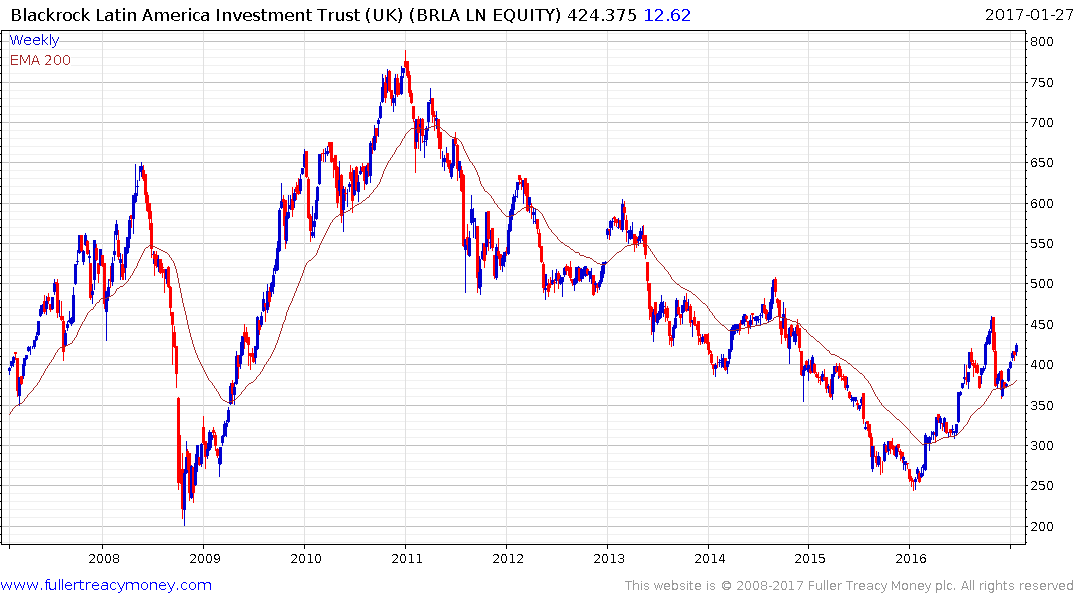 The Blackrock Latin American investment trust is trading at a discount to NAV of 13% and has been consolidating mostly above the 200-day MA since September. A sustained move below 380p would be required to question medium-term scope for additional upside.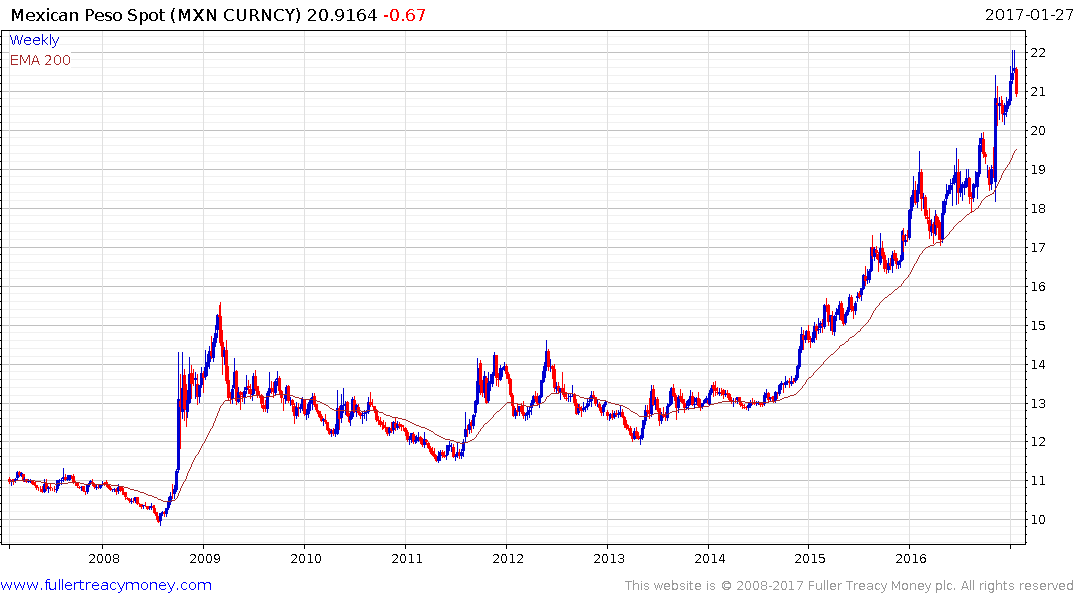 What I find particularly interesting is that the bulk of news flow concentrates on the wall President Trump wants to build and how he proposes to have it paid for. Almost nothing is said about the removal of Mexican fuel subsidies, the recovery of oil prices from very depressed levels, the fact that interest rates have been hiked six times in a year, rising from 3% to 5.75% or that the Peso accelerated lower last year and is now experienced a short covering rally. Even if the challenges Mexico faces intensify later this year there is scope for the Peso to continue its reversionary rally back towards the mean.
Back to top