Kuka AG: Ride the wave of Industry 4.0
Thanks to a subscriber for this educative report from SocGen focusing on the industrial automation sector. Here are some sections:
The fusion of the digital world with the real world of manufacturing, known as the fourth industrial revolution, has just begun. For decades, Kuka has been setting milestones in factory and production automation, but we think the real breakthrough is just ahead with smart factories, for which Kuka is providing key technology that enables Industry 4.0. In our view, intelligent robotics, in particular human/robots collaboration is the heart of the digitised value creation chain as robots can be used as a versatile tool for unlimited production flexibility.

With its sensitive lightweight robots, mobile platforms, and smart platforms such as controllers and software, we think Kuka is well positioned to offer human/robot collaborative assistance systems, automation solutions, and production processes that mark the dawn of a new area for smart factories.

And

?Although industrial robots have been used for decades, their high cost only led to productivity improvements in industries that were using low skilled, but highly paid workers in the developed world, performing jobs that were dangerous, dirty and dull, like welding in auto production. In our view, we are now at a stage where robotics and the automation industry have started to "cross the chasm", as early adopters such as the car industry have paved the way for a broader use of robots. Therefore, we think that other industries will catch up with the automotive industry to improve their efficiency and remain competitive, especially in regions of high wage inflation and an ageing workforce.
Here is a link to the full report.

As the above report highlights the automotive sector is where the robotics sector took root. However the potential for robots to be employed in additional high margin sectors such as healthcare, pharmaceuticals and logistics is where the major growth thesis lies. Demands for high quality manufacturing, wage growth and an aging workforce all represent encouraging themes for the sector.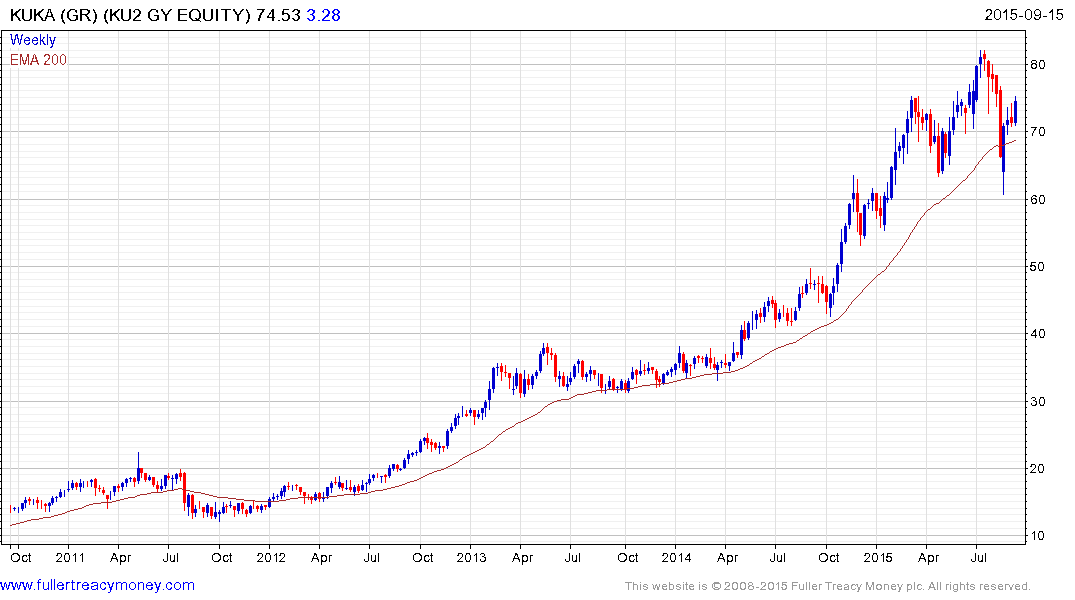 German listed Kuka found support in late August in the region of the trend mean and a sustained move below it would be required to question medium-term scope for continued upside.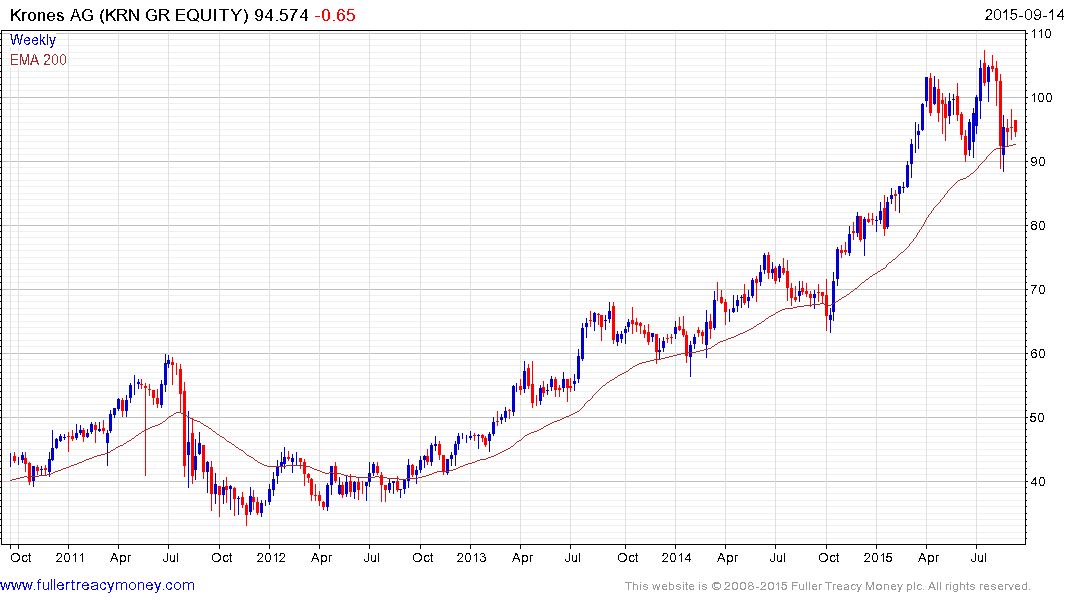 Krones has also unwound its overextended condition relative to the trend mean and is bouncing.

This also came in from the subscriber who sent the above report:

"Similar to Krone is IMA IM, they do tea bags. Literally, the machines doing the bags and packaging? for health care industry. Small, but interesting. Also worth glancing at are the numbers from Comau, within FCA, I think they are still leaders in white bodies' wending machinery of productions engines (thanks to the not so great Italian industrial relations in the 70s). I even wonder whether FCA may just spin off them."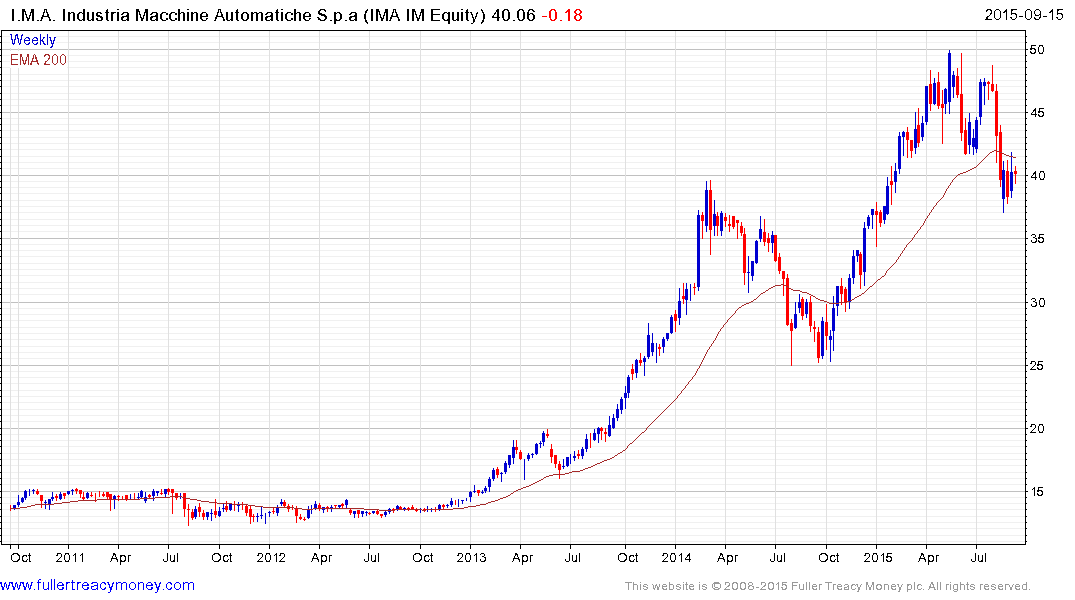 I.M.A. Industria Macchine Automatiche S.p.a has a market cap of approximately €1.5 billion and has returned to test the region of the 200-day MA. It will need to sustain a move above the trend mean, currently near €41.50, to being to re-establish demand dominance.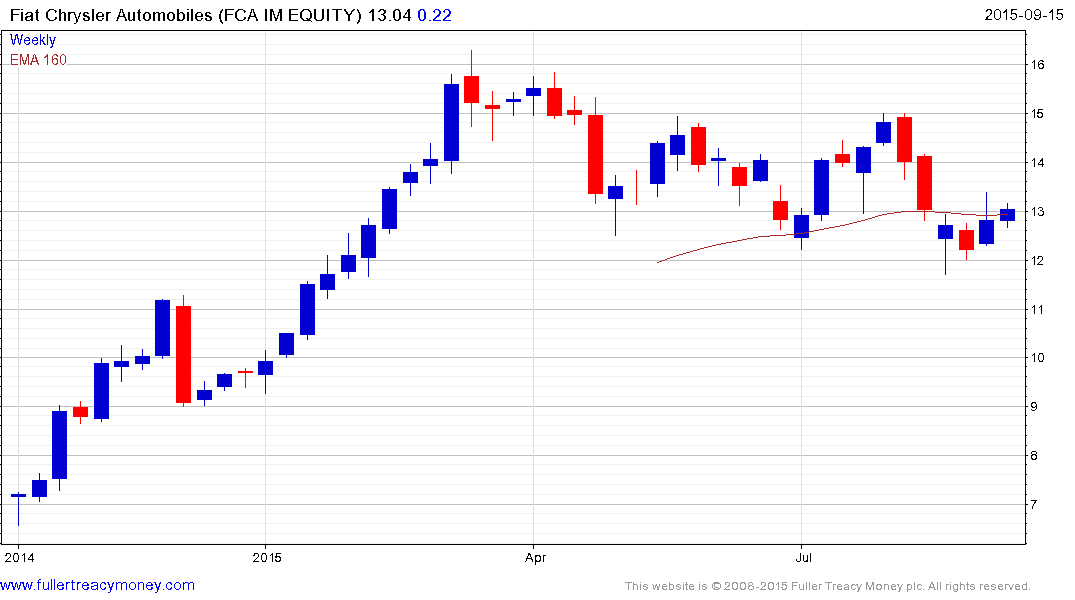 FCA (Fiat Chrysler Automobiles has been ranging with a mild downward bias since March and will need to sustain a move above €15 to signal a return to demand dominance.
Back to top