King of the (Bond) World: Terry Duffy Makes His Biggest Trade
This article by Annie Massa and Liz Capo McCormick for Bloomberg may be of interest to subscribers. Here is a section:
"Man, that's a lot of power the CME now has in the U.S. Treasury market," said Jim Greco, who co-founded the former Treasuries trading platform Direct Match Holdings Inc. "You have to be a little worried about the pricing power of the CME in the most critical asset class in the world."

Bond traders have reason to cheer the deal. NEX, also known by its old name ICAP, comes to the table with about 80 percent of trading volumes between dealers in the $14.7 trillion market for cash Treasuries. CME is the main destination for Treasury futures trading. Instead of coughing up margins to trade in two places as they do now, customers of cash Treasuries and futures could potentially save costs by having the complementary products under the roof of one combined powerhouse.

In its essence the consolidation of some of these business and the centralization of them to a single clearer makes sense," said Ian Lyngen, head of U.S. rates strategy at BMO Capital Markets. "There is the economies of scale to be taken advantage of and collateral and posting type issues that will be easier to manage."
At their roots exchanges are flow businesses and there have been concurrent stock and bond bull markets. That's good for turnover. At the same time technological innovation has increased the speed of trading creating fees from colocation of servers. That opened up a whole new business for the sector and has helped to drive consolidation as companies compete to dominate in this new environment.
There is a still a high degree of commonality in the exchanges sector with none of the major stocks in a downtrend. http://chart.fullertreacymoney.com/chart_listings/group/552
The LIBOR, and associated, scandals have helped to drive demand for exchange traded bonds which the tie up between the CME and NEX assist in. That will probably be beneficial for flows but should also help to lend better price discovery to the market as a whole.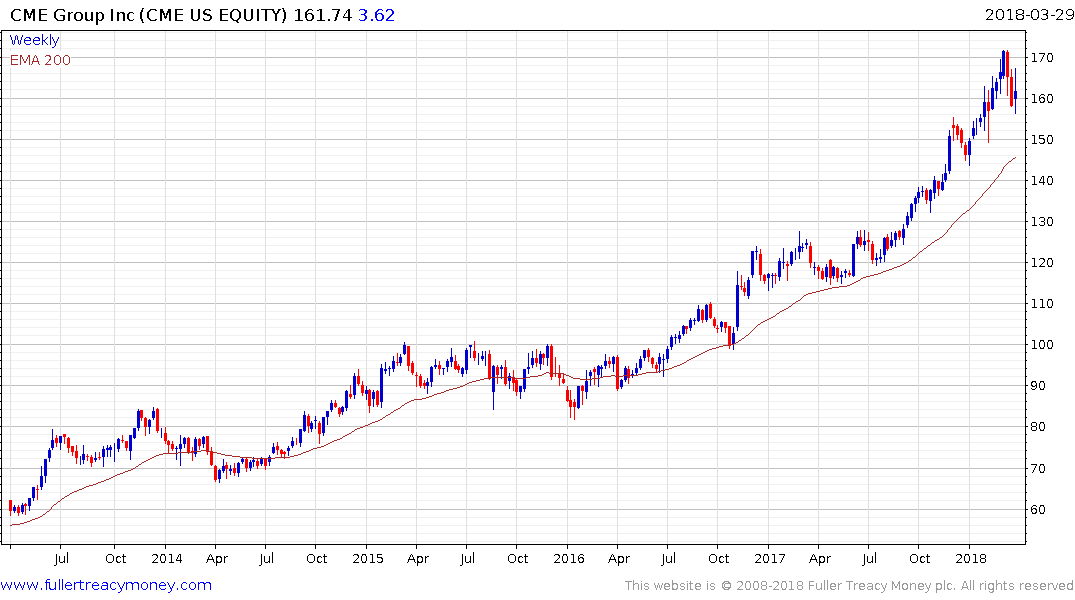 CME Group is currently somewhat overextended relative to the trend mean but despite some risk of consolidation in the aftermath of the merger, a sustained move below $140 would be required to question medium-term uptrend consistency. The vast majority of the sector exhibits similar patterns.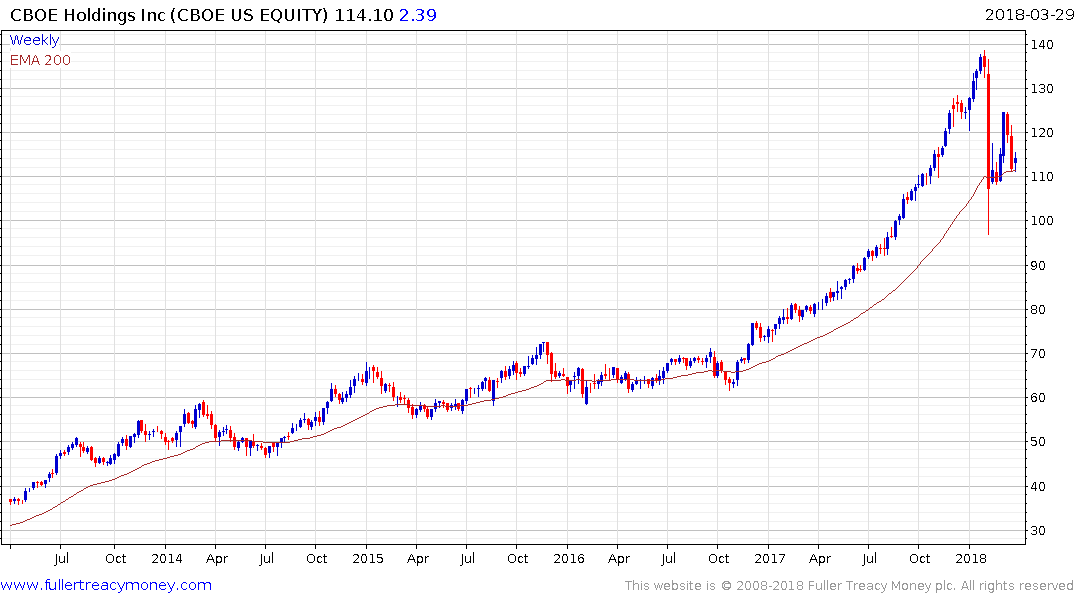 CBoE is the outlier and is back testing its trend mean following two sharp stabs to the downside over the last month.
Back to top