Kik App Debuts Digital Currency Amid Bitcoin Boom
This article by Gerrit De Vynck for Bloomberg may be of interest to subscribers. Here is a section:
Kik, based in Waterloo, Canada, unveiled plans for an "initial coin offering," a process by which it sells tokens that can be used to buy services on its platform. The idea is that as more and more people use Kik, the value of those tokens, called "Kin", will rise in value.

Interest in coin offerings is high, thanks to surging prices of bitcoin and other virtual currencies. Called ICOs, they give a wide range of people the chance to invest in a company or any other endeavor early on. While unregulated, they have proved popular, with investors spending around $330 million on tokens over the past year, according to data compiled by cryptocurrency blog The Control. Earlier this month, cloud-storage startup Storj raised almost $30 million in five days via an ICO.

Kik, which has raised about $120 million (in real money) from investors including Tencent Holdings Ltd., could serve to add a new layer of legitimacy to the process.

"Kik will be the largest install base of cryptocurrency users in the world," Chief Executive Officer Ted Livingston said. "Kin, on day one will be the most-used cryptocurrency in the world."
Tech startups have cottoned onto the fact that cryptocurrencies are based on reasonably easily repeatable strings of code so they can create their own. Monero, Dash, NeosCoin, MaidSafeCoin, SysCoin, SIBCoin, Couterparty, ShadowCash, Storjcoin X, Nexus, Potcoin, Synereo, NAV Coin and Stellar Lumens, to name a few, have all been created in the last two years and that's leaving out the large ones like Ethereum and Ripple.
It's a gold rush and everyone wants a piece of the pie. It many respects these chains are being used for marketing purposes or to promote very specific services. There is serious talk among some private companies how they can issue their own cryptocurrency to raise capital and therefore avoid having to list on a stock market. I don't think it's an exaggeration to describe this kind of activity as a mania which could be on the cusp of popping or at least a deep reversal.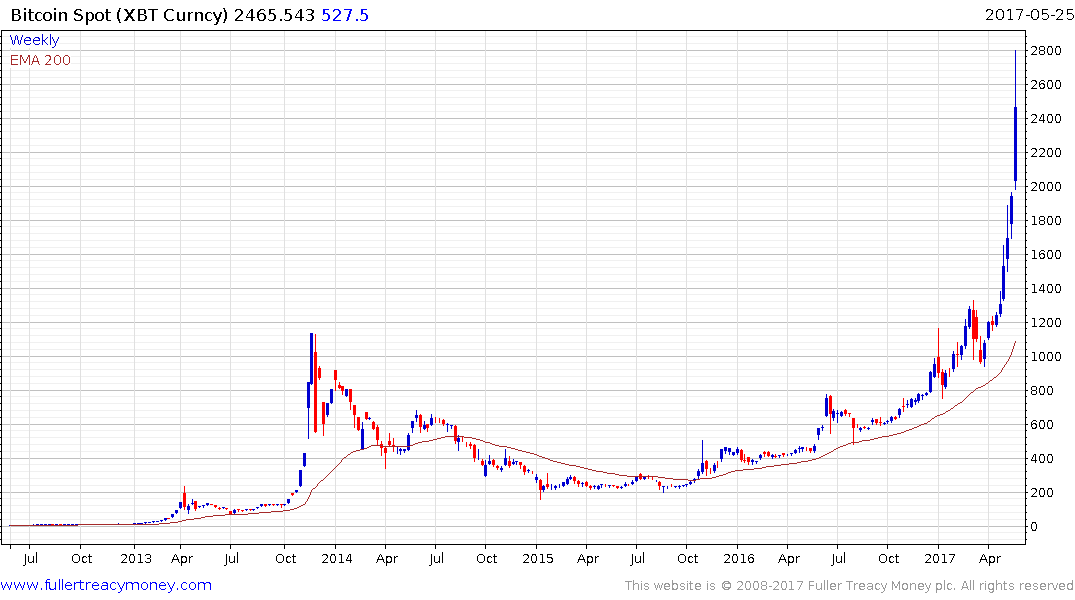 A measure of how wild the market has become is that as of this morning bitcoin was double the price of gold. Personally, given the choice, I'd rather own gold. It continues to firm from the $1250 and a sustained move below that level would be required to begin to question potential for additional higher to lateral ranging. At least it has tangible value.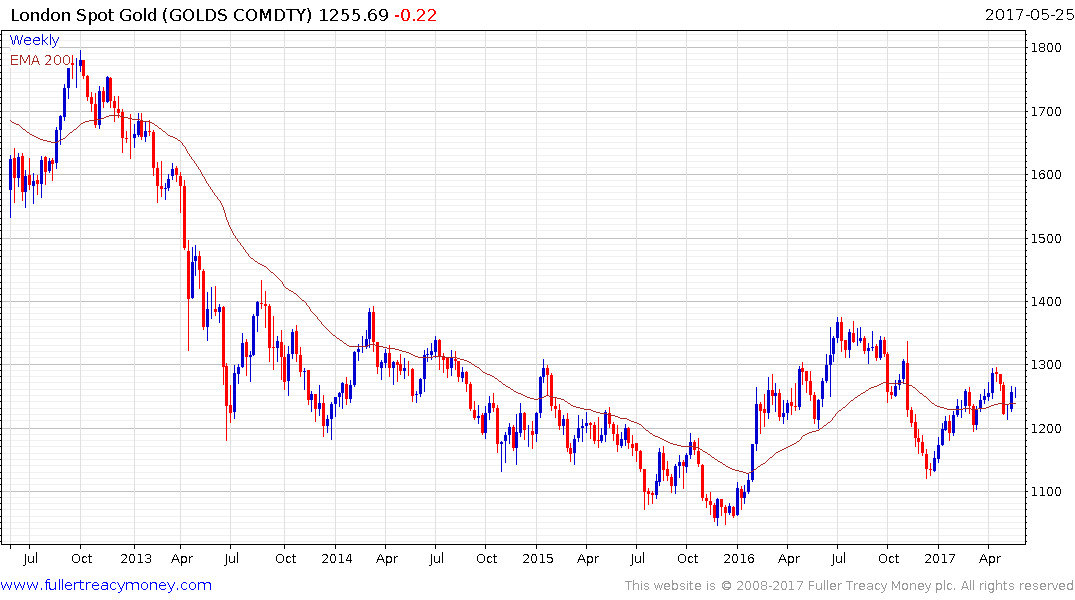 Back to top