Kids Love These YouTube Channels. Who Creates Them Is a Mystery
This article by Yoree Koh and Betsy Morris for the Wall Street Journal may be of interest to subscribers. Here is a section:
Some parents say they find certain YouTube content disturbingly effective in enrapturing young children.

Johanna Peyton, an Austin, Texas, mother of three, said she initially welcomed YouTube as a distraction for her children—until her daughter, then nearly 2 years old, became fascinated with videos of adults and children opening eggs with surprises inside.

"It was disturbing to me that somebody was working so hard on the videos—intricately editing them and using so many eggs. I remember thinking, 'What was their agenda?' " Ms. Peyton said. "It just felt odd that somebody would be doing this." She no longer allows her kids to watch YouTube.

The CoCoMelon channel joined YouTube on Sept. 1, 2006, according to its "about" page, which says its goal is "to make learning a fun and enjoyable experience for kids by creating beautiful 3D animation, educational lyrics, and infectious, toe-tapping music."

The business took off last year, when its view count jumped to 1.96 billion views in October 2018 compared with 123 million views a year earlier. It now has 43 million subscribers, according to Social Blade.
My brother and sister have pretty much banned their young children from using YouTube and their smart phones because the content accessible is clearly designed to be addictive. When conventional tv channels dominated programming the advertising aimed at children was regulated and we still yearned for the toys.
In Ireland, the Late Late Toy Show was the highlight the Christmas season when we were growing up but for marketers it was an opportunity to showcase toys and kids outside of the regimented advertising structure. In many ways it represents the forerunner of the boom in dedicated content appealing to babies and young children that pervades YouTube.

There are already calls to regulate the market because of the sharing of video content of the New Zealand massacre. However, the longer-term threat is from parents who do not wish to see their children brainwashed.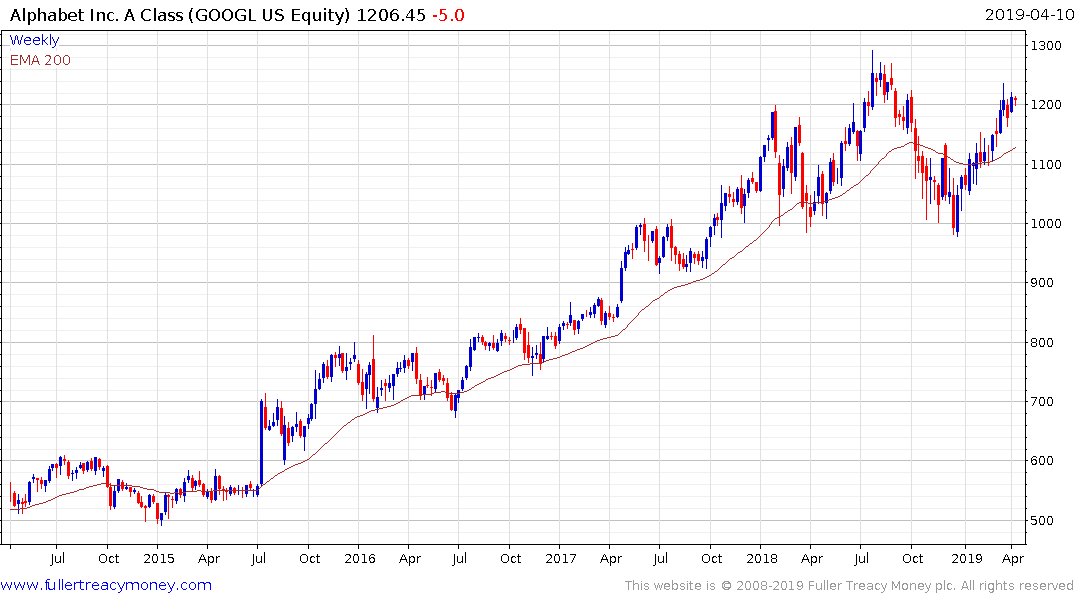 Alphabet has experienced a number of medium-term corrections over the last decade and the current range is wider than any of those. The rebound over the first quarter was very impressive and the prices is now in the region of the August peak. It needs to continue to hold the psychological $1000 level if the medium-term uptrend is to be given the benefit of the doubt
Back to top