Kidney Dialysis Is a Booming Business. Is it Also a Rigged One?
This article by Carrie Arnold for Undark may be of interest to subscribers. Here is a section:
The scheme, according to Wood and other critics, works something like this: Nearly everyone in the U.S. with end-stage renal disease is eligible for coverage by Medicare, even if they are under age 65. The federal program pays a fixed cost of about $240 per treatment. Patients receiving Medicare pay an annual deductible, after which they continue to be responsible for a 20 percent co-payment, or about $48, for each visit.

Patients with private insurance, however — including those with health benefits paid for by their employers — are a different story. Those insurance companies must negotiate payments with for-profit dialysis centers, and research has suggested that the centers have an edge in those negotiations — one they use to jack up prices. One research letter, published last year in the Journal of the American Medical Association, Internal Medicine, found that private insurers paid, on average, over $1,000 per treatment — roughly four times Medicare's fixed costs.

One possible reason: More than 80 percent of dialysis patients receive their treatments from either DaVita or Fresenius Medical Care, which is headquartered in Germany, giving the two companies upwards of 80 percent of the $24.7 billion American dialysis market — and significant influence over the prices charged to private insurers. What's more, both are widely known to donate hundreds of millions of dollars to the American Kidney Fund, covering the vast majority of the nonprofit's budget. That's a problem, according to Wood. With the help of the American Kidney Fund, after all, more patients are able to stay on private insurance longer, so both companies have an incentive to keep the AKF well-funded. More patients with private insurance means DaVita and Fresenius can bill much higher prices for their dialysis services — and pad their own bottom lines.

According to Wood, for every dollar DaVita or Fresenius donates to the American Kidney Fund, they get roughly $3.50 in return from private insurers. No wonder, then, that the two dialysis giants, which together earned about $2.2 billion in net income in 2019, reportedly donated $247 million to the nonprofit organization in 2018 — roughly 80 percent of the fund's annual budget that year. (AKF's own financial documents do not name the companies outright, instead referring to two unnamed corporations. When asked to confirm the identity of these donors, Tamara Ruggiero, a spokesperson for the organization, said the AKF was barred from doing so by rules established by the Inspector General of the Department of Health and Human Services — ironically to "ensure that patients are not unduly influenced in their choice of dialysis providers.")
This is but one example of how perverse the US healthcare system is. The reality of private health insurance is that there is no competition. The dance between for-profit insures with for-profit providers means that costs are greatly inflated relative to the rest of the world. The existence of vendor financing deals for patients is just another example of how difficult it is to ever reform the system.
The other side of this story is that kidney failure, often as a result of diabetes complications, is a huge business. That is a global phenomenon with large segments of the global population, in both developed and emerging markets, suffering from what is effectively a sugar addiction. As the story of cost and funding of treatment regimes becomes public it represents a threat to the bottom line of related companies.
The primary shares in the sector performed extremely well up to about 2015, but leadership has since narrowed.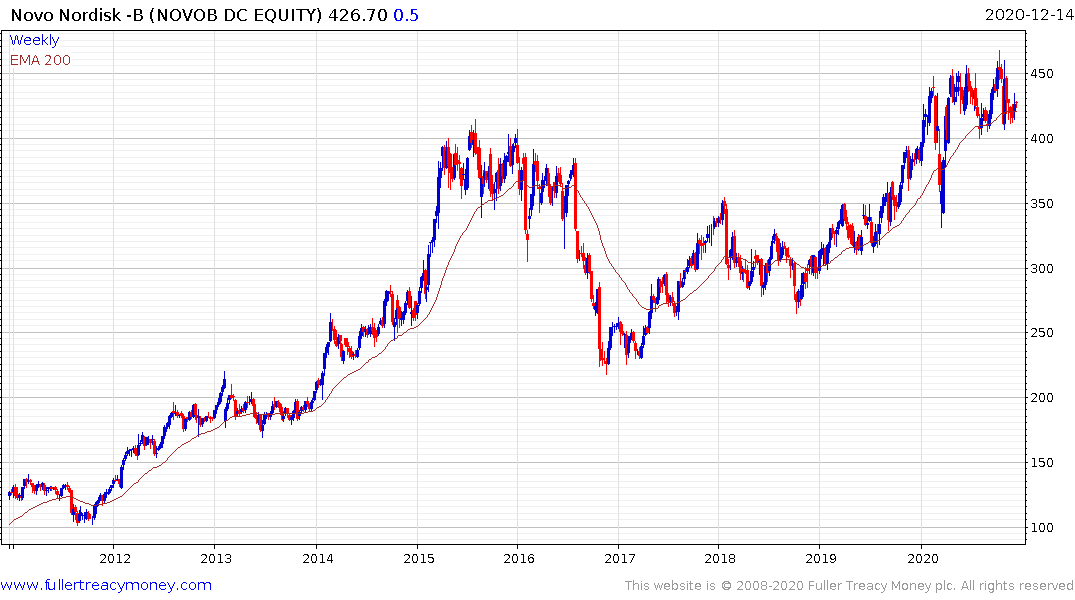 Novo Nordisk has been consolidating in the region of the 2015 peaks for a year and will need to hold the DKK400 level if medium-term scope for additional upside is to be given the benefit of the doubt.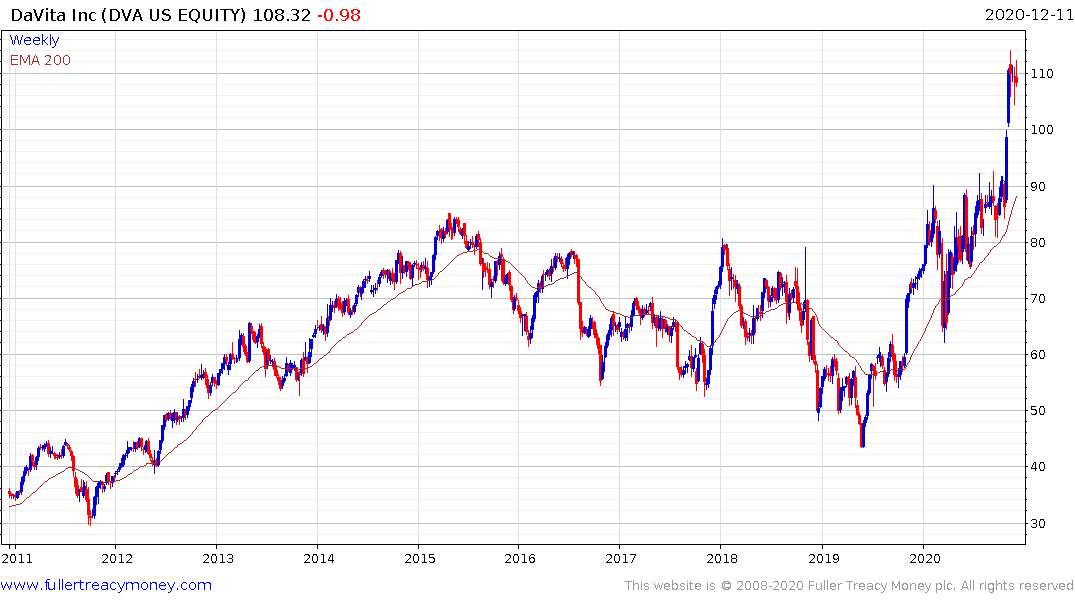 DaVita also consolidated in the region of its 2015 peak and broke emphatically higher in November to reassert the medium-term uptrend.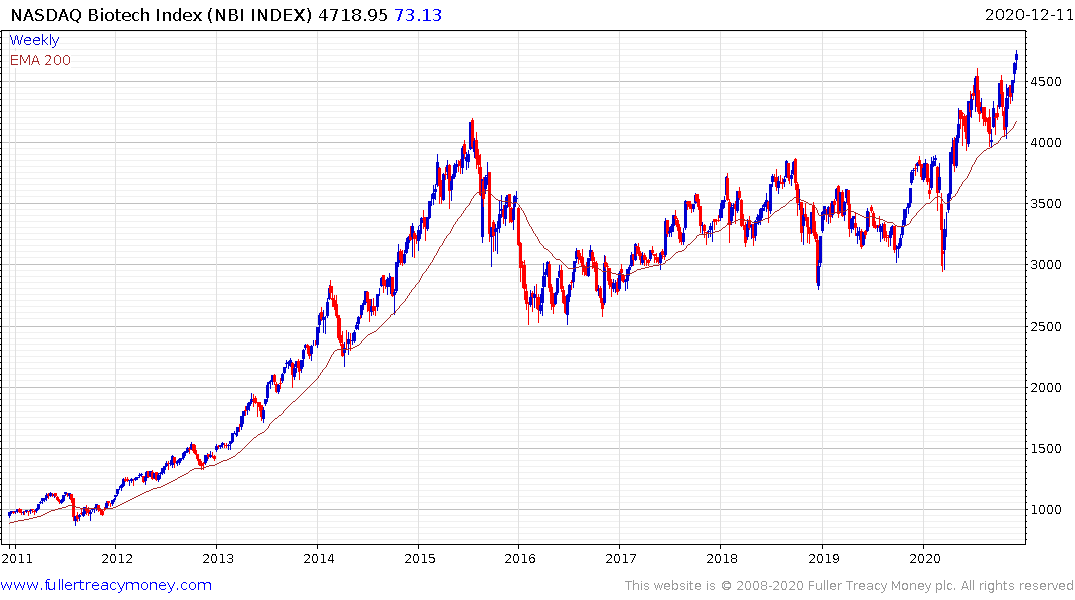 Both these shares have similar patterns to the broad consolidation and breakouts on the Biotechnology sector.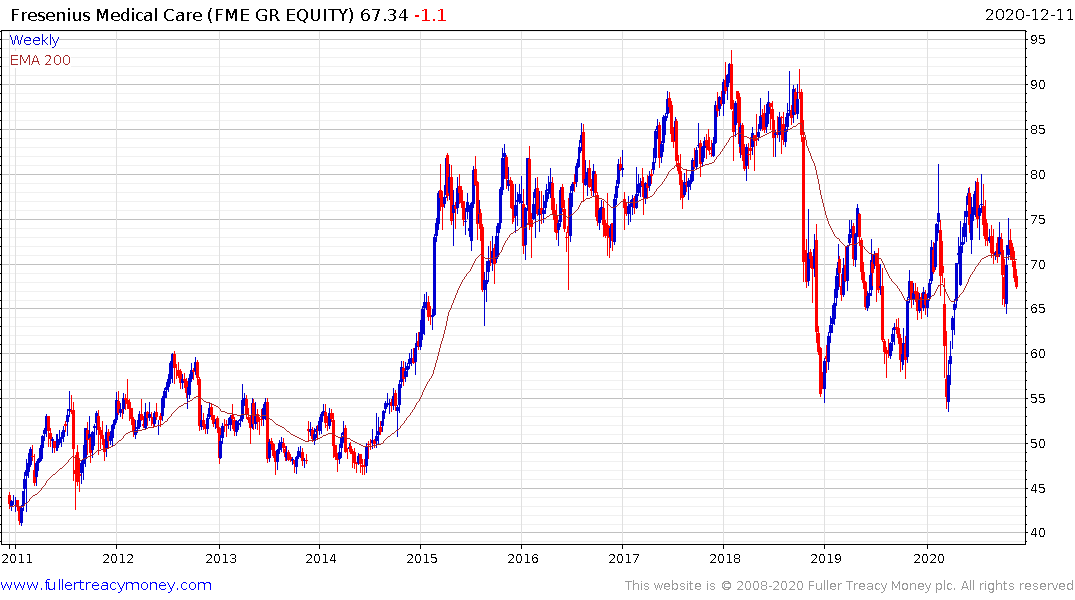 Fresenius Medical Care pulled back very sharply in 2018 following an initial attempt to clamp down on predatory pricing. It has been ranging in a volatile manner below the Type-3 top since. A sustained mvoe above €80 will be required to question medium-term supply dominance.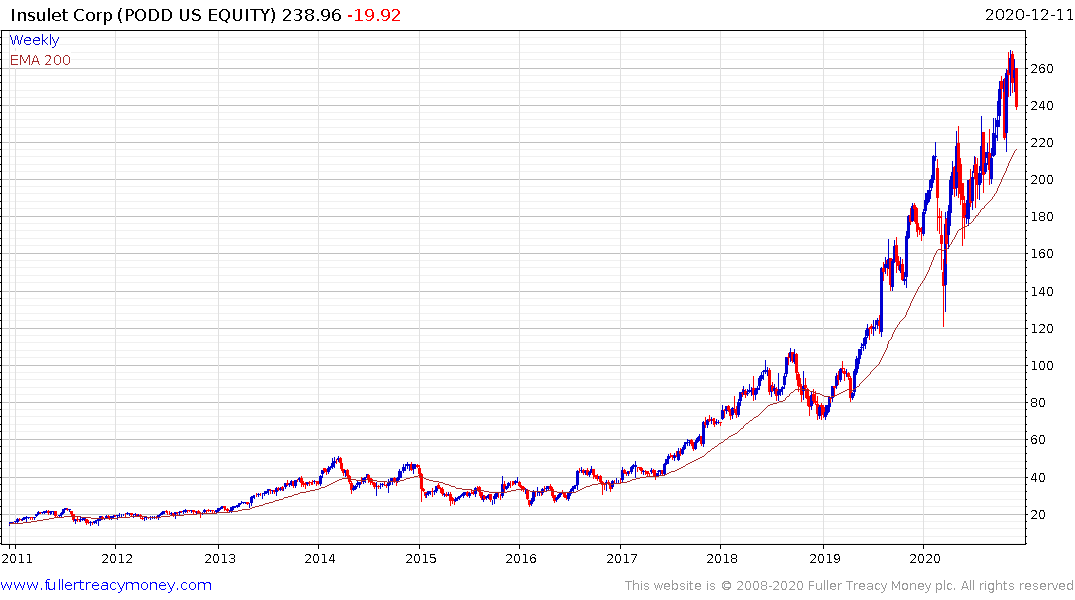 Insulet's at-home kits prospered over the last couple of years and some unwinding of the short-term overbought condition is now underway.
Back to top