Khamenei Backs Negotiators Against Radicals. Rafsanjani
This article by Ladane Nasseri for Bloomberg may be of interest to subscribers. Here it is in full:
If the Supreme Leader wasn't standing by the negotiating team and backing it, extremists wouldn't have allowed the team to operate," former President Ali Akbar Hashemi Rafsanjani says, according to his official website.
"Some seek to undermine" the nuclear accord, Rafsanjani says, without identifying anyone

"Obama is also "pressured by radicals in the U.S. regarding this agreement and needs to answer to them": Rafsanjani

"Radicals in Iran, the U.S. have a common goal: to nullify the Geneva agreement"

"Radicals on both sides think only war can solve the0 problems"

"Rafsanjani website reports comments he made to students last week"
The fact that the Iranians are now engaging with the international community to solve the nuclear issue is to be welcomed, but more importantly it reduces the potential for an arms race to escalate within the Middle East. From an investor¡¯s perspective the risk premium attached to regional markets has therefore been reduced.

The Saudi Arabian Index ranged with a mild upward bias between 2009 and 2012 and has been trending higher over the last year. A break in the progression of higher reaction lows, currently near 8000, would be required to question medium-term scope for additional upside.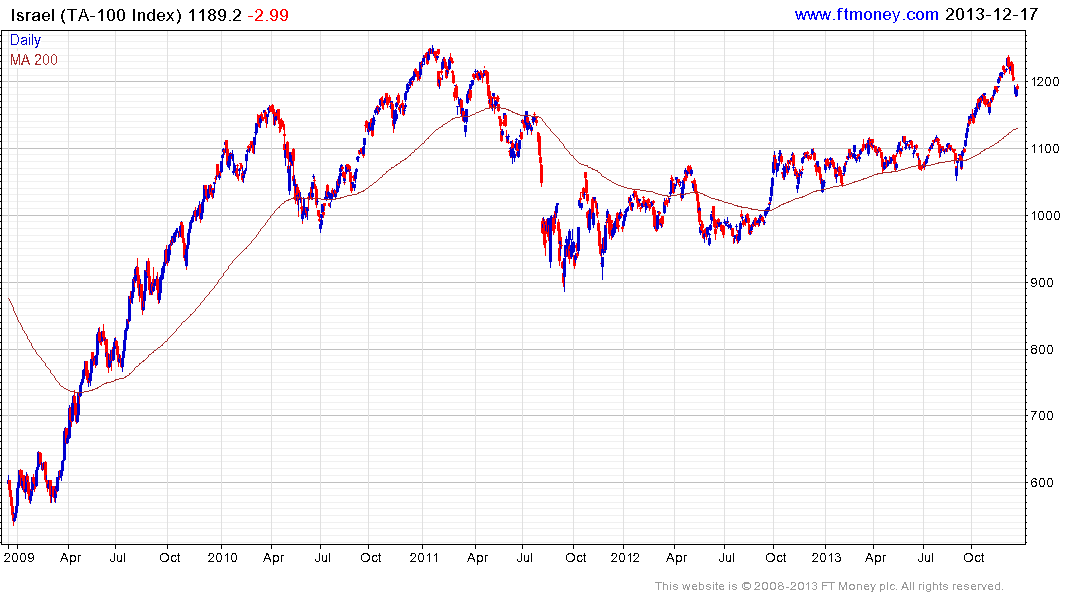 The Israeli Tel Aviv-100 Index broke out of a yearlong range in September and rallied to test the 2011 peaks near 1250 where it has paused The Index found at least near-term support this week and while some additional ranging is a possibility, a sustained move below the 200-day MA, currently near 1135, would be required to question medium-term scope for additional upside.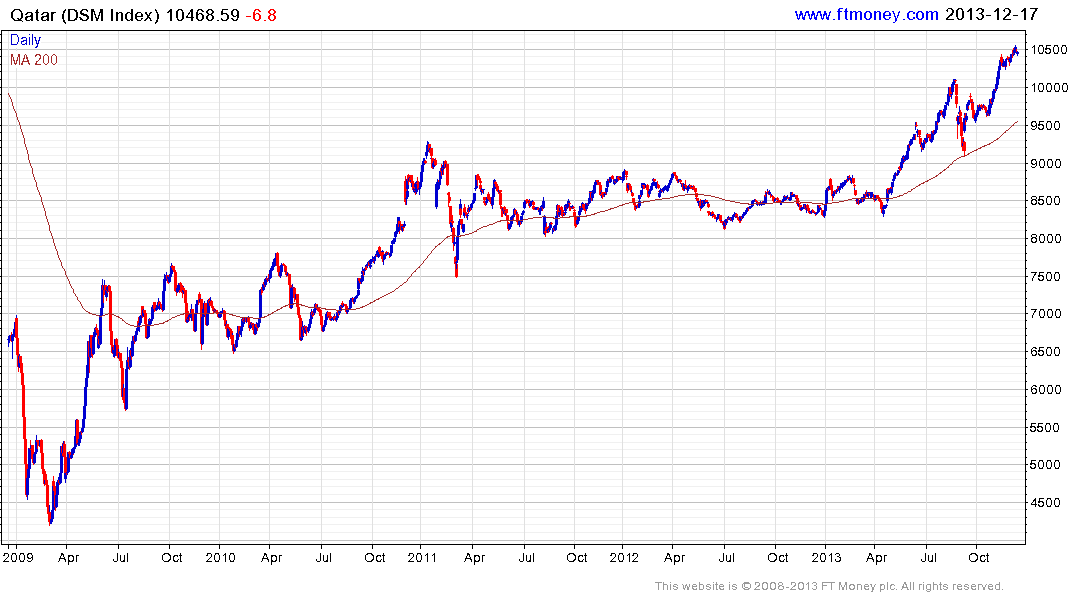 Elsewhere, the Qatar Index was inducted into the MSCI emerging markets sector earlier this year and continues to extend its breakout from a more than two-year range. Despite civil unrest during the Arab Spring, the political status quo appears to have been reasserted in Egypt. The stock market rallied impressively this year and has returned to test the 2009 and 2010 peaks below 700. A sustained move below the 620 area would be required to question the medium-term consistency of the advance.
Back to top