Kevin Rudd on Xi Jinping, China and the Global Order
I view this transcript of a speech delivered at the Lee Kuan Yew School of Public Policy in Singapore on Tuesday as required reading for anyone interested in China. Here is a section:
It is deeply significant that at the 2018 Work Conference, Xi Jinping states boldly that a core component of his new ideology of a "diplomacy of socialism with Chinese characteristics" would be for China to: "lead the reform of the global governance system with the concepts of fairness and justice." This is by far the most direct, unqualified and expansive statement on China's intentions on this important question we have seen.

China, like the rest of the international community, is acutely conscious of the dysfunctionality of much of the current multilateral system. It also sees the US walking away from much of the system as well: from the JCPOA which was agreed to by the UN Security Council; from the UN's Paris Agreement on Climate Change; its withdrawal from the UN Human Rights Commission; its open defiance of the Refugees Convention; and its challenging of the underlying fabric of the WTO.

Nature, as we know, abhors a vacuum. International relations even more so. And we all saw Xi Jinping's riposte to President Trump on climate change and trade at Davos 18 months ago just after President Trump's election. If China is indeed serious about leading the reform of global governance, its attitude to various of these multilateral institutions will be radically different to the historical posture of the US. Take for example the Human Rights Council in Geneva, which China would like to see emasculated. Mind you, so too now, apparently, does the current US administration!
I think it is fair to say that the rise of populism and the inability of the status quo to come up with anything other than a policy of appeasement is a reflection of an identity crisis evident in many Western economies. China's Communist Party does not suffer from that kind of identity crisis. In fact, it is on the front foot and is responding to internal challenges by attempting to expand abroad not least to boost the profile the Party at home.
China's international ambitions will not be realisable unless it can secure the domestic front. The current squeezing of the shadow banking sector is aimed to reducing a risk to the economy and is responsible for the underperformance of the stock market so far this year.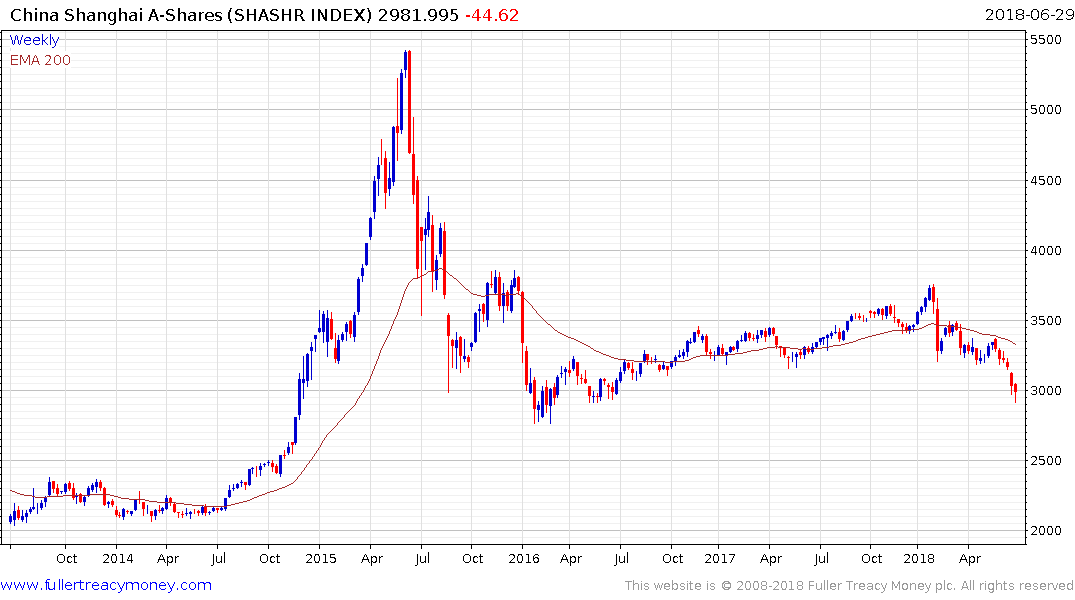 The Shanghai A-Share Index posted an upside key reversal today and upside follow through next week would help to confirm a low of at least near-term duration.
Back to top