Kellogg Gains Amid Unexpected Organic Sales Growth in 1Q
Kellogg shares rose as much as 3.9% to $65.50 premarket, which would be the highest intraday level since November, after the packaged food company surprised analysts with positive organic sales growth in the first quarter, vs expectations for a decline.

"K impressed this morning, as another large-cap food name tops revenue and profit expectations, partially driven by positive shipment timing and emerging market strength," Jefferies analyst Rob Dickerson writes
Commodities prices are running higher and that raises the question of how you can pass on higher costs to consumers. It's the same old corn flakes or shredded wheat so you need to do something. Organics are a great way to do that. Fair trade is another rationale to charge more. Reusable packaging, different shaped packaging and substitution with additional ingredients all allow food producers to protect margins. During this bull market I fully except to see carbon footprint credentials printed on each individual box of food and that will be used as the rationale for price increases.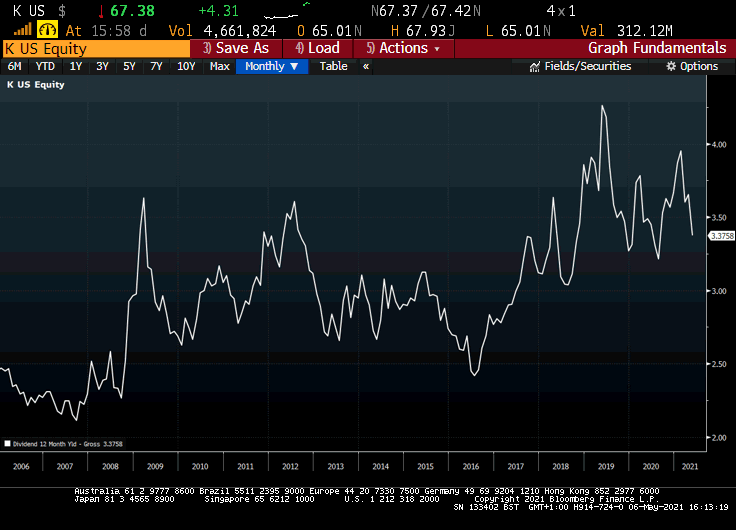 Kellogg's dividend yield peaked around 3.5% on multiple occasions since 2008. That level pops up time and again as the rate at which dividend investors wade in to buy the dip. It seems to be the optimal yield where a pullback creates value but is not the existential crisis that sends yields to double that level. The extraordinary measures taken by Exxon Mobil and Chevron last year to protect their records of dividend increases were the exception while Pitney Bowe's technology-challenged business model resulted in its once proud history of dividend increases disappearing.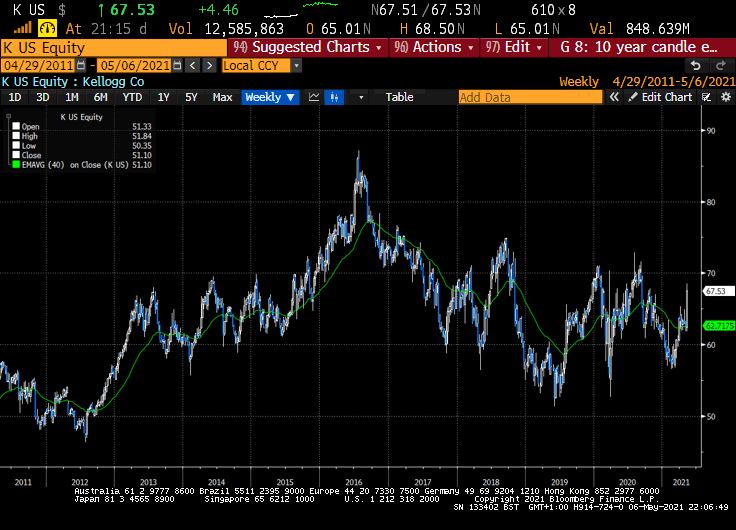 Kellogg's broke out of its base formation today on strong earnings. Food processors were among the best performers in the decade up from the post Tech bust lows because of fears of financial repression and commodity-led inflationary pressures. We appear to be in a similar situation today.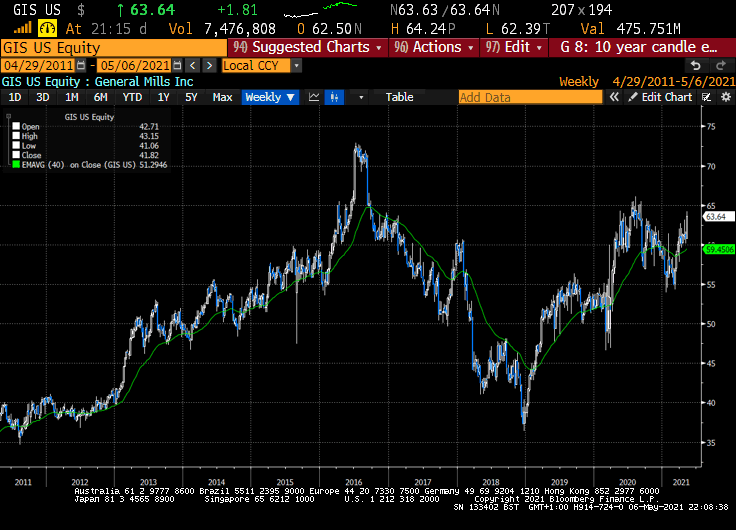 General Mills continues to firm and remains in a medium-term step sequence uptrend.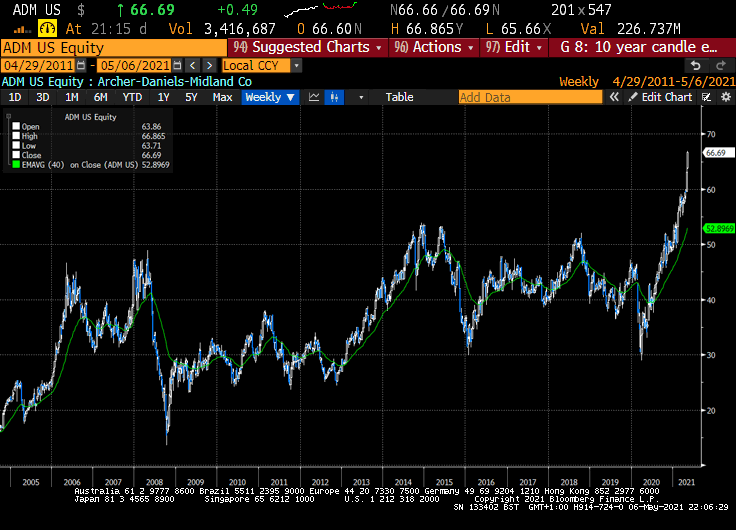 Archer Daniels Midland continues to extend the breakout from a five-year range. While overextended in the short-term, a sustained move back into the range would be required to question the bull market hypothesis.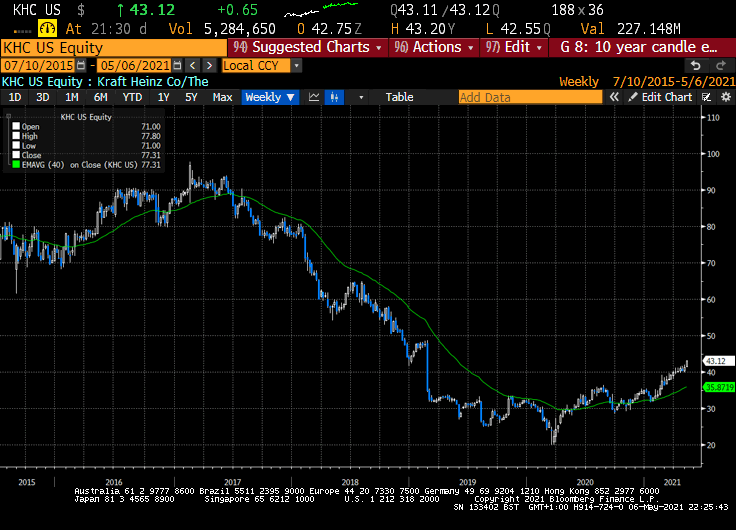 Kraft Heinz continues to extend the breakout from its base formation.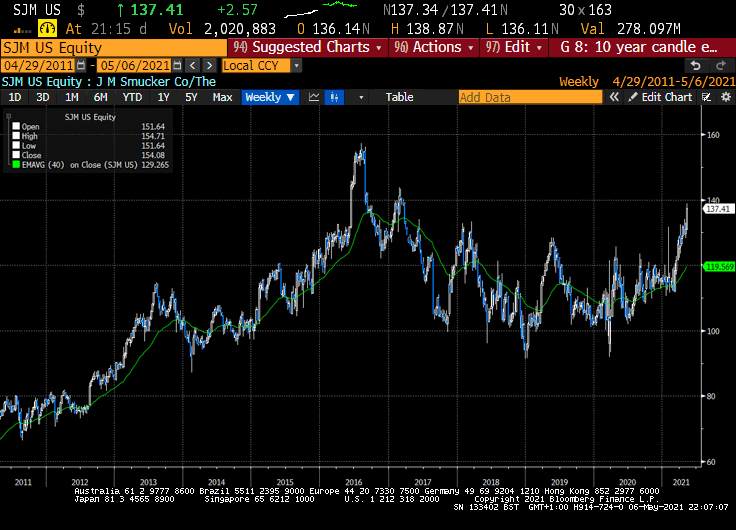 JM Smucker broke out of a four-year base formation this week.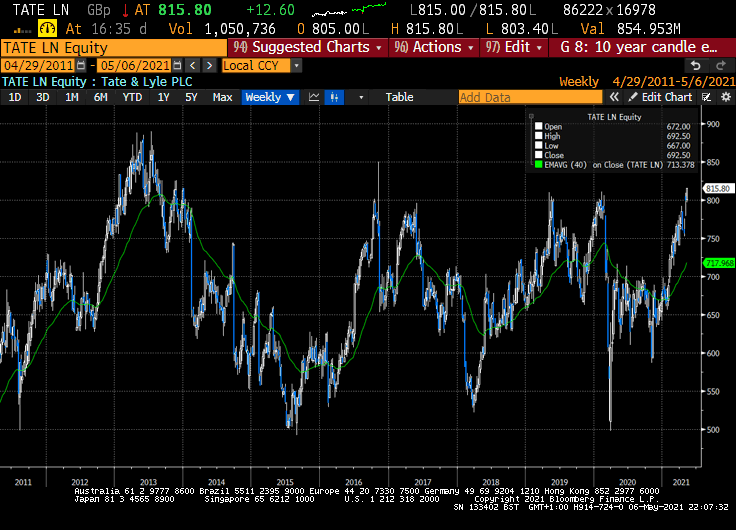 Tate & Lyle hit a new seven-year closing high today.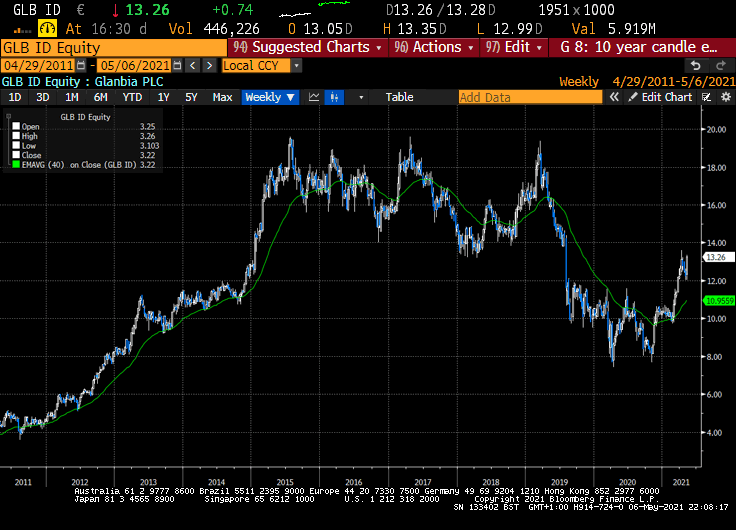 Glanbia is putting in a first step above its base.
Back to top