Just Like Price of ETH, Ethereum Usage Is Seeing Consistent Growth
This article from bitcoinexchange.com may be of interest to subscribers. Here is a section:
Much like the price, the network fundamentals are just as bullish, with the hash rate on the network on an uptrend ever since December 2019.

Unique addresses have also been only growing, now past 148.5 million. Daily transactions also hit a new ATH at 1.5 million this week versus 1.35 million on Jan. 4, 2018.

Average gas fees on the network continuously keep above 150 Gwei with several significant upticks along the way, which first gained momentum during DeFi summer, as per Etherscan.

While the high fees on the second-largest network continue to price out the smaller users due to high activity on the platform, it goes without saying people are still using it and paying the fees.

"You pay high fees now because it's the most useful chain by far. The catalysts coming will be the most obvious in retrospect," said Kyle Davies, co-founder of Three Arrows Capital.

The consistent growth in usage can further be seen in transactions settled by the Ethereum blockchain, which has reached $1.5 trillion in transactions in Q1 2021.
There has been a deal of interest in the alt-coins as bitcoin's price has increased. That's a normal response from investors who are drawn to the promise of quick gains. They look for catch-up potential as the primary asset rises and the cost of participating increases.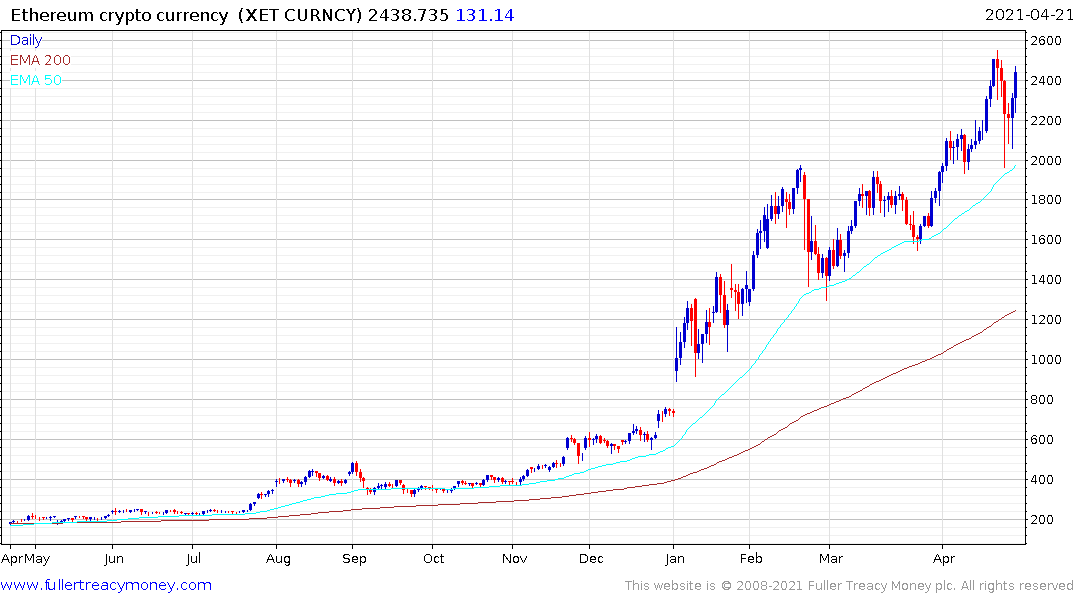 Ethereum's trend remains consistent with the most recent range holding above the previous peak. It has been particularly firm over the last few days despite the weakness in bitcoin. The question I have been thinking about is whether this is a positive sign for the bitcoin price.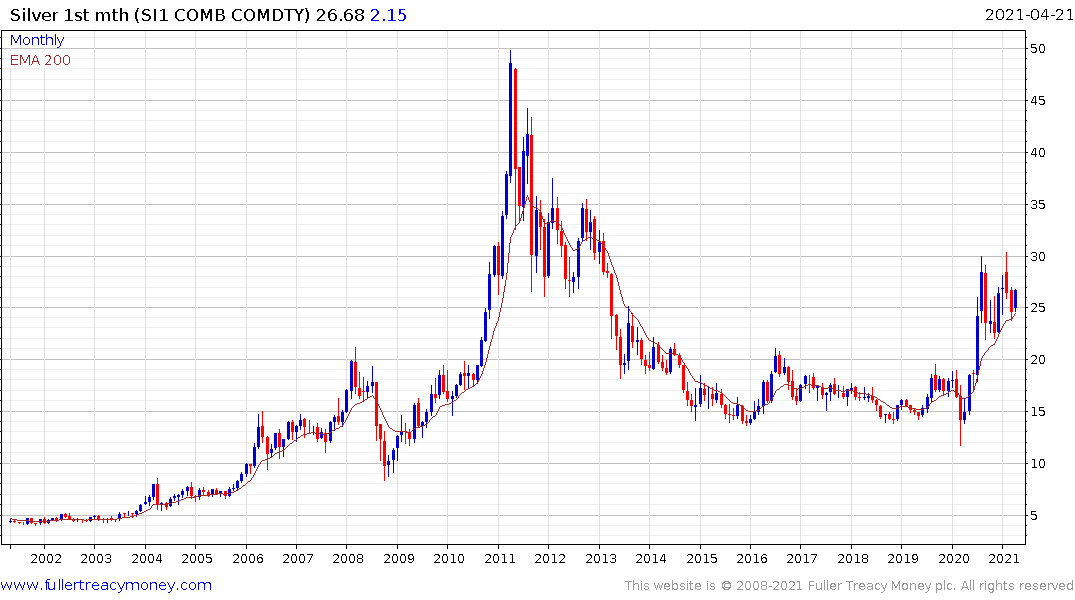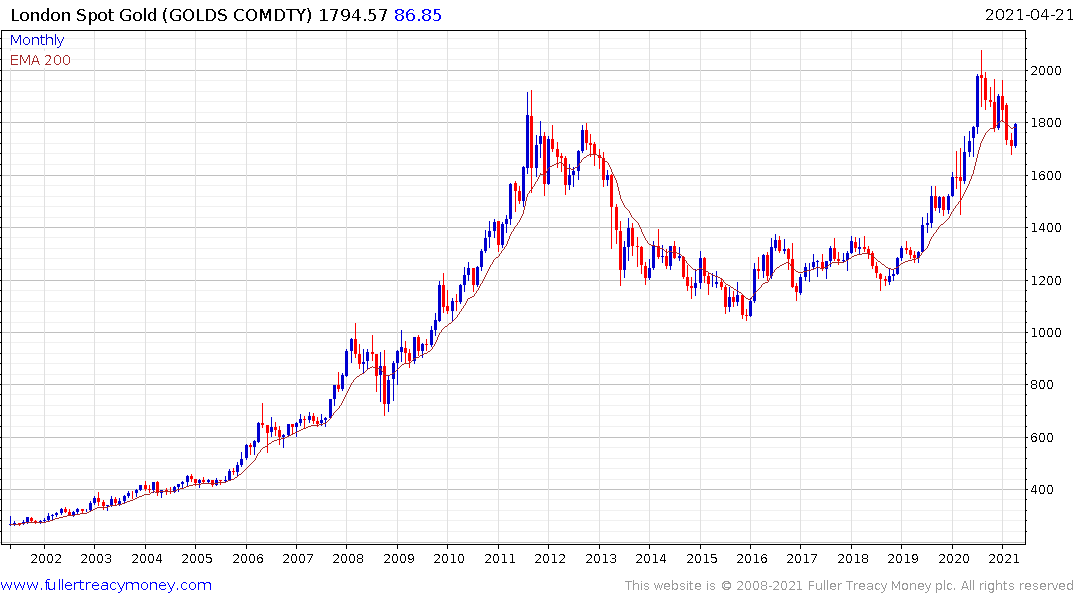 If we were talking about silver's reflection of speculation in gold, I would have no hesitation in saying that silver's recent strength is strong confirmatory evidence of the continued bull market in gold, regardless of the corrective phase which has been ongoing since August.



The challenge with reaching that same conclusion with Ethereum and bitcoin is that bitcoin peaked before Ethereum in 2017 and there was a three-week lag before Ethereum rolled over. It is extremely unlikely that Ethereum is going to continue to hold up if bitcoin continues to correct. However, it may fall less than bitcoin, at least initially, if the 2018 experience is repeated.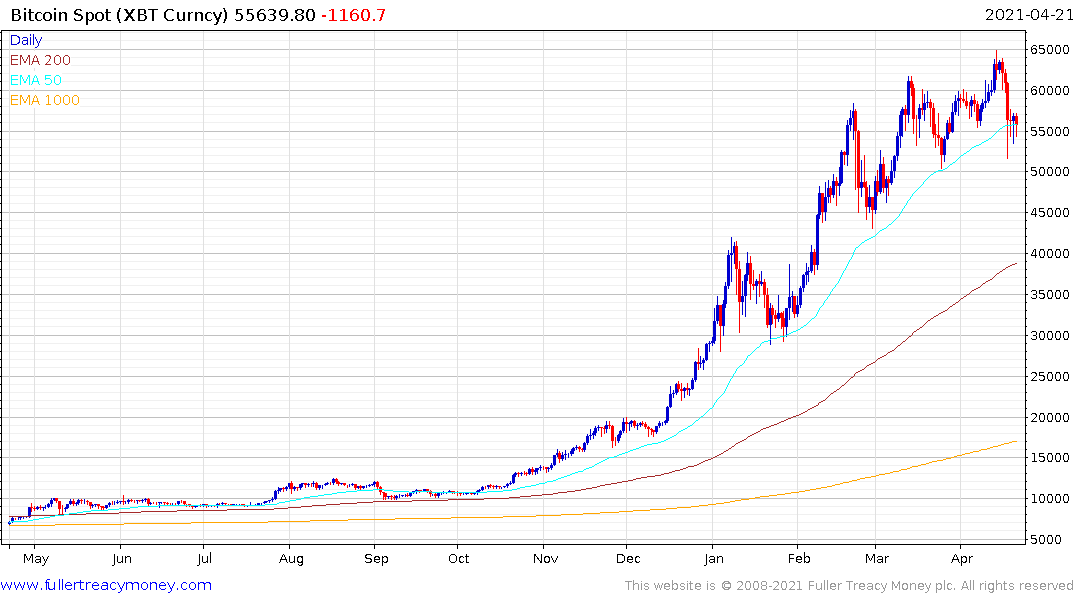 The price is now testing the 50-day MA which is the favoured measure of momentum traders. It is reasonable to expect many stops have been imposed right around $53,000; even as traders buy the dip.
If that level is taken out the next area of potential support is the 200-day MA which is close to $35,000. The 1000-day MA has been the termination point for bitcoin crashes in the past. That level rests at just under $15,000.
Back to top