JPMorgan Says Japan Inc. Must Prepare for Yen Below 100 a Dollar
This article by Kevin Buckland Kazumi Miura for Bloomberg may be of interest to subscribers. Here is a section:
"Different from past episodes of the yen carry trade, this time the major sellers of the yen are Japanese," he said, referring to a strategy where investors borrow yen cheaply to invest in higher-yielding nations. "Japanese will need to unwind those positions eventually. The yen is no longer the ideal funding currency."

Funding carry trades in yen lost money against every major currency in the second half except the New Zealand dollar.

Neither the BOJ nor politicians want additional weakness, as wage gains have failed to keep pace with surging food prices, squeezing consumers, according to Sasaki. The yen drop also spurred a record number of bankruptcies among small- and medium-sized businesses dependent on imported materials. JPMorgan sees its benefits as exaggerated.

"The economy is not driven only by the foreign-exchange rate," he said. "If the growth momentum is strong, I think the Japanese economy can overcome it."
Having trended higher in a reasonably consistent manner from late 2012, the Dollar lost momentum over the last year against the Yen The Bank of Japan disappointed traders earlier this month when it demurred from accelerating its easing program. As a result the Dollar dropped back to test the region of its trend mean and will need to find support in the region of ¥120 if medium-term potential for continued higher to lateral ranging is to given the benefit of the doubt.


While it is arguable what effect a stronger Yen will have on the economy, a break in the Yen's downtrend would contribute to an uptick in volatility for the wider stock market.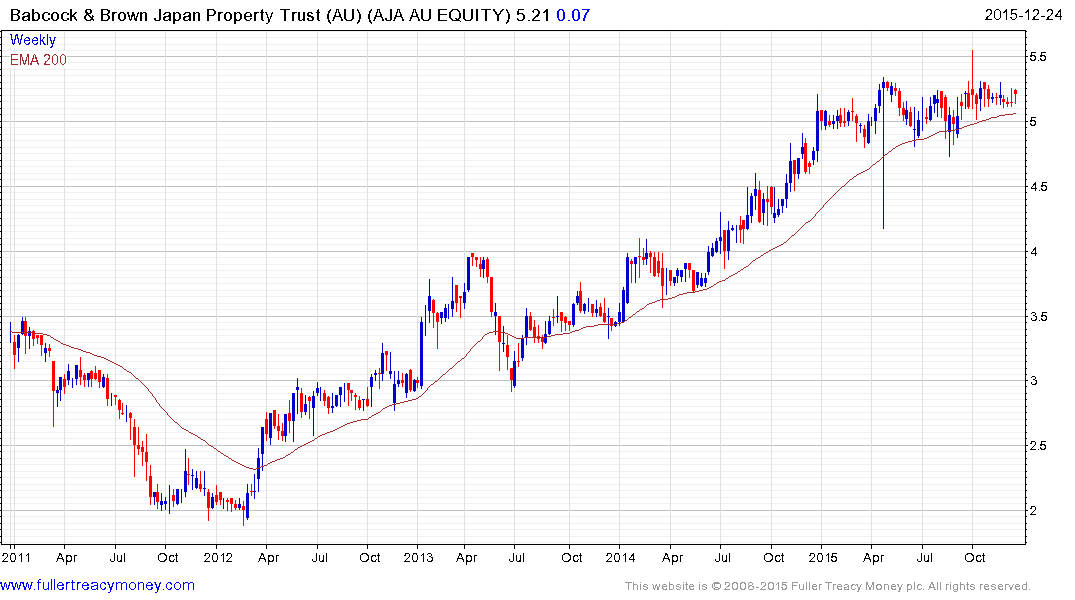 The REIT market has been among the firmest sectors in Japan over the last few months and the Australian listed Astro Japan Property Group (Est P/E 10.16, DY 5.47%) is a reasonable proxy. It spent most of this year ranging with a mild upward bias and a sustained move below A$5 would be required to question upward potential.
Back to top