Joko Widodo sworn in as Indonesia's president
This article from the Los Angeles Times may be of interest to subscribers. Here is a section:
But Widodo's reform efforts -- including plans to reduce a popular fuel subsidy that eats up around one-fifth of the national budget -- are likely to face opposition in a hostile parliament where the opposition, led by his election rival Subianto, holds 63% of seats. Subianto refused to accept his election defeat and has threatened to block Widodo's agenda.

"While he has attracted plenty of plaudits for his clean style of government, he is untested at the national level and could struggle to push through critical reforms," reported Capital Economic, a London research group.

Last month, Subianto won a vote to end Indonesia's system of direct elections for local officials, which helped Widodo get his start in politics in Solo nine years ago. The change has raised concerns about the future of democracy in a country usually lauded as a successful example of transition from dictatorship.

Analysts say Widodo may have to cut deals with the opposition and possibly offer Cabinet positions to members of Subianto's coalition. That could disappoint some supporters but also weaken resistance to his reforms, said professor Tim Lindsey, who directs the Center for Indonesian Law, Islam and Society at the University of Melbourne in Australia.

"Jokowi is a canny operator, and has shown the ability to broker deals while leading minority governments as mayor of Solo and as governor of Jakarta," Lindsey said.

?Widodo visited Subianto last week, their first meeting since the election, and mentioned him by name during his inauguration address. Subianto stood and gave Widodo a military salute -- a sign, according to experts, that he was offering his rival at least temporary support.
The election of a non-elitist to power in Indonesia is a major achievement and reflects the power of a democracy to deliver on improving standards of governance when needs must. Widodo will need skill and luck in order to push through his reform agenda and with an opposition led parliament this will not be easy. Indonesia became a net oil importer by 2004 yet the hefty oil subsidy it pays to keep the domestic price of fuel low is still intact. Any progress that can be made in reducing this burden will be seen as a win and would free up capital for more productive uses.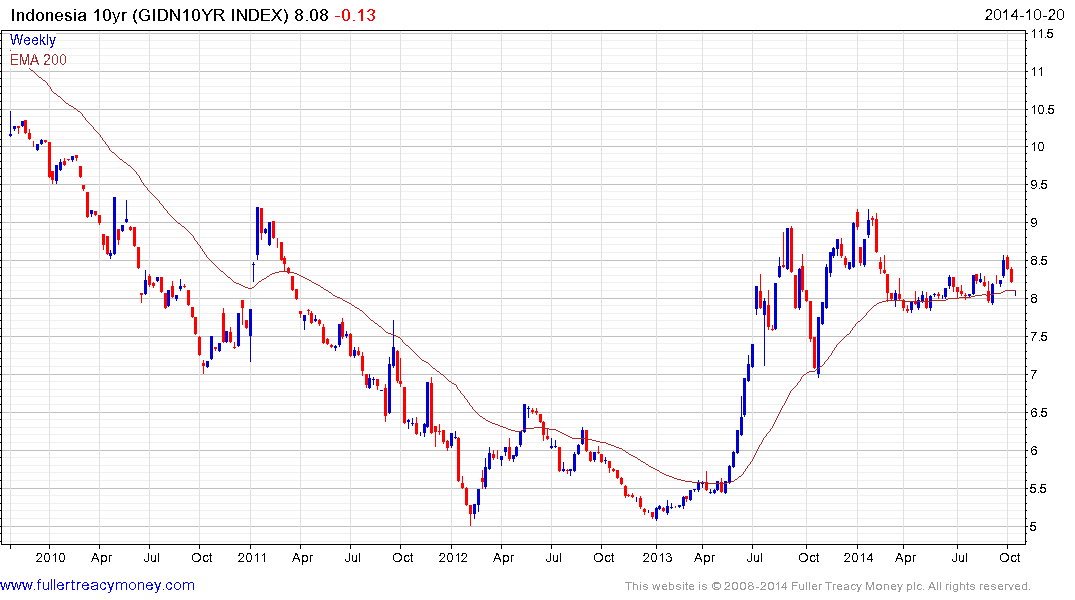 Widodo's success or otherwise will be reflected in the performance of the financial markets. For example, Rupiah denominated Indonesian government bond yields spiked higher in 2008 and trended lower until early 2013. Yields surged during the so called "taper tantrum" 18 months ago and have since stabilised near 8%. If additional compression is to be expected, it will probably need to coincide with perceptions of improving government finances.


The US Dollar trended higher against the Rupiah from 2011 and has at least paused in the region of the 2008 highs. A sustained move below the 200-day MA, currently near IDR11,700 will be required to confirm a return to Rupiah dominance beyond the short term.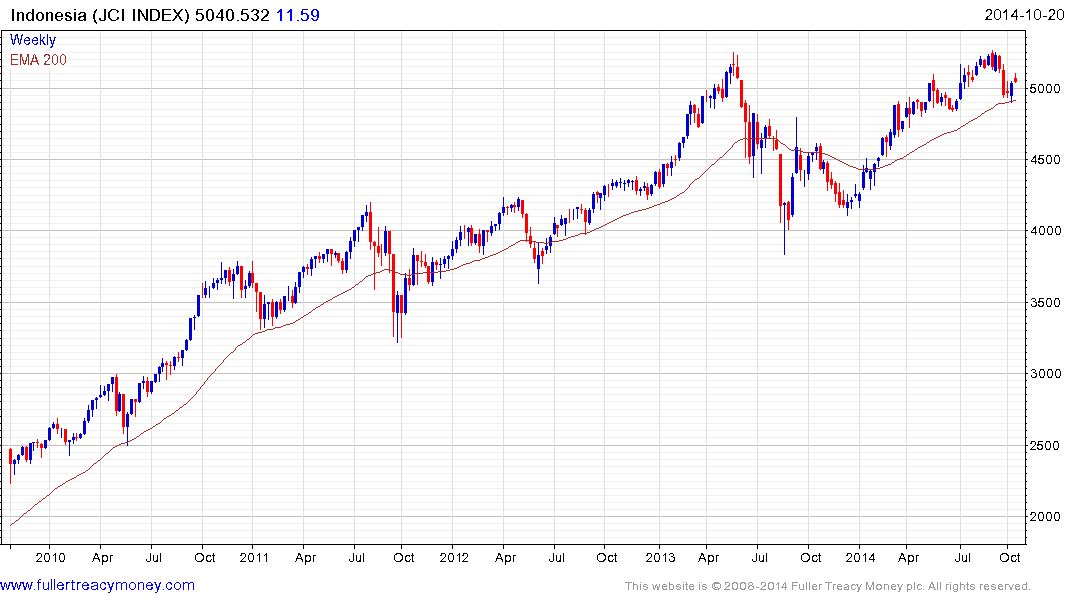 The Jakarta Composite (P/E 19.79, DY 1.92%) lost momentum following an accelerated advance 18 months ago but found support in the region of 4000 and has held a progression of higher reaction lows since December. It found at least short-term support in the region of the 200-day MA last week and a sustained move below 4900 would be required to suggest more than temporary resistance in the 5250 area.

The five funds listed in the Indonesia Funds section of the Chart Library all pulled back sharply last year not least because of the Rupiah's weakness but have held progressions of higher reaction lows this year.
Back to top