Johnson;s Acerbic Brexit Mastermind Wants a Political Revolution
This article by Joe Mayes for Bloomberg may be of interest to subscribers. Here is a section:
Since the referendum, he has retreated from public politics, offering only the occasional blog post, often thousands of words long, setting out his views about government, technology and educational systems, but especially on why he believed the government was making a mess of Brexit.

His tone was often contemptuous: Brexit Secretary David Davis was "thick as mince, lazy as a toad and vain as Narcissus." Pro-Brexit MPs were "useful idiots" who spent their time "spouting gibberish."

In 2018 he described Theresa May's approach to Brexit as a "surrender" and said that Article 50 -- the divorce process with the EU -- was triggered too early, akin to "putting a gun in your mouth and pulling the trigger.'' He said the success of Brexit won't be known for decades, and tweeted in 2017 that there are "possible branches of the future'' where leaving will have been an error.

Cummings's main thesis is that Britain's system of government is "systematically dysfunctional" and designed to keep the U.K. as closely tied to the EU as possible. He's called for a radical shake-up of Whitehall, saying Brexit cannot be delivered without it.
As I've said on many occasions before, the only way to negotiate is to project a credible argument that you are willing to walk away if you do not get what you want. In a two-way negotiation, where the opposing party believes they have a superior position, it is the only price discovery tactic that has any hope of working. It finally appears the UK administration has got the message.
The bigger issue is a large number of parliamentarians are bitterly opposed to pursuing this strategy or accepting the consequences if a deal is not struck. That suggests an election may be required to clearly ask the question of voters, which strategy they are willing to support?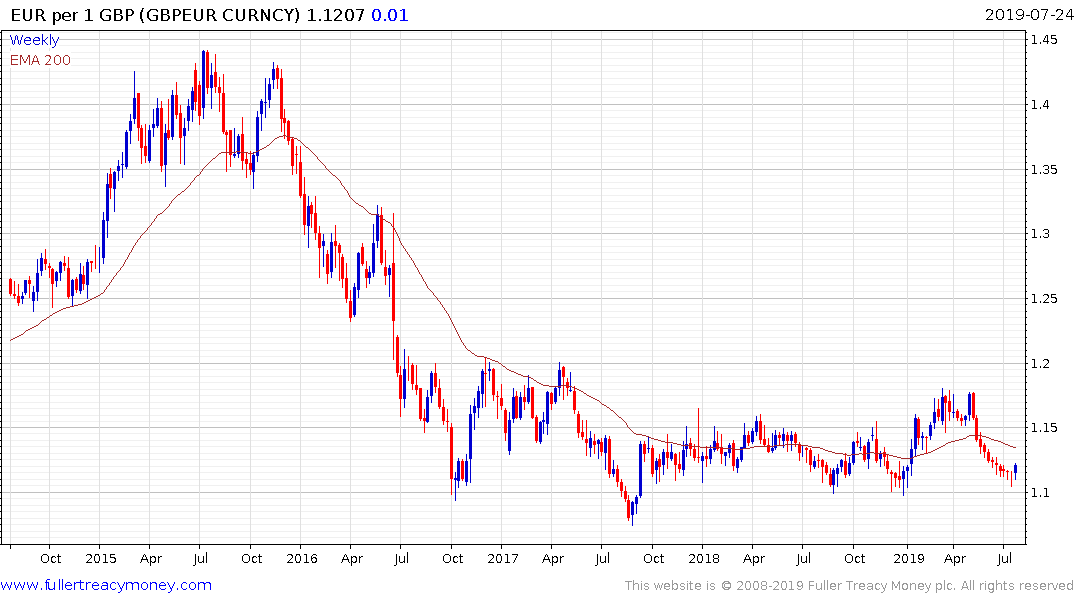 The Pound rallied today to break its sequence of lower rally highs against the Euro which confirms at least near-term support in the region of the lower side of the range. It also suggests investors are willing to bet the new administration does not have backing in Parliament to follow through on its hard Brexit tactic.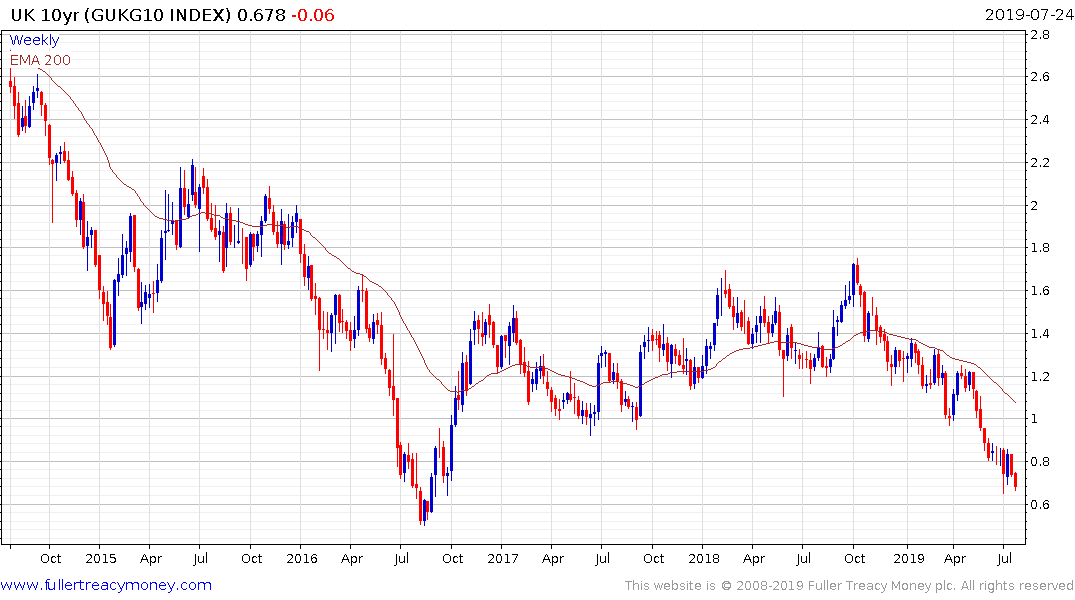 Gilt yields retested the early July lows near 65 basis points today and, while a short-term overbought condition is evident, a sustained move above 87 basis points would be required to begin to question the sequence of lower rally highs.
Back to top