Johnson Hands Workers, Firms $17 Billion Annual Health Bill
This article from Bloomberg may be of interest to subscribers. Here is as a section:
Johnson made a statement to a hushed House of Commons on Tuesday, ahead of a joint press conference with Chancellor of the Exchequer Rishi Sunak and Health Secretary Sajid Javid.

As he begins his third year in office, 57-year-old Johnson is looking to move beyond the Covid-19 pandemic by delivering on a policy promise that he set out in his first speech as prime minister to "fix the crisis in social care once and for all" -- as well as ensure the NHS can keep functioning under extreme
pressure.

But by attempting to meet this pledge, he is tearing up another one: the Conservatives vowed in their manifesto not to raise income tax, national insurance or VAT. He's gambling that voters will reward him for finding a solution to social care, a problem that eluded his predecessors.

The government broke another pledge on Tuesday, saying it will scrap its "triple lock" commitment to pensioners, albeit for one year only. Pensions will now rise by the greater of inflation or 2.5%, Work and Pensions Secretary Therese Coffey said. Suspended is an average earnings component after distortions caused by the pandemic caused wages to soar almost 9% over the past year.
The UK has been among the most forthright in speaking about the budgetary problems the pandemic has delivered. The fact this new set of spending plans will be budget neutral is to be welcomed and suggests the UK is less likely to be a leading proponent of modern monetary theory. Nevertheless, the big question remains how the existing deficit will be tackled over the next couple of years.
No one wants to pay higher taxes, regardless of what the money will be used for. The UK might have a strong emotional attachment to the NHS, but as the population ages and expenses rise, the question of how to continue to pay for it will be a constant challenge.
Many countries are in the same situation with root and branch reform the only possible path to financial sustainability. That's practically impossible with such an emotive topic. Consider the UK's total spend on IT infrastructure. Here is a section from a recent independent report:
A recent analysis by Government Security indicates that almost 50% of current Government IT spend (£2.3BN out of a total central Government spend of £4.7BN in 2019) is dedicated to "keeping the lights on" [KTLO1] activity on outdated legacy systems, with an estimated £13-22BN risk over the coming five years.
Reform is orders of magnitude more difficult than increasing spending. That's the primary reason people are cynical about having to pay more for uncertain returns in terms of service.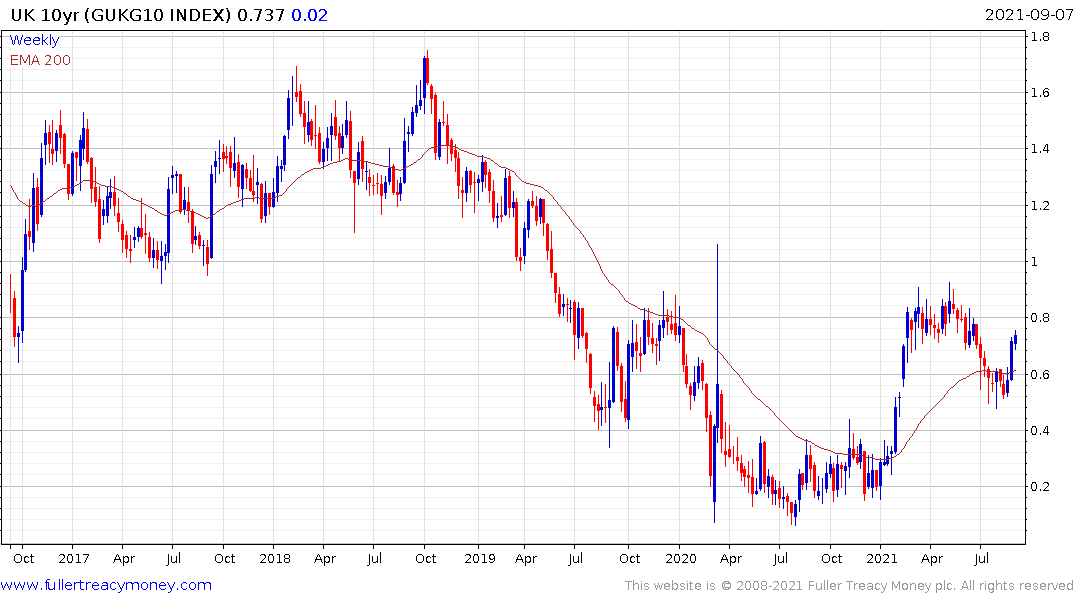 UK Gilt yields share strong commonality with developed market sovereign yields globally. The chart has inverse head and shoulders characteristics which suggests a break above 1% would represent a significant base formation completion.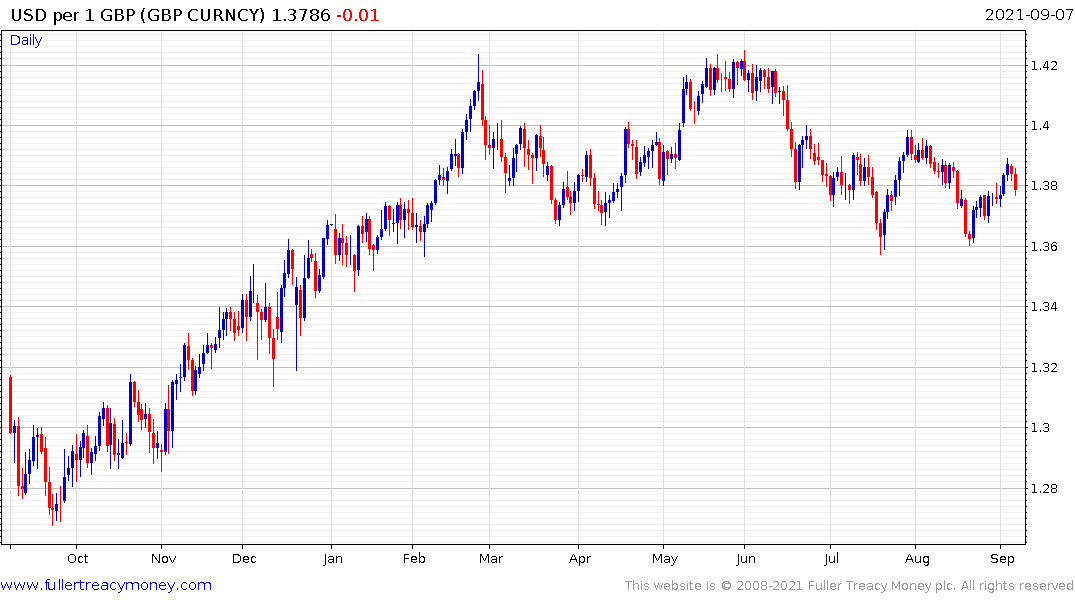 The Pound continues to pause in the region of the trend mean and will need to hold the $1.35 area if the benefit of the doubt is to continue to be given to the upside.
Back to top