Japan Won't Intervene in FX Lightly, Finance Minister Aso Says
This article by Yoshiaki Nohara for Bloomberg may be of interest to subscribers. Here it is in full:
Finance Minister Taro Aso signaled that Japan's government won't intervene to stem the yen's strength without due consideration, saying the markets have already somewhat taken into account the potential impact of a vote in favor of Brexit.

"Speaking of FX intervention, we won't do it lightly," Aso said at a press conference in Tokyo on Tuesday. "The G-7 and G-20 have agreed that abrupt moves are not desirable and we aim for stability. We will take action in line with that agreement."

Aso's comments came as the yen has surged more than 5 percent versus the dollar in June as global markets await the outcome of Britain's June 23 referendum on European Union membership. The vote and its effect on the global economy has boosted the yen's demand as a safe-haven currency.

The finance minister said the market has already taken into account Brexit to some degree, limiting upward pressure on the yen. Aso last week voiced strong concern about one-sided, abrupt and speculative moves in the foreign exchange market. The yen traded at 104.03 per dollar as of 12:49 p.m. in Tokyo.
Negative interest rates inhibit the BoJ's ability to weaken the currency since it is inherently deflationary and therefore reduces rather than increases the quantity of currency in circulation. The question therefore is at what point the strength of the Yen is likely to pressure officials to try something new?


The Dollar has been trending lower against the Yen for a year and while the pace of the decline has picked up the progression of lower rally highs remains intact. The psychological ¥100 level represents an area of potential support but a clear upward dynamic which breaks the downtrend will be required to begin to signal a return to Dollar demand dominance.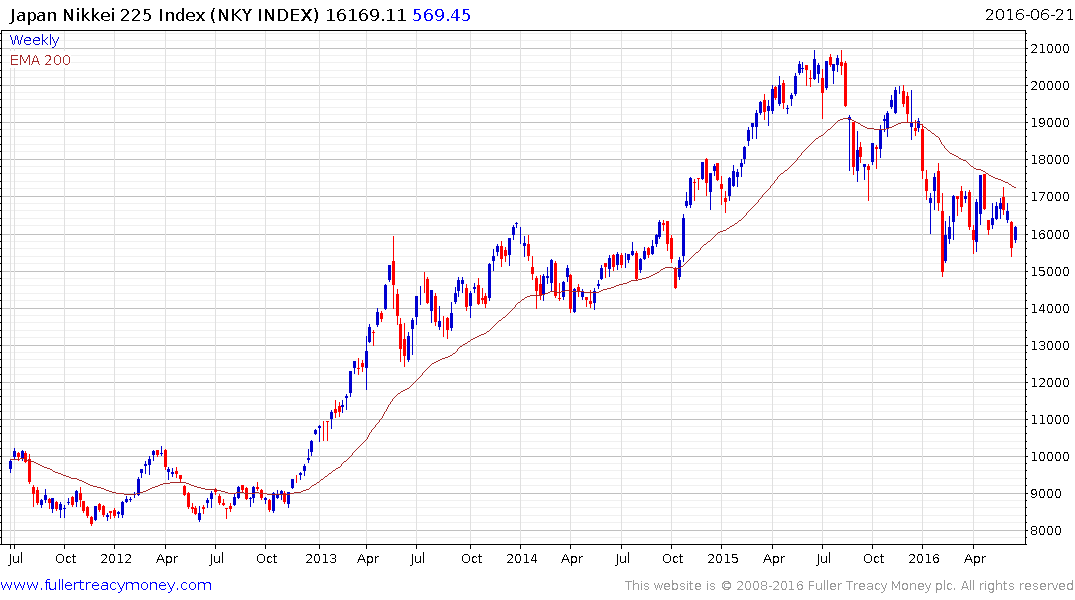 The Nikkei-225 continues to range mostly above 15,500 but needs to sustain a move above the trend mean to confirm a return to demand dominance beyond the short term.
Back to top