Japan-South Korea Feud Boils Over Amid Trade Actions, Protests
This article by Isabel Reynolds and Sam Kim for Bloomberg may be of interest to subscribers. Here is a section:
South Korean President Moon Jae-in called Japan "reckless" in a national address Friday and his country planned to cross its neighbor off a preferred-trade list. The move came hours after Japanese Prime Minister Shinzo Abe's cabinet removed South Korea from its list of trusted export destinations.

U.S. Secretary of State Michael Pompeo met his counterparts from both countries Friday, but the dispute, which simmered for months as the Trump administration sat on the sidelines, looks set to worsen amid protests, boycotts and economic warnings. "By bringing economic sanctions, they've really escalated it to another level," said Robert Dujarric, director of the Institute of Contemporary Asian Studies, Temple University, Japan. "This isn't going to make South Korea cave in. If anything, it heightens South Korean nationalism. It makes it harder to de-escalate and harder to have a 'united front' against China."
Japan and South Korea compete in many of the same export markets and their rivalry had previously been contained by the global trade network but the historical enmity between the two countries is never far from the surface. The advent of trade wars, mercantilist competition and shifting loyalties is introducing a degree of uncertainty in the region that hasn't been seen in decades.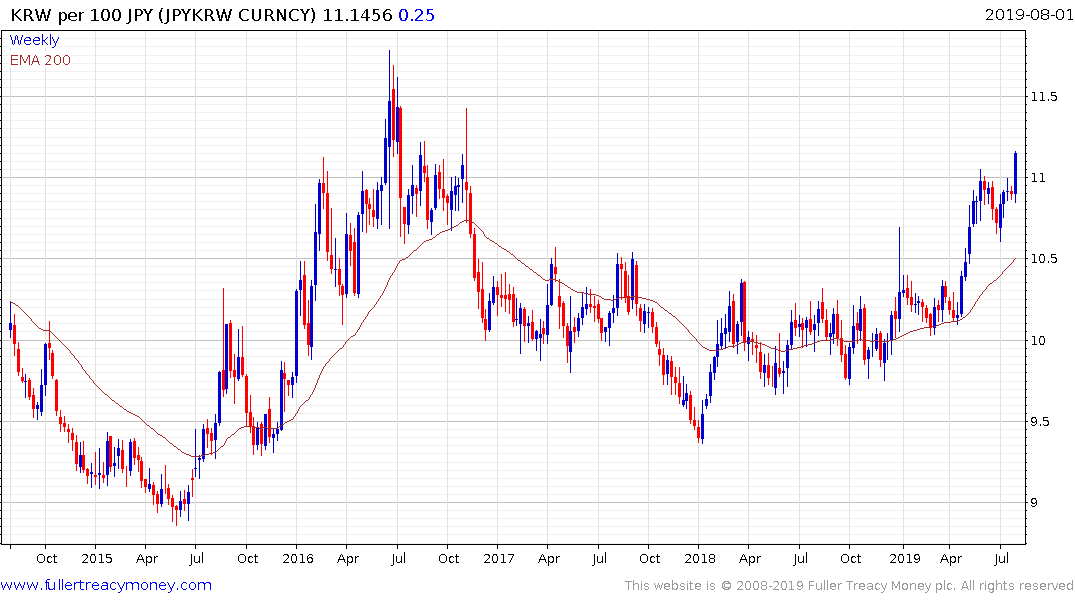 The Japanese Yen has rallied impressively over the last week but most especially against the Korean Won. It was in South Korea that the first signs of a global slowdown began to appear back in late 2017 and it is therefore worth monitoring as a barometer for how the trend is evolving.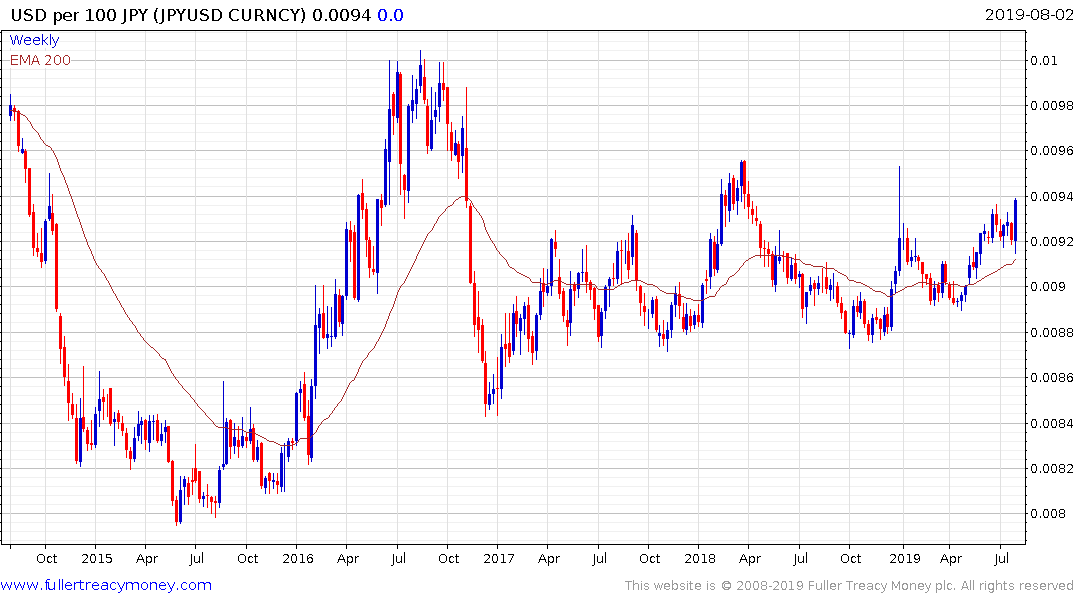 The Yen broke out of a more than two-year base in May and this week's upward dynamic confirms a return to demand dominance against the Won.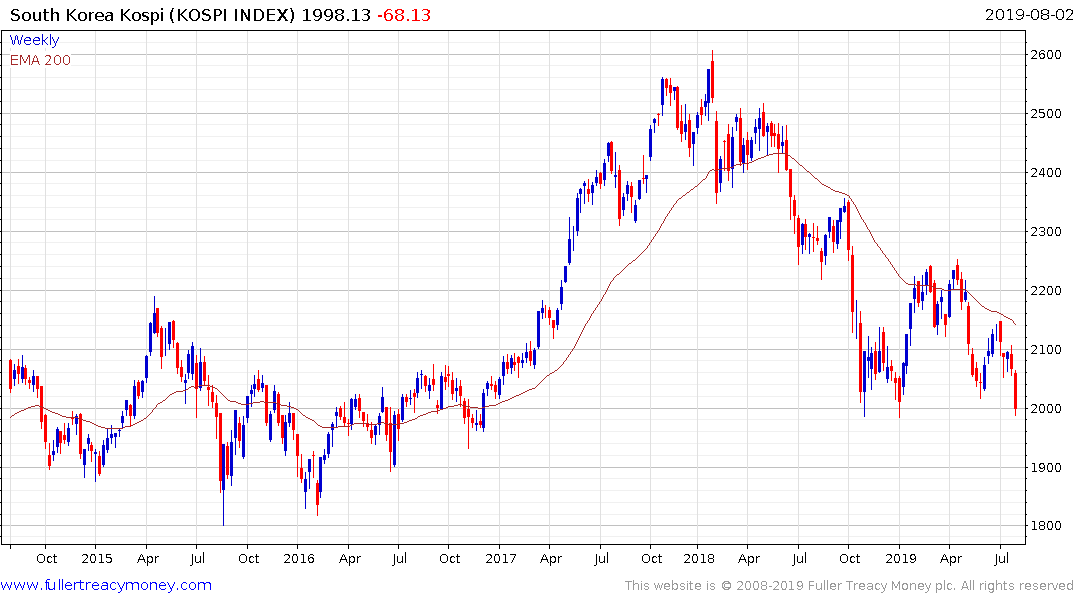 The Kospi Index has completely unwound the 2017 break out closed at a new low for the year this week. A sustained move above the trend mean will be required to question scope for continued weakness.
The strength of the Yen is likely to quickly become a national priority for Japan as it tests it's the upper side of its range against the US Dollar. With the ECB and Federal Reserve lining up additional stimulative measures how long will it be before Japan joins the competitive devaluation competition?
This article from Chinadaily in May reports on Samsung's $14 billion investment in chip manufacturing facilities in China. A question that will need to be considered over the medium-term is in what direction South Korea will lean in an increasingly vitriolic trade war. Does it view China as a greater threat than Japan? Does the ultimate path to reunification with the north run through a realignment of interests with China rather than the USA?
Back to top