Japan Inc. Might Finally Have to Fatten Paychecks
This article by Daniel Moss for Bloomberg may be of interest to subscribers. Here is a section:
It's all a question of the tipping point: When do labor shortages become so acute that there's a scramble and employers both big and small have to pay up or risk, literally, running out of people?

Izumi Devalier, head of Japan Economics at Bank of America- Merrill Lynch, thinks we've reached that point. "There have been many false dawns, so making the case this time can be quite difficult," she acknowledges over lunch. But, using an admittedly anecdotal example, she observes that famously high levels of service at Japanese restaurants are starting to slip subtly because of the gathering labor shortage. "People know that if they don't secure talent now, it's going to get harder and harder."

For those that want to stay in business, the need to retain staff will outweigh all others. Yamato Holdings Co. Ltd., the parcel delivery company with the cat-and-kitten logo that seems to be everywhere in Tokyo, is instructive. Faced with a shortage of drivers and efforts by competitors to poach those it did have, the firm raised its base rate for customers in April.

It took almost three decades, but what's important is that it happened. Fierce competition among delivery firms had made Yamato Transport wary of raising prices, but overworked and underpaid staff had better offers. Something had to give. Forty- seven thousand employees were subsequently compensated for unpaid overtime.

One might compare the shock to the system to the 1985 Plaza Accord, when Japan and West Germany agreed to let their currencies strengthen against the dollar. Among other things, Plaza accelerated the overseas expansion of Japanese corporations. Now companies need to make equally wrenching decisions about how best to deal with shrinking labor liquidity.
Japan is a petri dish for experiments on how to deal with a declining population without recourse to immigration. So far it has failed in stimulating inflation and while it may be necessary to pay employees more to ensure they are not poached, there is the additional question of where demand growth is to come from when such a large proportion of the population is in the latter stages of life.

Immigration is the easy answer, Japan instead chose automation and has more robots per capita than any other country. The big question is whether it can avail of emerging technologies fast enough to avoid wage inflation by automating at an even faster pace. In many respects, the answer to this question will give us a window on how similar questions about the nature of work and automation play out in other countries.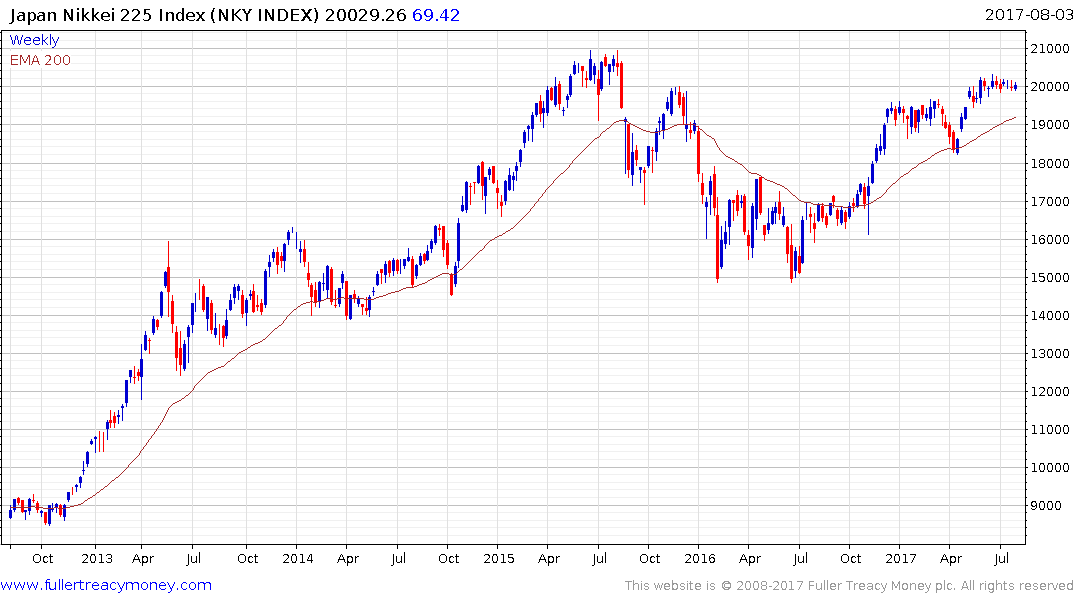 The Nikkei-225 has been ranging in the region of the 20000 since May which has at partially unwound its overextension relative to the trend mean. However, it will need to sustain a break up and out of this range to confirm a return to medium-term demand dominance.
Back to top