Japan: Ignore Autos and Electronics to Profit
Thanks to a subscriber for this article by Emma Wall for Morningstar may be of interest to subscribers. Here is a section:
With a shrinking working population, Japan has record low levels of unemployment and the economy is poised to receive a boost once this lack of supply filters down to wage growth. But there are equities which can profit from the tight labour market according to Weindling; he invests in recruitment firms that provide permanent and temporary workers.

Suppliers Immune from Domestic Threats
While the population is ageing, Weindling points out that a Japanese company does not need a Japanese customer base to thrive.

"There is no reason why Japan should not continue to make things. Factory automation and robotics are not a threat to Japanese industrials in the way that they are to US companies – they are the solution to a dwindling workforce," he says. "More automation is a good thing, and the larger industrials will continue to take market share. It is a multi-year, structural shift."

That does not mean he backs the exporters of old, however. The international names which have long been synonymous with Japan are electronics firms and auto-makers; Toyota, Canon, Mitsubishi and even Sony are no-go areas for Weindling.

"No one buys cameras anymore, so why would I buy Canon," he says. "We don't own any of those household names. Their prospects are considerably lessened. Japan's export market is no longer about cars and electronics, it is about condoms, baby milk, skin cream, medicine. Japan is known across Asia for high-quality products, reliability and high safety standards. These are the companies you want to be invested in."
Japan is an increasingly popular tourist destination for Asian, particularly Chinese, tourists who come with well-defined shopping lists from WeChat personalities that tell them exactly what and what not to purchase. On my family's visit to Japan in April there were a number of consumer items Mrs. Treacy was very eager to try based on reviews she had
seen in Chinese social media.

Cosmetics were top of the list. In a clear example of wanting what you don't have many white people wish to be tanned while many darker people prefer to be whiter. UV protection and whitening agents tend to be very popular. Having spent some time rifling through the cosmetics drawers in our bathroom this morning. The company's whose products made into our shopping cart include Lion Corp, Kose, Shiseido, SKII (owned by P&G) and there are a few more I couldn't recognize without Mrs. Treacy here to read them for me.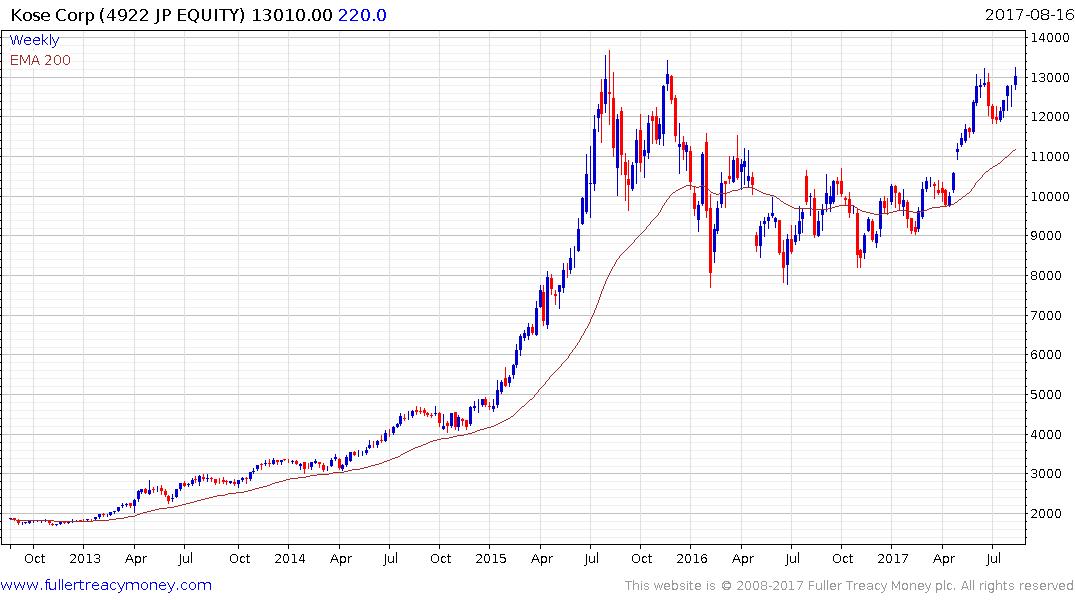 Kose is back testing the highs posted in 2015 and a sustained move below ¥12000 would be required to question medium-term scope for additional upside.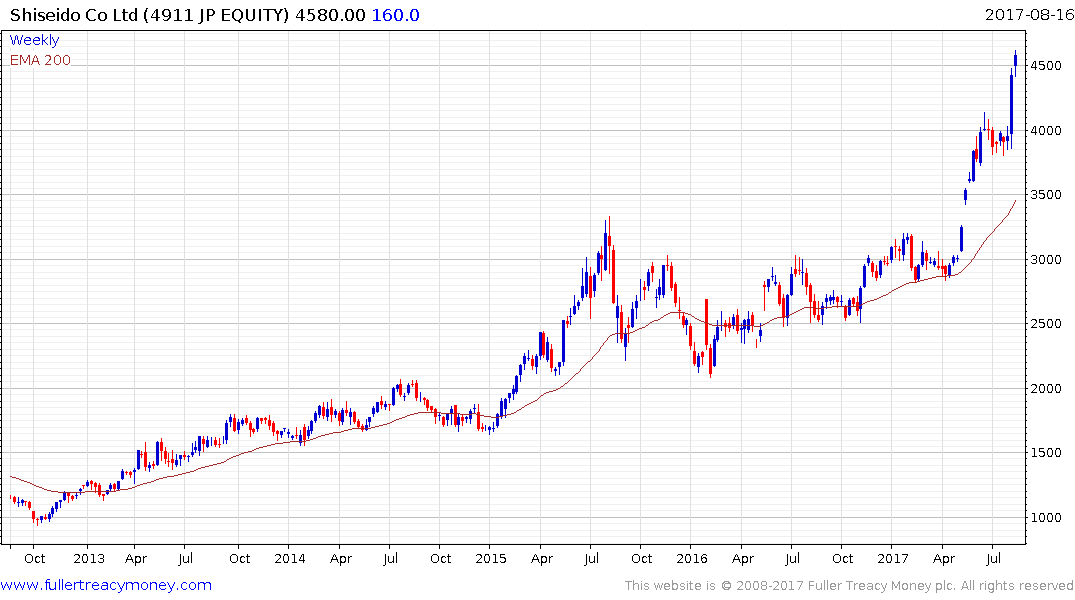 Shiseido broke successfully out of a two-year range in May and is now accelerating higher, suggesting some consolidation is looking increasingly likely.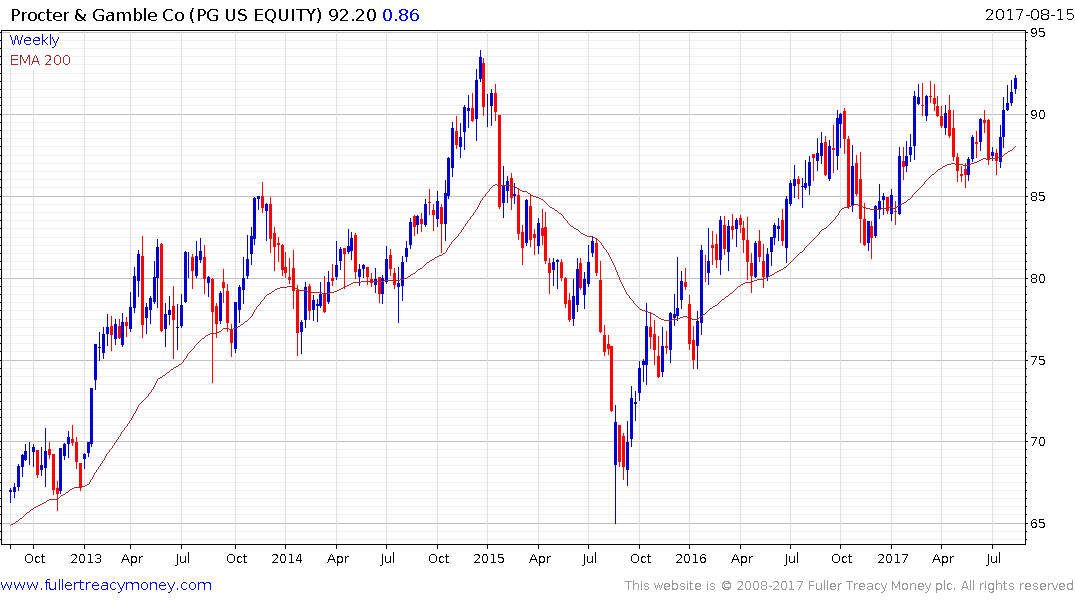 P&G generates about 17% of sales from its Asia Pacific and China markets. The share is backing testing its 2015 highs and a sustained move below $85 would be required to question medium-term scope for a successful breakout.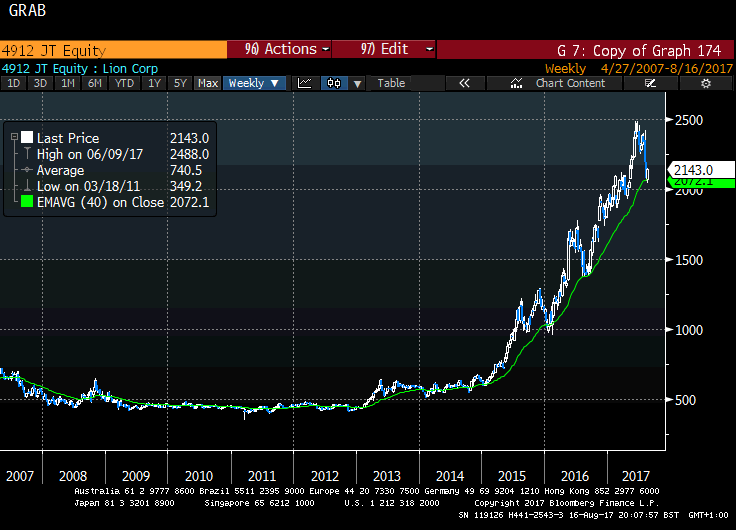 Lion Corp has now completed a reversion to the mean and is showing initial signs of firming from the ¥2000 region


Kao Corp is also in the cosmetics and household goods sector and the share is firming above the underlying two-year range.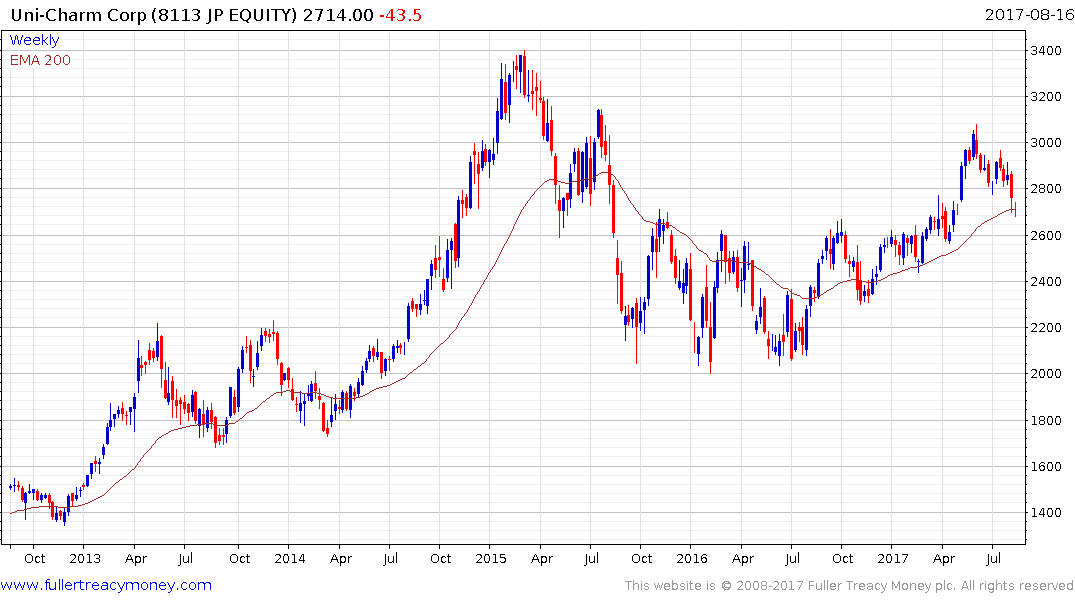 Unicharm which manufactures sanitary napkins and diapers for both children and adults was in the original cast of Autonomies. It is also showing initial signs of firming from the region of the trend mean.
Back to top