Japan Banks Seen Reporting Gains in Fees, Overseas Lending
This article by Gareth Allan and Shingo Kawamoto for Bloomberg may be of interest to subscribers. Here is a section:
Prime Minister Shinzo Abe's efforts to stimulate the economy through monetary easing helped to spur bank lending while also lowering borrowing costs. Loans at city banks have risen for 2 1/2 years, according to the Bank of Japan. The average interest rate on new loans was 0.801 percent in
May, close to a record-low 0.767 percent last August, BOJ data show.

"While domestic lending grew in the first quarter, tighter loan spreads will constrain profit growth," Yasuhiro Sato, chairman of the Japanese Bankers Association, said at a news briefing on July 16. He expects overseas lending to keep expanding and doesn't see any change in the direction of interest margins yet.

Overseas Expansion
Sato is also chief executive officer of Mizuho, which said this year that it's buying North American loans from Royal Bank of Scotland Group Plc for $3.5 billion. Sumitomo Mitsui last month agreed to purchase General Electric Co.'s European buyout- lending unit for about $2.2 billion. Mitsubishi UFJ's main lending arm is considering acquiring a bank in Indonesia, the Philippines or India, Asia-Pacific CEO Go Watanabe said in an interview last month.
Quantitative easing is positive for the banking sector because it creates an incentive to borrow and invest not least among banks themselves. Despite the loss of purchasing power in the Yen, the availability of credit has allowed Japanese banks to invest in their overseas operations which flatter consolidated earnings. This is likely to continue considering the Bank of Japan's commitment to persistent easing.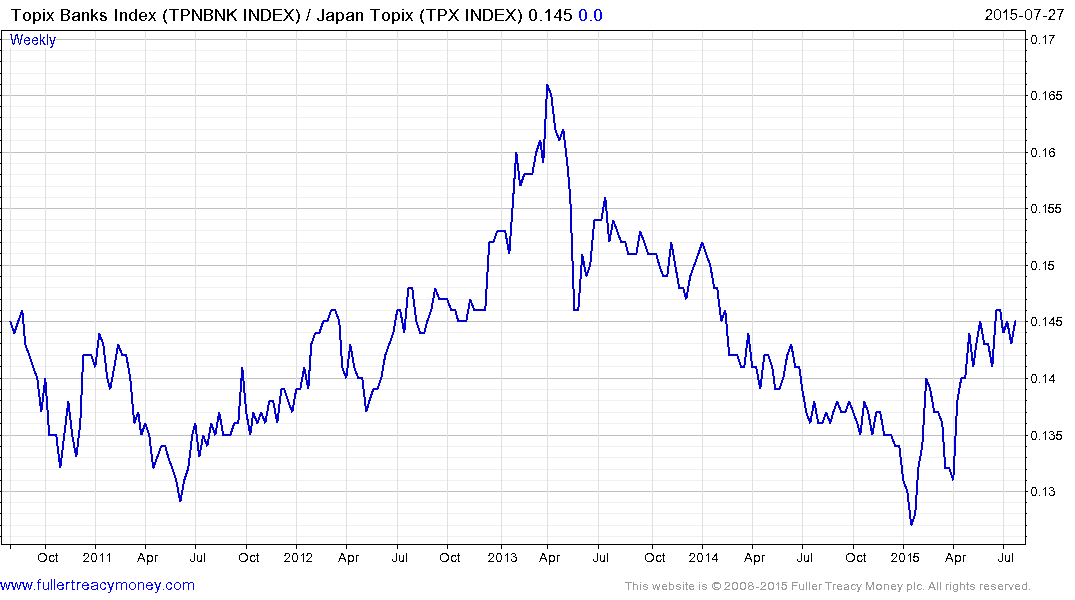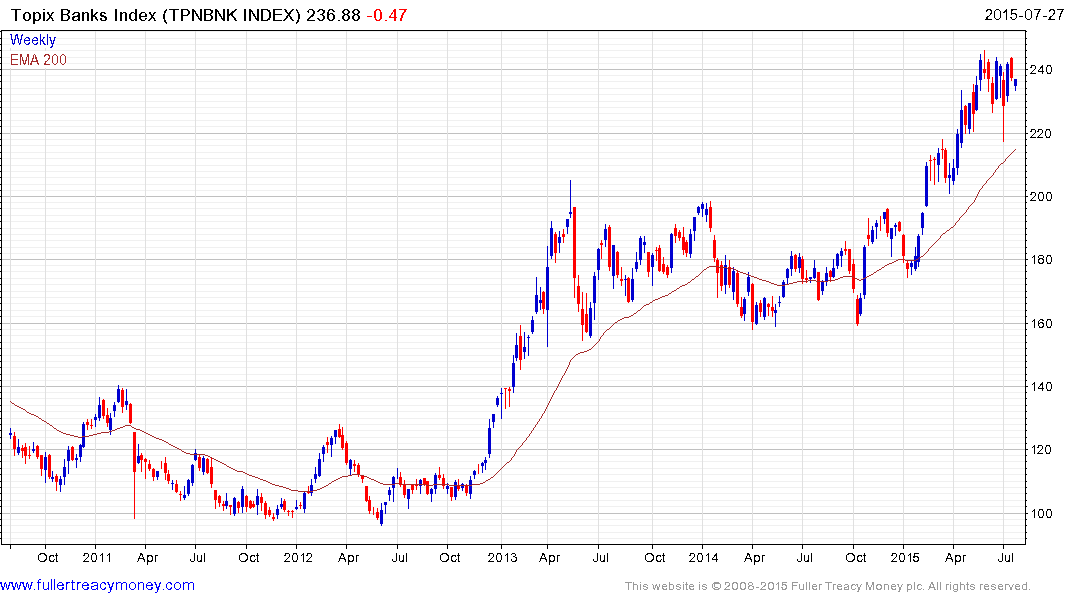 The Topix Banks Index underperformed for most of 2014 as the broad market traded laterally but broke out to new nominal highs in Q1 and rallied to break its relative downtrend in February. It is currently consolidating its earlier advance and a sustained move below the 200-day MA would be required to question medium-term scope for continued upside.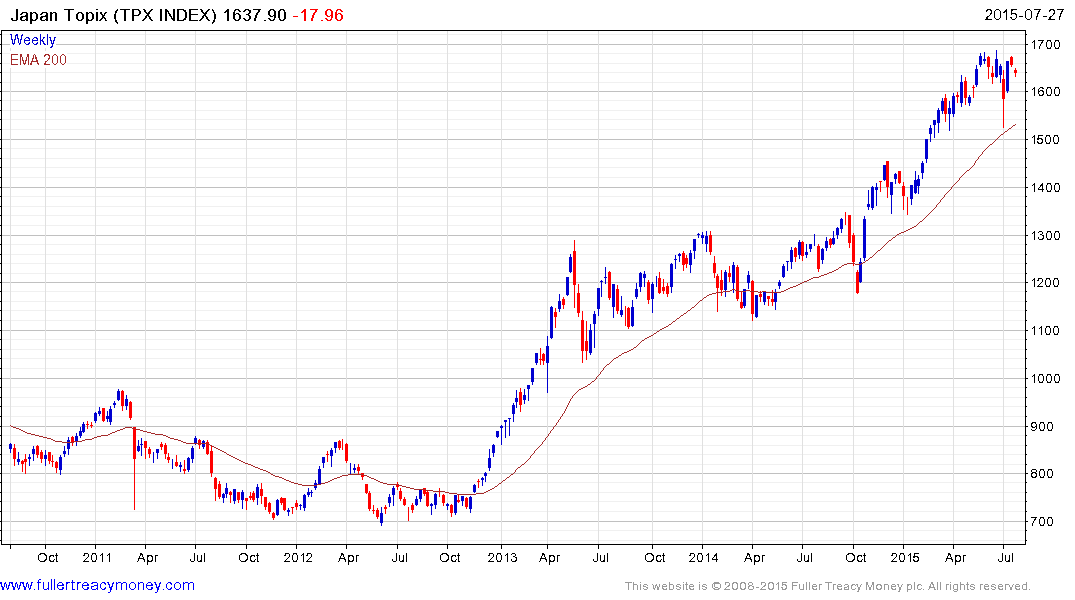 The Topix also continues to consolidate above its 200-day but is susceptible to a retest of the trend mean against the current corrective environment on global indices.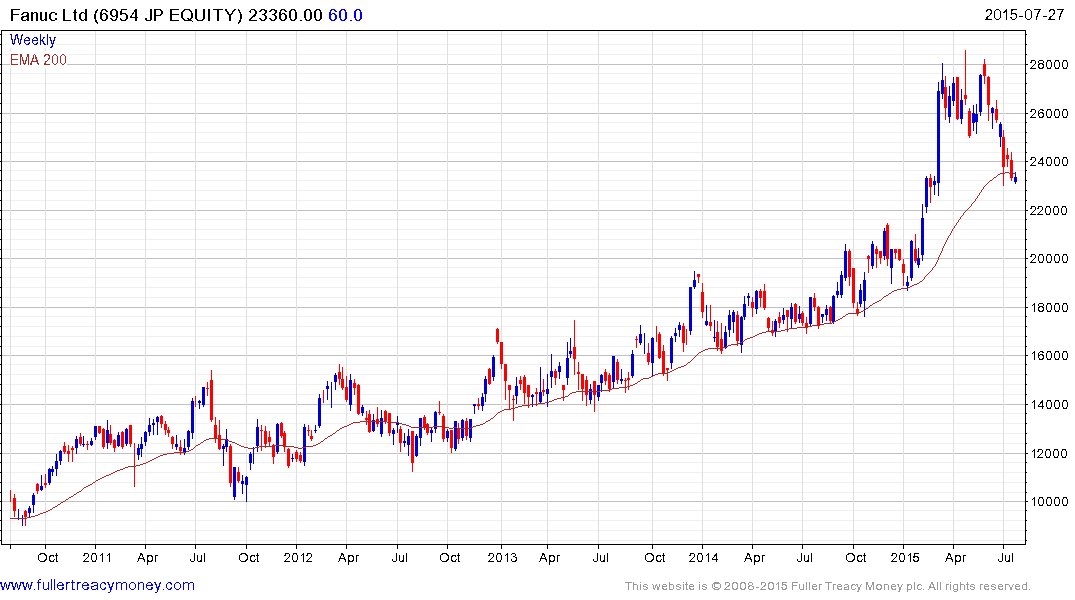 Many people will be looking at Fanuc's results tomorrow as a measure of Japanese success in supporting an export driven economy predicated on technological innovation. The share has returned to test the region of the 200-day MA where it has steadied.
Back to top