Jack Ma Times Market Selling Second Alibaba IPO in Rally
This article by Kana Nishizawa for Bloomberg may be of interest to subscribers. Here is a section:
"The Chinese consumer space is probably a lot more exciting," Liang said. "But I'm not saying this is going to be a skyrocketing IPO. The performance depends on the pricing. If it's priced to perfection there will be little room left for after market appreciation."

Alibaba may set its IPO value at $154 billion, or 22 percent below analyst valuations, in a move that could avoid repeating Facebook Inc.'s listing flop, according to the average estimate of five analysts surveyed by Bloomberg in July. The poll respondents saw Alibaba's post-listing valuation at $198 billion. Ma owns 8.8 percent of the company.
Alibaba surged following its IPO last time around and anyone still holding the share following its collapse got the price they paid at the initial listing back when it was taken private once more. Let's ask some fundamental questions about the IPO process: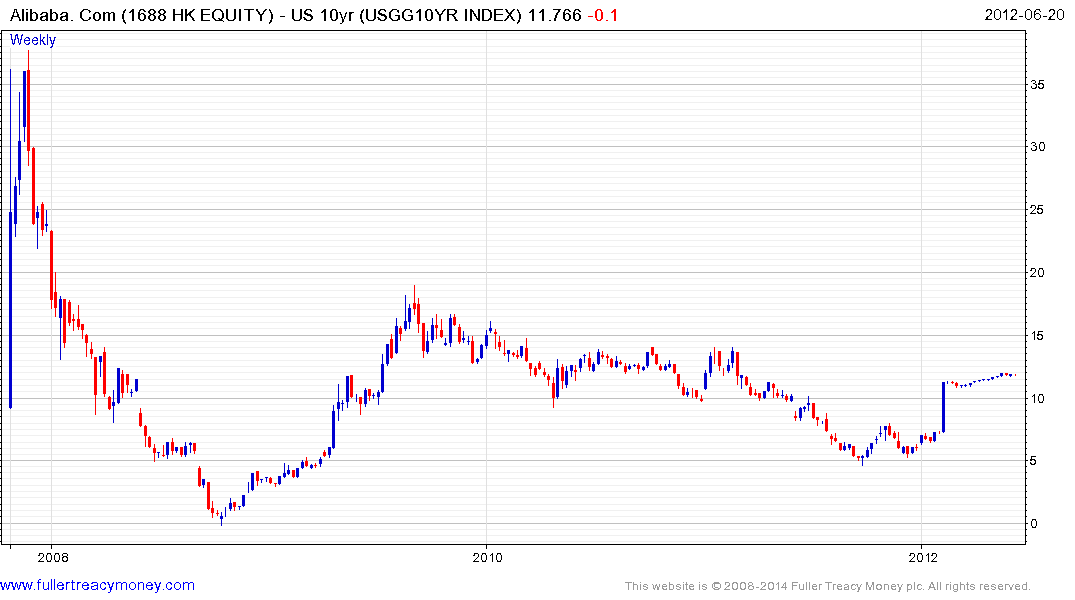 Does Alibaba need the capital to expand its business?
With a dominant position in a number of market segments, the answer is probably not.
So why are they listing?
It's a good time to sell with generous premiums to book value on offer, abundant liquidity and enthusiastic buyers.
A better question is whether it is a good time to buy? The initial price may leave some room for appreciation but there are serious questions that remain unanswered about the quality of corporate governance and these are likely to be explored further once the share is freely traded.

An additional important consideration is the role increasing supply has in a maturing market. Demand remains robust but the largest IPO in US history will represent a substantial increase in supply which will need to be absorbed before higher prices can be sustained. It is more important than ever to monitor the broad consistency of the wider market.
Back to top