Jack Ma's Brief Video Chat Prompts a $58 Billion Sigh of Relief
This article by Lulu Yilun Chen, Coco Liu and Abhishek Vishnoi for Bloomberg may be of interest to subscribers. Here is a section:
Much about the future of China's most famous businessman remains unclear. Yet analysts said Wednesday's video was a sign that worst-case scenarios -- such as jail time for Ma or a government takeover of his companies –- are probably now off the table. It's unlikely Ma would have participated in the event without at least tacit approval from Beijing; state-run media including the Global Times were among outlets that posted snippets of his talk or wrote stories about his appearance.

"There's still a lot of uncertainty on regulators' next moves, but this does mean the status of Jack Ma is much better than a lot of people speculated," said Fang Kecheng, a professor at the Chinese University of Hong Kong.
There is no getting around the fact that Ant Financial prospered in the grey area between consumer finance and traditional banking. By offering a higher interest rate than banks, it grew into a massive deposit taking operation without having to submit to banking regulation. When he publicly showed distain for banking regulators, it signalled Ma had forgotten that his success was based on the ability of Ant Financial to operate outside the regulatory umbrella of the banking sector. They dropped the hammer on him and the company will now be part of the regulatory environment. It remains to be seen if the rule breaking on deposit rates will still be tolerated.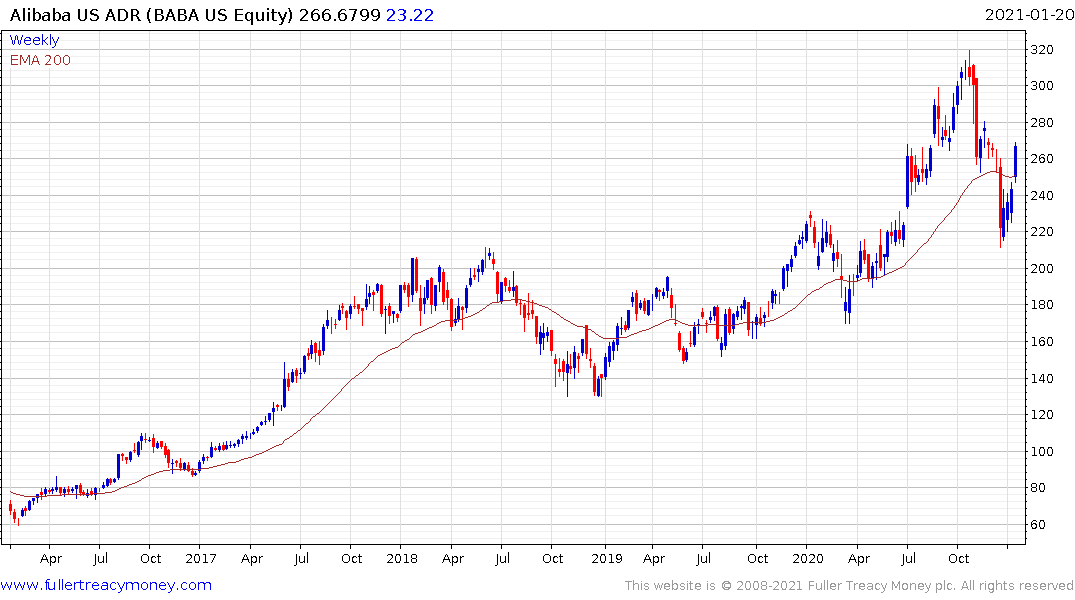 Alibaba continues to hold its sequence of higher reaction lows and rebounded impressively over the last few sessions.

More broadly, Chinese shares breathed a sigh of relief following the US Presidential election. The rules based, consensus building program likely to be adopted by the Biden administration is more predictable than the often capricious nature of the Trump administration's actions towards China.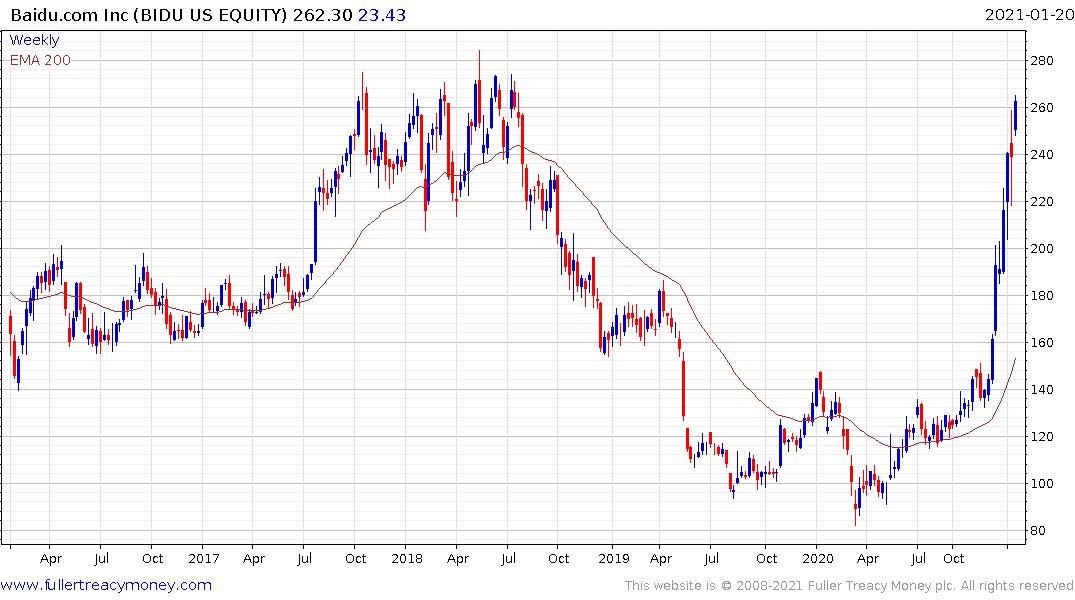 Baidu took off in late November and is now back in the region of the peaks from 2018. It would be reasonable to expect some consolidation in this area but a break in the short-term sequence of higher reaction lows would be required to check momentum.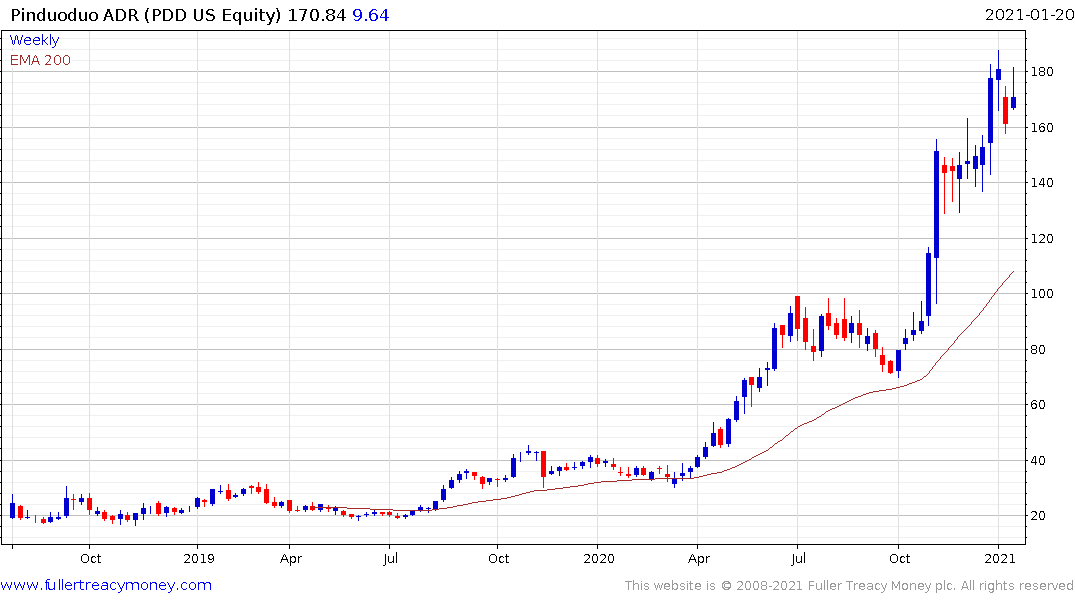 Pinduoduo broke out right after the election and will need to hold the $160 area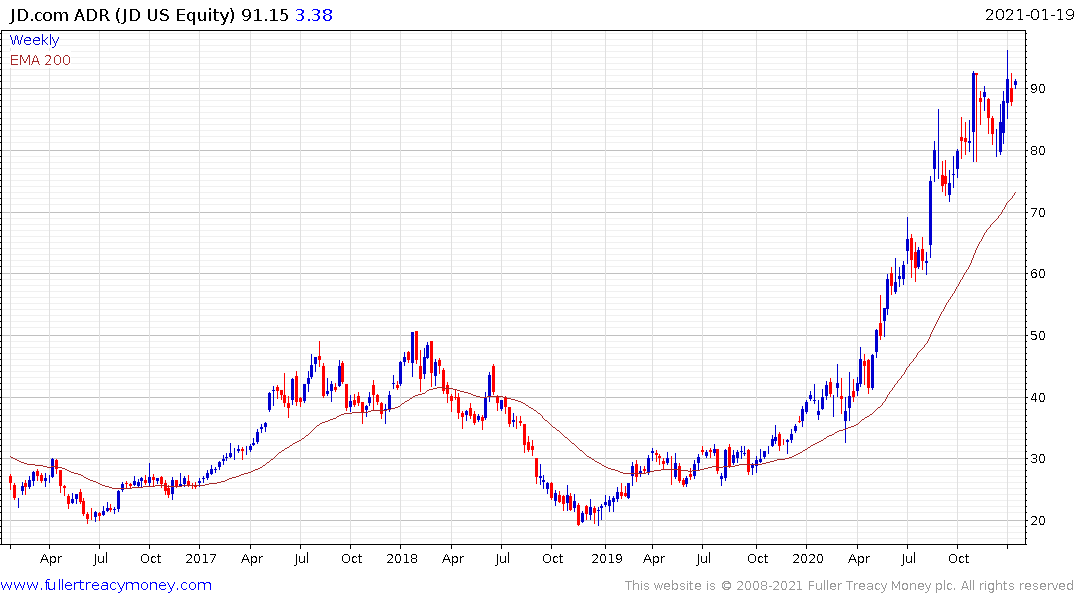 JD.com broke out to new highs since May and remains in a reasonably consistent uptrend.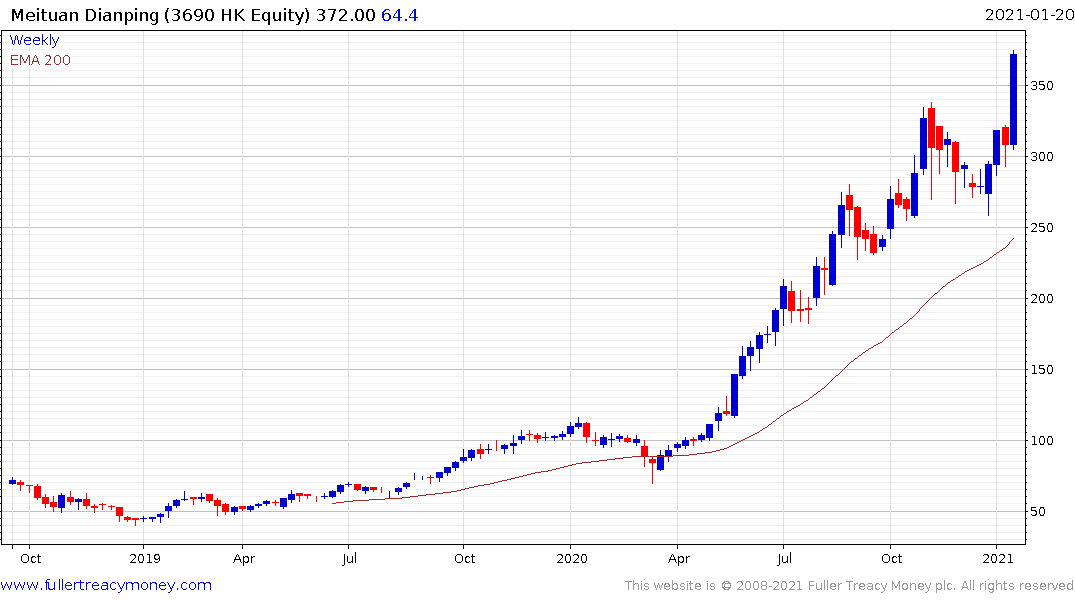 Meituan broke out to new highs today and remains in a consistent uptrend.
Back to top