J.C. Penney Plummets After Loss Renews Concerns About Retail
This article by Lindsey Rupp for Bloomberg may be of interest to subscribers. Here is a section:
J.C. Penney is the bearer of more bad news for department-store investors.

On Friday morning, the company followed Macy's Inc., Kohl's Corp. and Dillard's Inc. in reporting declining sales in the second quarter. J.C. Penney also posted a deeper loss than analysts expected -- hurt by clearance sales -- sending the shares on their worst decline in more than four years.

The results renewed fears that there's no end in sight for the department-store industry's drought. J.C. Penney Chief Executive Officer Marvin Ellison is trying to win back customers by expanding the company's partnership with cosmetic retailer Sephora and bolstering the assortment of high-price items, like appliances. The company is also pushing services like salons that require shoppers to come into stores. But progress has been slow.

The company also is closing about 140 underperforming stores. And the liquidation of inventory in 127 of those locations hurt profit in the period, Ellison said in a statement.

"These events were isolated to the second quarter," he said, adding that the company expects to "deliver improved results in the back half of the year."

But investors saw little reason for optimism. The shares tumbled as much as 18 percent to $3.85 after the report was released, the biggest intraday drop since February 2013. That followed a 43 percent decline this year through Thursday's close, bringing the stock to a record low.
The back end of the year is always better for retailers since it includes the run up to the holiday season. However, the big question is not whether they can improve their revenue numbers, but rather how any growth they achieve measures up to the inexorable growth of online retail.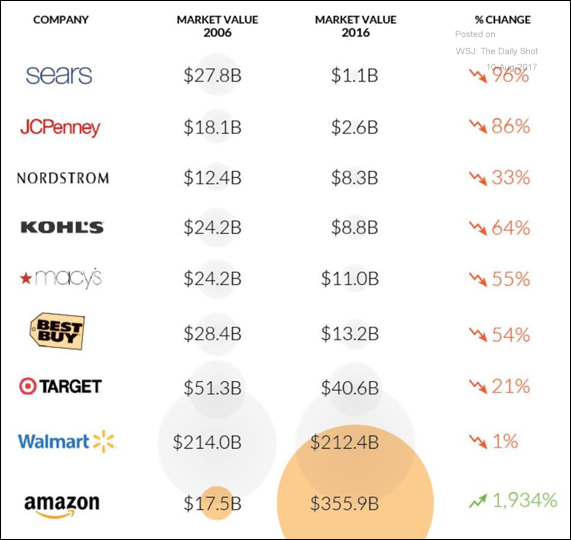 This graphic highlights just how much of a transfer of retail traffic has occurred between physically-based stores and Amazon in particular. The big challenge for these stores is not how they can transform their physical locations but rather how they can evolve their online offerings and compete on price.
Of the major retailers Wal-Mart in particular has made no secret of its explicit aim to compete with Amazon. It is investing heavily in attracting sellers from Amazon's marketplace and has developed what might be considered a copycat strategy in the type of services it is providing retail customers. More importantly it is insisting new sellers on its platform offer price parity between the Amazon and Wal-Mart to alleviate any arbitrage.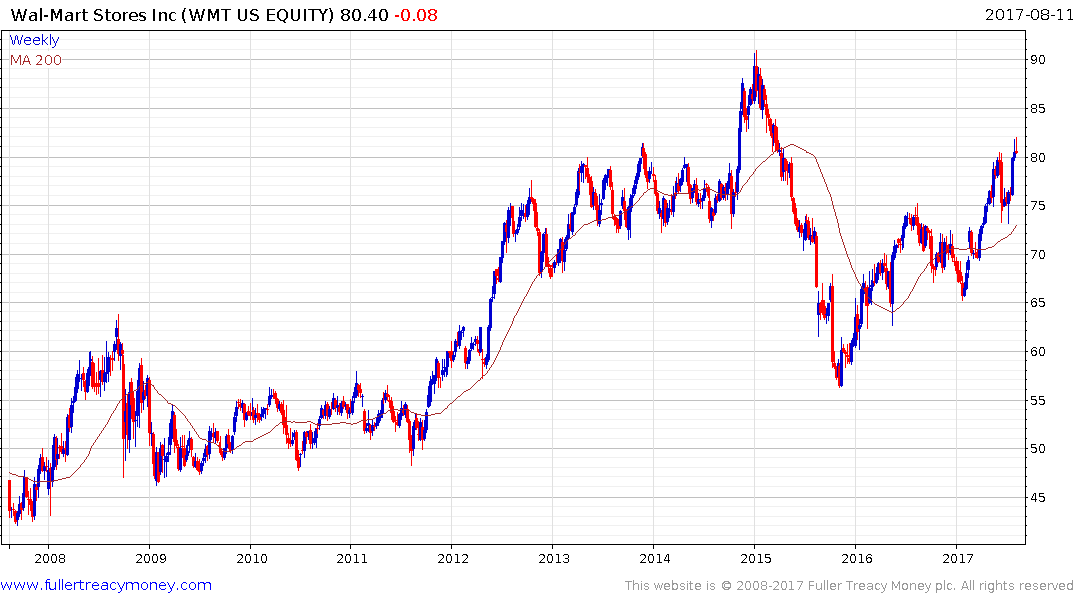 The share has been on a recovery trajectory since late 2015 and continues to hold a progression of higher major reaction lows.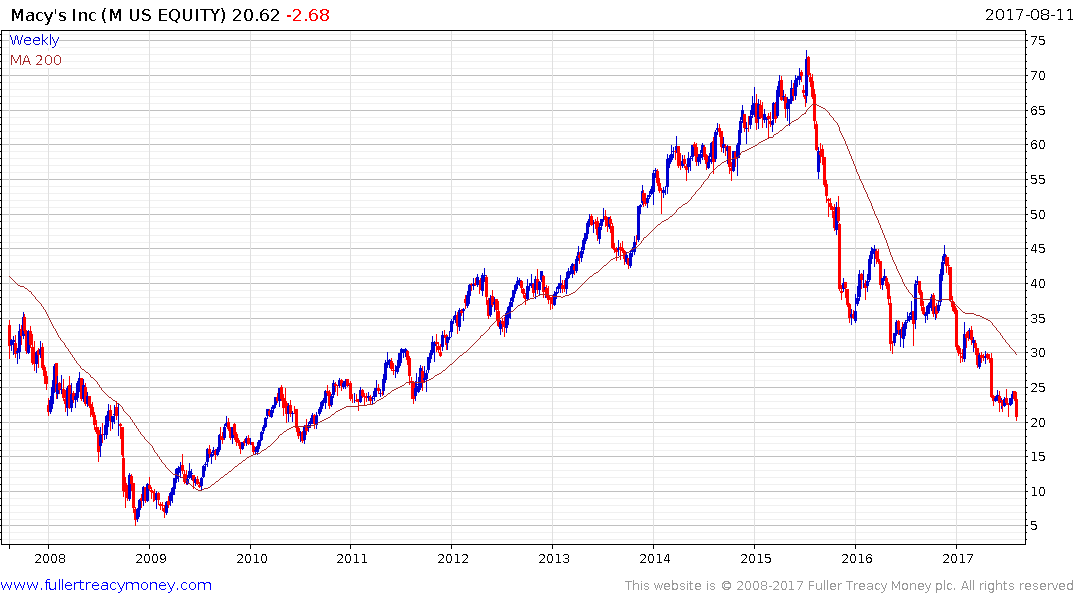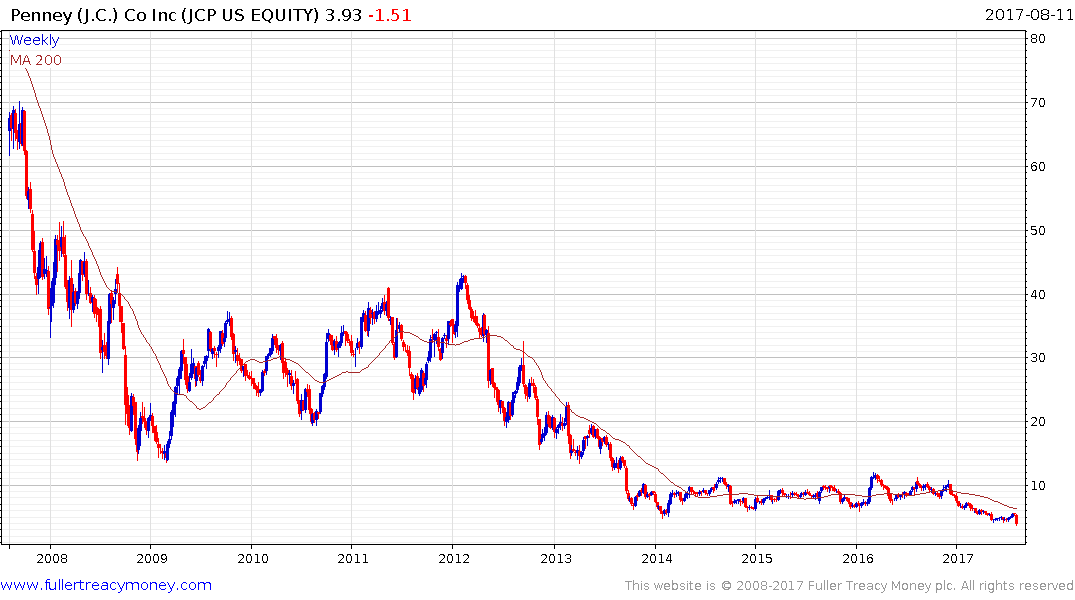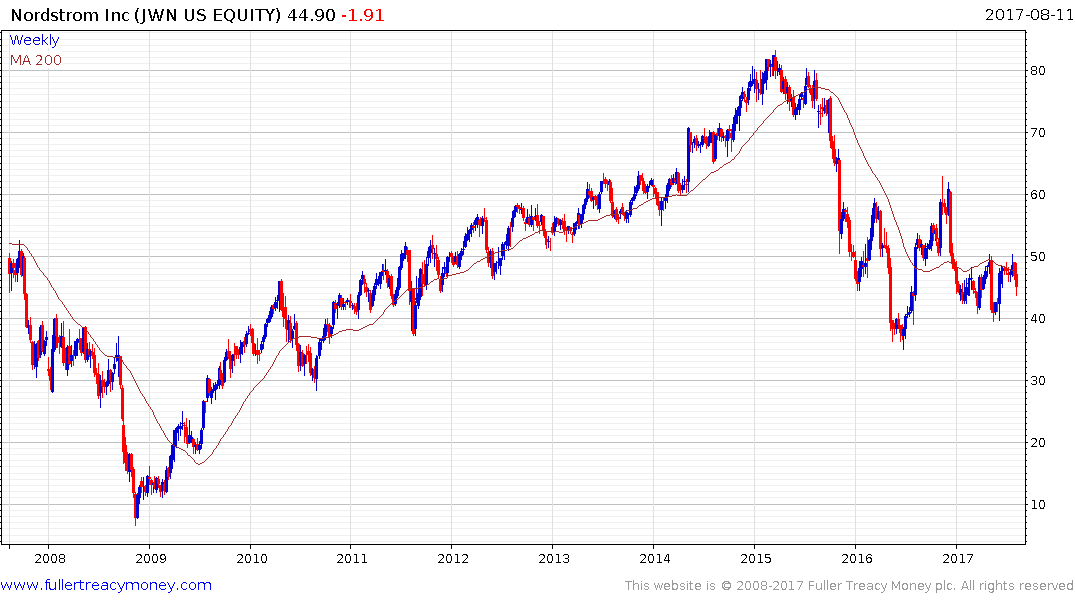 Macy's and J.C.Penney made new lows this week and Nordstrom is pulling back from the region of its trend mean.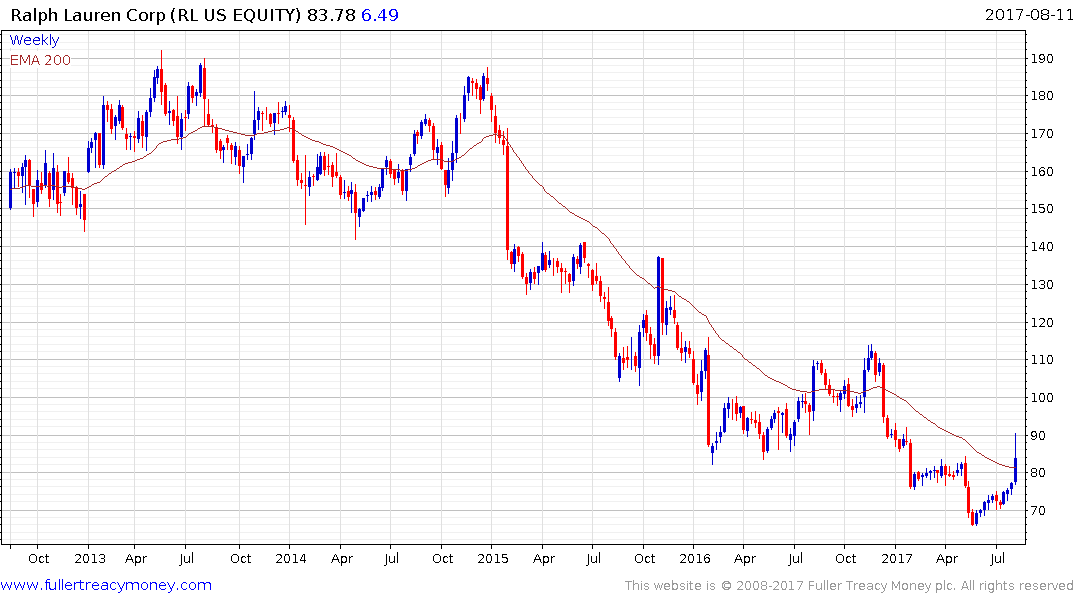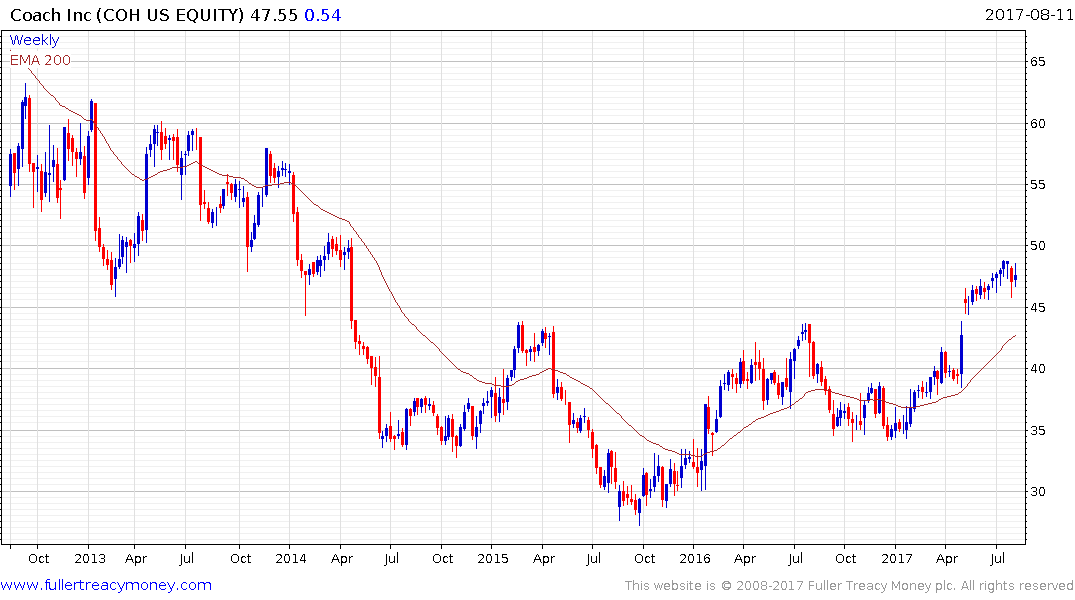 The difficulties major department stores are having represents an issue for companies like Ralph Lauren and Coach which depend on them as a venue for a substantial proportion of sales. Both shares have rallied over the last couple of months to break medium-term downtrends. They need to hold those gains to confirm a return to medium-term demand dominance.
The evolution of online retail services like Shopify which allow small retailers to manage inventory across several platforms, market through social media and BuzzFeed and create attractive websites with a few clicks represents an additional challenge for high street landlords. Rents are too high and footfall is too low to justify the cost and commitments associated with a lease to justify a physical location over online.
Back to top