Ivanhoe Mines and geophysics
Robert Friedland delivered a speech at the Future Metals Forum today which caused something of a stir. The graphics detailing copper demand growth in an electrification and simple growth scenario were impressive and not least because his conclusion is the mining industry is in no position to deliver the quantity of supply required to reach anything approaching decarbonisation goals.
The company has been investing for quite some time in better and more efficient prospecting apparatus. I spoke with one of the company's representatives and he said that the Typhoon electric arc technology was used to help identify the Oyu Tolgoi resource in Mongolia. That suggests the patent is at least twenty years old. Together with assets from High Power Exploration, the company now as the computational power to prospect over a large area which is why they were in Saudi Arabia.
The promise is the technology can produce 3-D graphics of conductive ore bodies up to 2 miles deep and is many orders of magnitude more efficient than current methods. It only works in certain conditions where there is less water and no refractory material in the way of the electricity. It appears to work best in copper/gold porphyry deposits and is also suitable for finding water.

The company Ivanhoe Electric is looking to go public later this year. It's not clear whether I-Pulse technology will be part of that IPO. It's company looking to use electrical shockwaves as a way of transporting energy and deploying them in both manufacturing and prospecting.
It is also possible that Ivanhoe Electric is going to use its technology in return for royalty contracts on the ore bodies it identifies. That would create an attractive investment proposition where a technological advantage creates long-life income producing assets.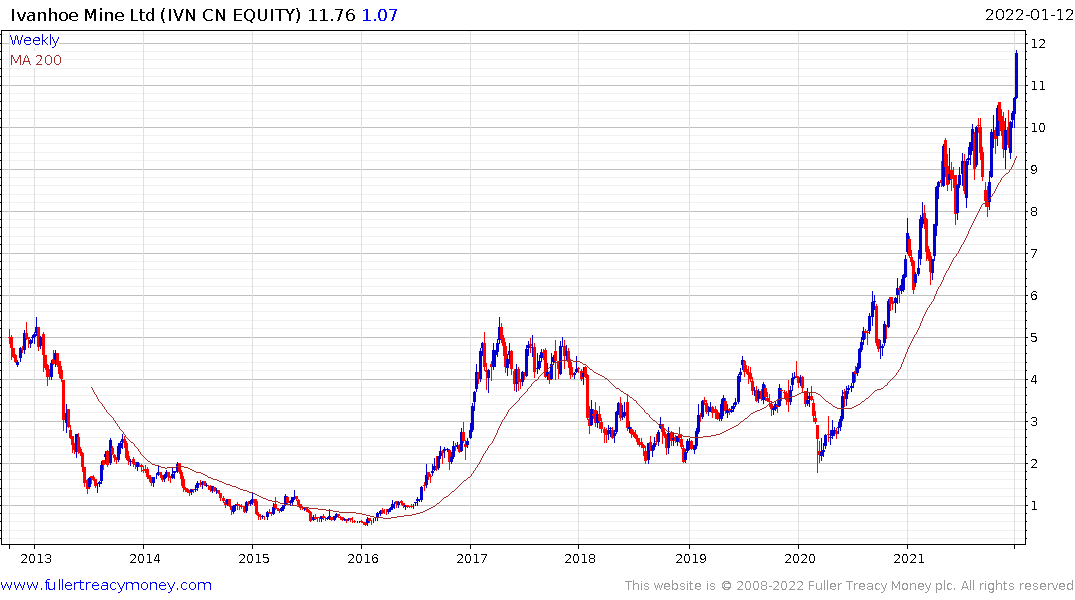 Ivanhoe's share is somewhat overbought in the short-term. It broke higher last week ahead of the announcement made at the summit. It is not yet clear how much ownership the company will retain in Ivanhoe Electric when it lists.
Back to top