Italy Set for New Government -- Then a Snap
This article by John Follain for Bloomberg may be of interest to subscribers. Here is a section:
5. Who would likely win?
​Opinion polls show the League -- the rebranded, formerly secession Northern League, once known for deriding residents of the country's south as beggars, thieves and good-for-nothing rednecks -- has gained the most from two months of bargaining. Its support rose to 24.4 percent from 17.4 percent in the March vote, according to an SWG opinion poll carried out May 3-6. Five Star is still the biggest single party, slipping half a percentage point to 32.2 percent. (A center-right alliance including the League and the Forza Italia party of Silvio Berlusconi, the four-time former prime minister, rose to 38.5 percent from 37.1 percent.) If Salvini's League strengthens in the next election, he could decide to break with Berlusconi and finally form a coalition with Di Maio. This time around, Di Maio's insistence on excluding Berlusconi was a primary obstacle to a populist coalition government.

6. Why does this matter?
Italy is facing political decisions and economic problems that affect other nations too. At more than 130 percent of gross domestic product, Italy's debt is second-highest in the euro area, after Greece. The European Commission called the debt "a major source of vulnerability" for Italy and has been overseeing the country's efforts to reduce spending. Underlying problems remain in Italy's banks, including cronyism with many lenders too entwined with politicians, unions and foundations of all shapes. Mattarella has warned that the timing of the next elections could jeopardize the 2019 budget, which has to be approved by the end of the year, and unsettle financial markets. And nobody's fully forgotten Five Star's past talk of a referendum on leaving the euro.
Small political parties seem to have learned that the only way they will ever succeed in ousting the status quo is to refuse to be co-opted. If we look at the history of coalitions, the insurgent party does well until they give up on their ideals for a chance to hold power. They then get lumped in with the status quo for any egregious activity that occurs during government and subsequently get annihilated at the next election because their support base feels betrayed. The Five Star Movement's refusal to enter government with Silvio Berlusconi is an example that they have learned this lesson.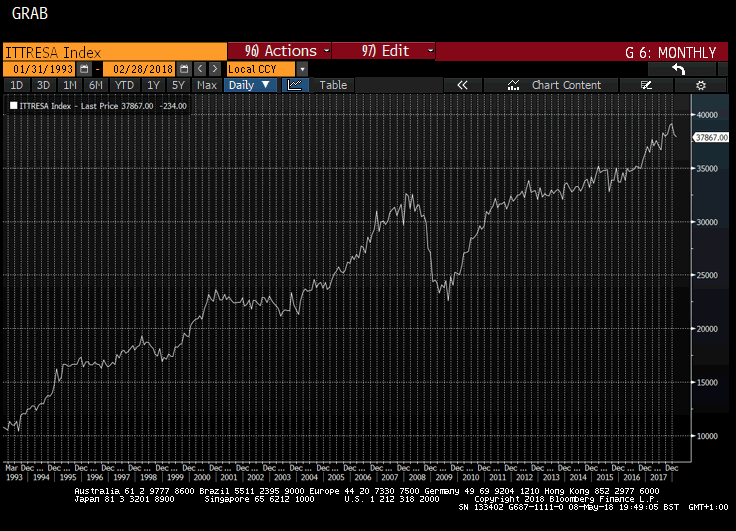 Italy's exports have been trending higher since 2009 but lost momentum over the last year, not least because of the strength of the Euro. However, the Euro has now lost uptrend consistency with the sustained move below €1.20 and a sustained move above that level will be required to confirm a return to demand dominance. That should help improve Italy's competitiveness and boost corporate profits.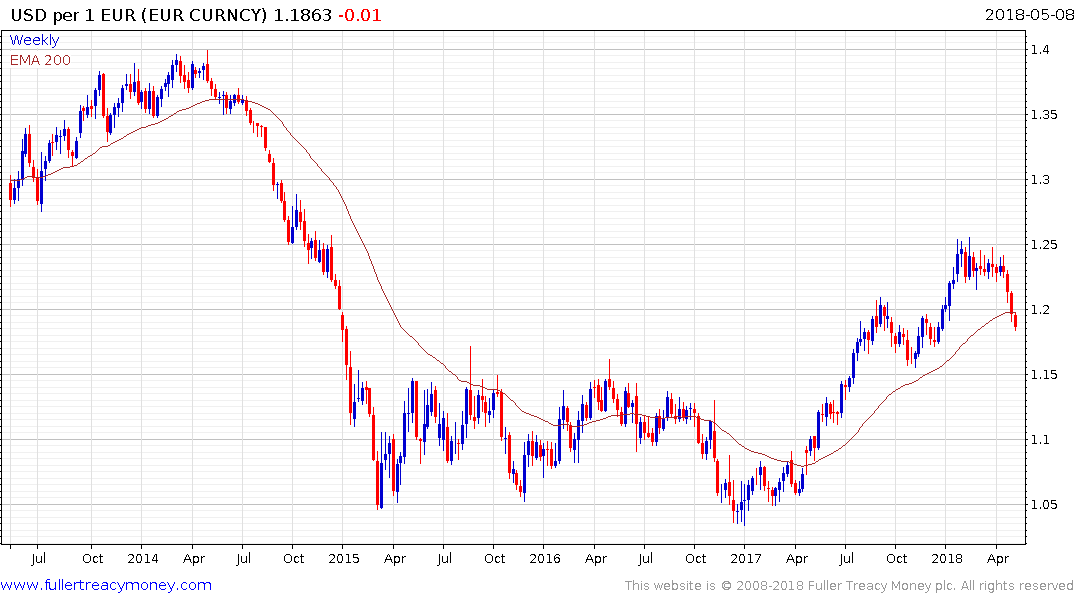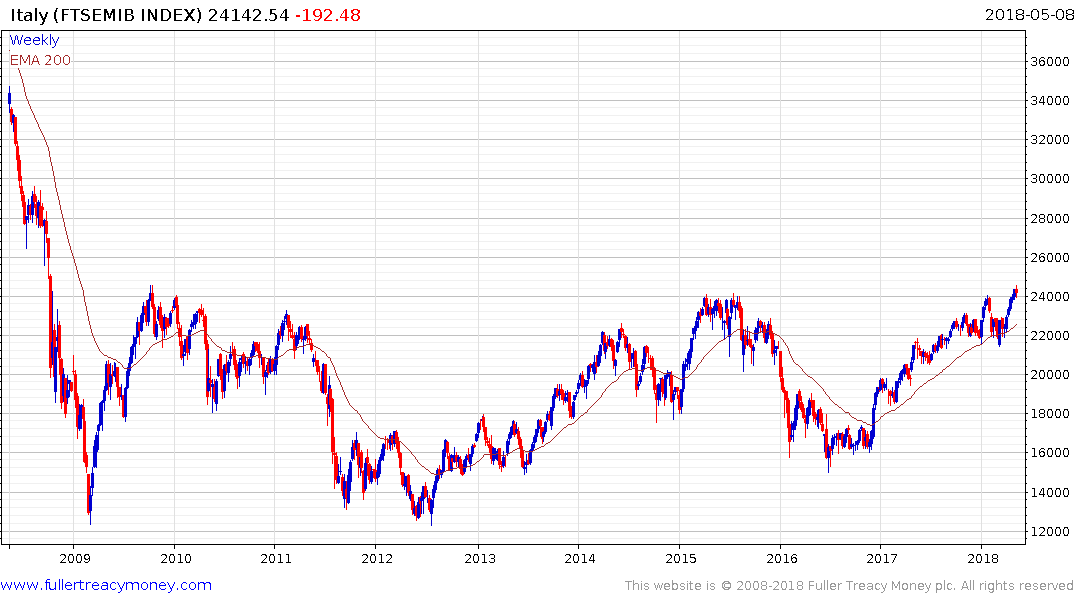 The Italian stock market retested the psychological 25,000 level last week and is due some consolidation. A sustained move below the trend mean would be required to question medium-term scope for additional upside.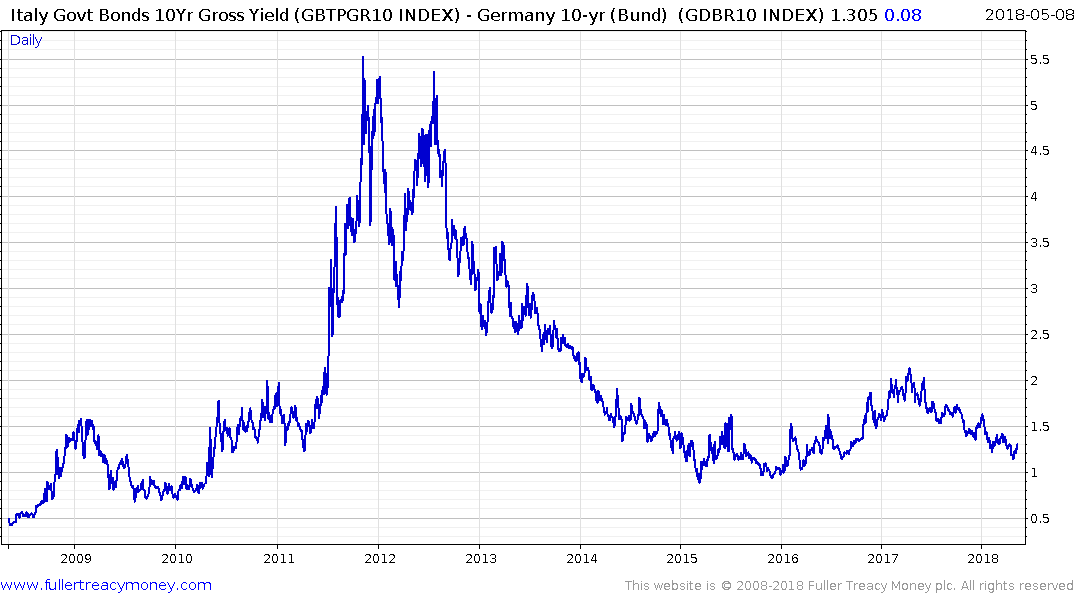 The Italian bond market is a wild card because spreads over German Bunds haven't been this narrow since 2015, following the ECB's generous purchase program. With ECB tapering the appetite for additional purchases would be curtailed without a renewed commitment to assistance.
Back to top