Italy's Populists Begin Their Big Betrayal
This article by Ferdinando Giugliano for Bloomberg may be of interest to subscribers. Here is a section:
The trouble is that Di Maio and Salvini's comments run against pretty much anything they've promised voters. In May, they signed a coalition agreement that earmarked nearly 125 billion euros ($145bn) in tax cuts and new spending commitments, according to an independent estimate. True, they've always said this would be done over time. But it's hard to see how this government will make good on anything but symbolic promises if it really means to stick to restraint.

Of course, the devil's in the detail. Neither leader has clarified what budget deficit the government will target for 2019. Italy is expected to run a deficit of 0.8 percent next year, but this seems out of the question. Giovanni Tria, the technocratic finance minister, is said to favor staying below 2 percent, while some in Five Star and the League probably have something closer to 3 percent in mind. Expect months of wrangling – within government, and with the European Commission – to decide where exactly the line will be drawn.

Yet the political U-turn is clear. The League promised a "flat tax" throughout its electoral campaign to boost the economy. The coalition deal with Five Star had already watered this down into a tax system with two brackets. Now the budget is expected to deliver only minor tax cuts, most likely for the self-employed.

As for Five Star, it had championed a "citizens' income" to help the unemployed and poorly paid. This will now probably be an extension of the existing income-support scheme passed by Paolo Gentiloni's former center-left government. On pensions too, the two parties will have to cut back on earlier proposals to slash the retirement age.
The only possible way to hold onto the animus of a revolutionary movement is to sustain momentum. Whatever about one's attitude towards Donald Trump he probably understands that basic premise more than any populist leader and is delivering, after a fashion, on his election promises. Combining left-wing and right-wing radicals in Italy appears to have resulted in them cancelling one another out and if they fail to deliver on their promises both parties are likely to be eviscerated at the next election.
The problem for any populist administration is if they want to really push the needle in terms of policy initiatives they have to have control of the currency. That's impossible inside the Eurozone. Therefore, the reality for Italy's voters, which there is no appetite to address, is the only way to get what they want is outside the Eurozone.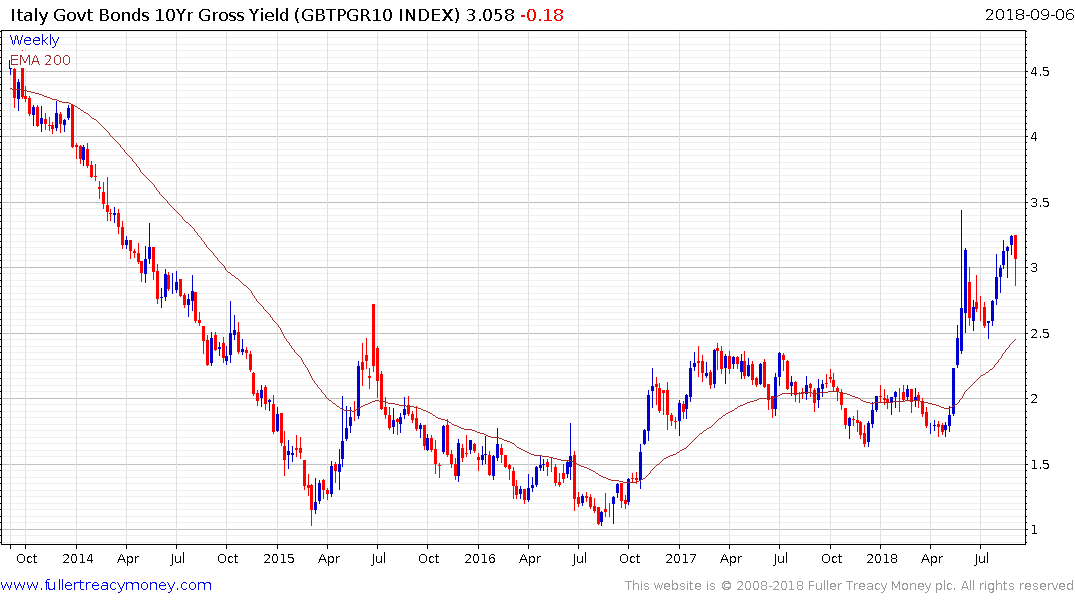 Italian BTPs continue to exhibit first step above the base characteristics suggesting investors are not at all convinced the risk represented by a populist administration has been reduced by their willingness to negotiate.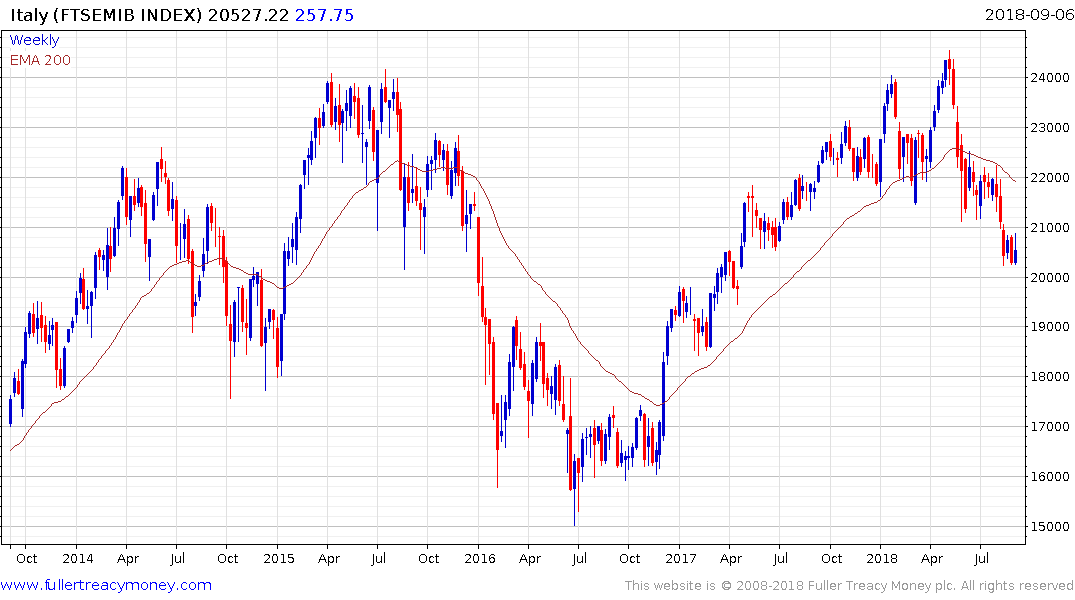 The Italian stock market remains under pressure and continues to hold the move below 21000.
Back to top