Italy's government agrees sharply higher public spending plan
This article by Miles Johnson and Davide Ghiglione for the Financial Times may be of interest to subscribers. Here is a section:
Mr Di Maio hailed the agreement as a "historic day". "We made it!," he said as he emerged from a balcony at Rome's Palazzo Chigi, where the meeting took place.

"Today we have changed Italy! . . . For the first time the state is on the side of the citizens," he said as ministers and members of parliament from his party hugged each other on the square outside.

Matteo Salvini, leader of the hard right League, part of the coalition and deputy prime minister alongside Mr Di Maio, also welcomed the agreement on spending, saying he was "fully satisfied with the objectives achieved", which would include his party's pledges for tax cuts and a reversal of unpopular pension reforms dating back to 2011.

Mr Tria, who is not affiliated with either party and was installed only after Italian president Sergio Mattarella rejected the coalition's first choice for finance minister, had been pressing for a deficit number as low as 1.6 per cent of GDP going into the meeting.

A 2019 deficit of 2.4 per cent of GDP would represent a significant fiscal expansion from the 1.6 per cent target for this year agreed by the last centre-left government, and would be three times the 0.8 per cent number previously planned for next year.
Italy's debt is BBB, which is still investment grade, but the yield trades like it is rated BB which is not investment grade. The populist administration has stated they are not afraid of the spread but one wonders if they have any conception what a downgrade to junk would do to demand for Italian debt. Large pension funds which have been gobbling up Italian debt to capture the higher yield would be forced to sell in the event of a downgrade. Meanwhile the ECB is winding down its purchase program so there will be a hole in demand for the bonds.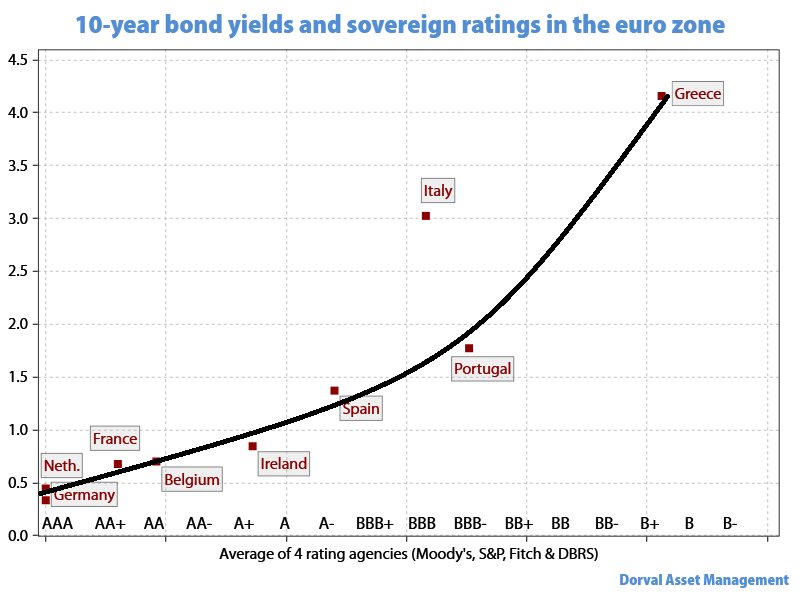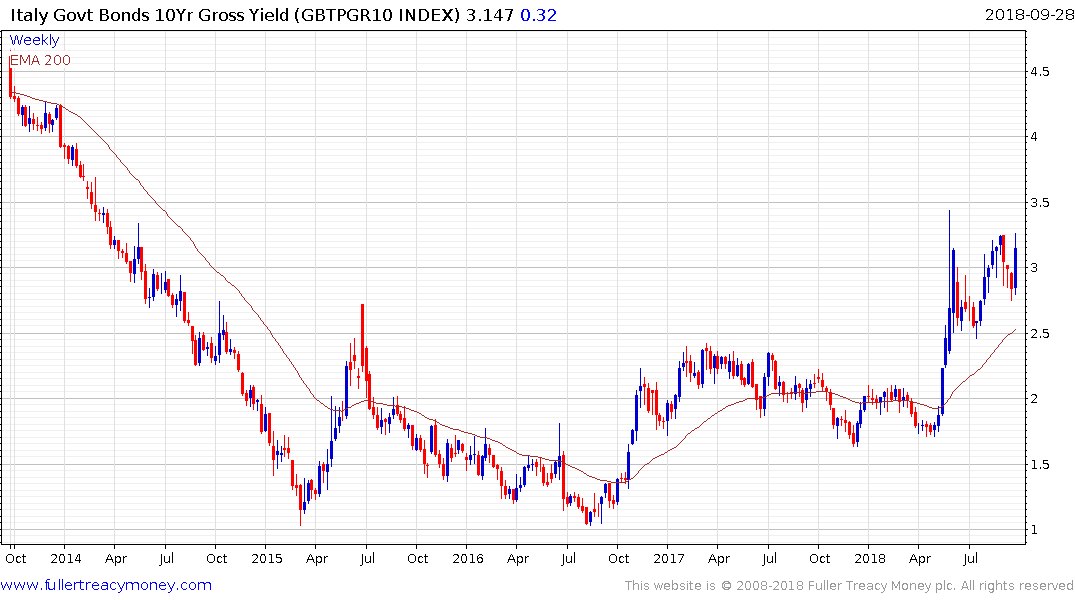 The yield broke out of a three-year base earlier this year and the ensuing range has first step above the base characteristics. A sustained move below 2.5% would be required to question potential for additional upside.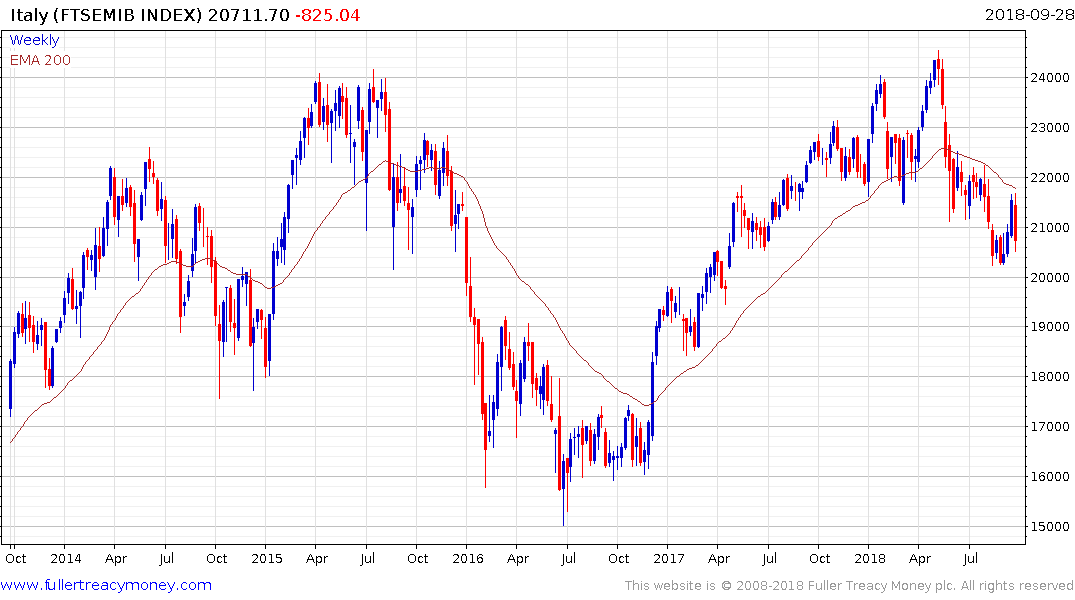 The FTSE MIB has been ranging below 25000 for almost a decade and pulled back from the region of the trend mean this week to reconfirm supply dominance. A clear countermanding rally will be required to check the slide.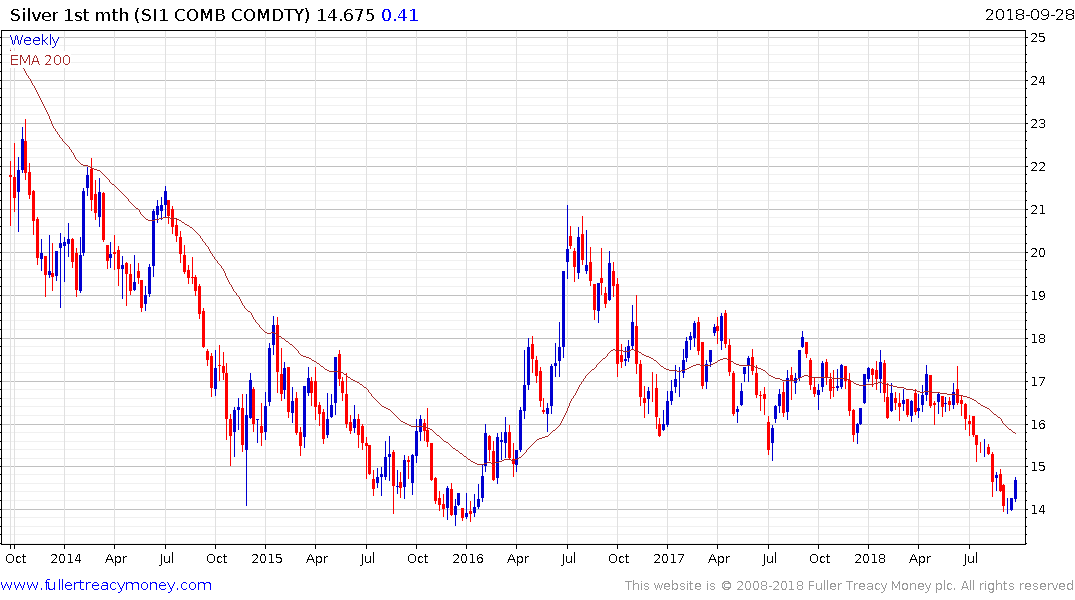 Silver bounced impressively today to push up into the overhead trading range and to completely countermand the two-day decline. This is the first upward dynamic of any substance in at least a month and suggests a low of at least near-term significance. It also suggests precious metals may be on the cusp of regaining their safe haven attributes.
Back to top