Italy Leaders Whipsaw Markets With Vows of Defiance, Reassurance
This article by Jerrold Colten and Kevin Costelloe for Bloomberg may be of interest to subscribers. Here is a section:
The coalition government's fiscal plans have been an investor focus all summer, with bond yields pushed higher in response to the coalition government's expensive election promises. On Friday, Fitch Ratings cited budget concerns as it changed its outlook on Italy to negative from stable -- the overall grade remains two notches above junk.

Salvini said Monday afternoon that the budget would lower taxes and respect "all the rules," toning down his earlier rhetoric challenging the European Union's restrictions. The Italian 10-year bond immediately rose, sending yields down about 5 basis points to 3.18 percent. That compares with 2.7 percent on June 1 when the government was sworn in.

Finance Minister Giovanni Tria is fighting to contain public spending and he said in an interview with La Repubblica that bonds will rise further when investors see the details of the 2019 budget.

"Budget stability will be respected," he said. Tria, an economics professor drafted at a late stage of the coalition negotiations, is trying to rein in the ambitions of Salvini and Luigi Di Maio of the anti-establishment Five Star Movement, though he lacks the political muscle of the two populist party leaders. The government is due to set new public- finance and economic-growth targets by Sept. 27 and submit a draft budget to the European Commission by Oct. 15.
I can't help but think of the exchanges going on in Italy between the leaders of the two populist parties and their finance minister as the equivalent of a British Christmas pantomime. "Oh yes, we will" to which the only riposte is "oh no you won't."
The only way a revolutionary party has any hope of holding onto the power is to deliver on their promises. For Italy's populists that means spending money they don't have. For its finance minister, who is accountable to the European Commission that demand to break fiscal rules is something he has no choice but to temper.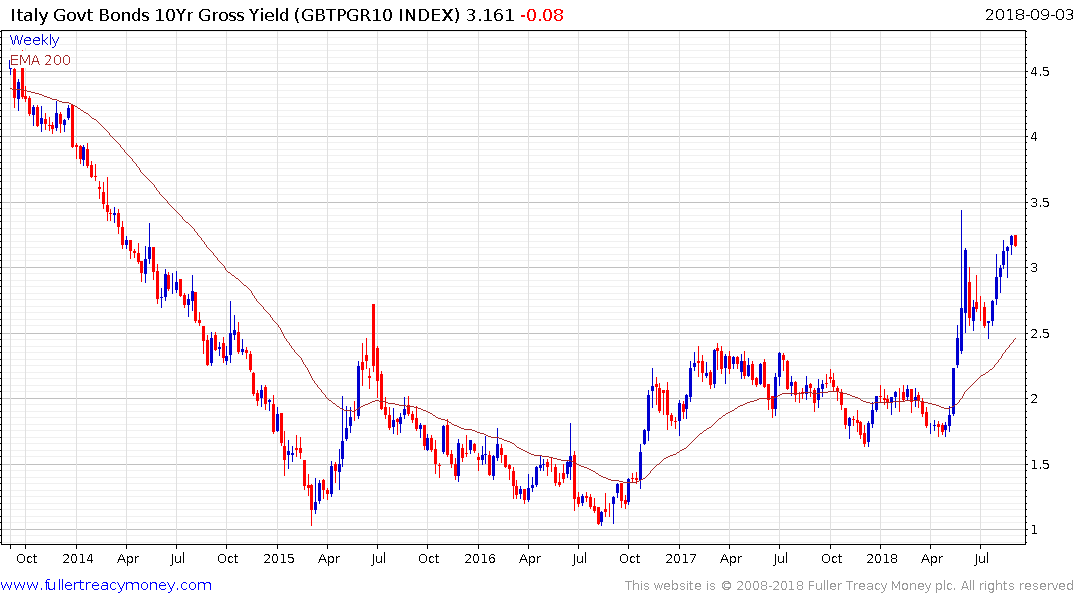 Italian government bond yields have paused in the region of the May peak but the multi-month range has first step above the base characteristics. If Italy does in fact go ahead with a giveaway budget the threat of a sovereign downgrade will become non-trivial.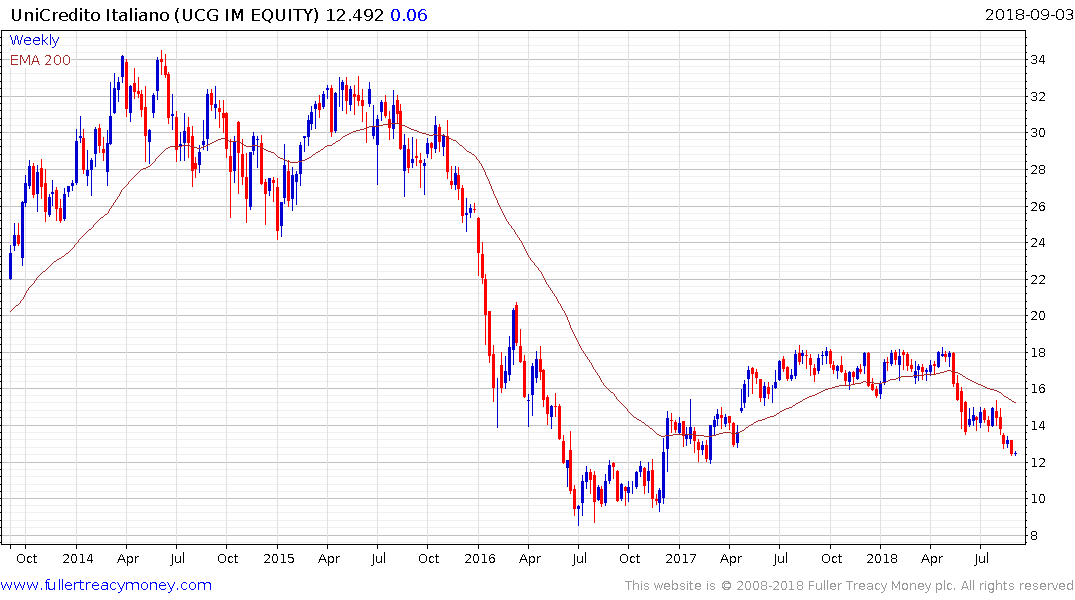 Italian banks represent significant weightings within the domestic stock market and they are also among the largest holders of Italian sovereign debt. Unicredit Is oversold in the short-term but a sustained move above €14 would be required to begin to question the medium-term supply dominated environment.
Back to top