Italy Debt Write-Off Talk Weighs on Bonds as Yields Rise
This note from Bloomberg may be of interest to subscribers. Here is a section:
Confirmation that Italy's putative government is talking about asking the European Central Bank for debt forgiveness is weighing on the nation's debt. The extra yield investors demand to hold 10-year Italian government bonds instead of German bunds, Europe's benchmark, widened to the most since January. League lawmaker Armando Siri told La7 television that they are discussing a 250 billion-euro ($300 billion) write-off, confirming an earlier report by the Huffington Post.
Greece has now successfully pushed the maturity of its massive debt load out decades and that is an attractive proposition for other countries. Considering how much public debt Italy has something has to be done to get finances under control and clearly the population has had enough of belt tightening.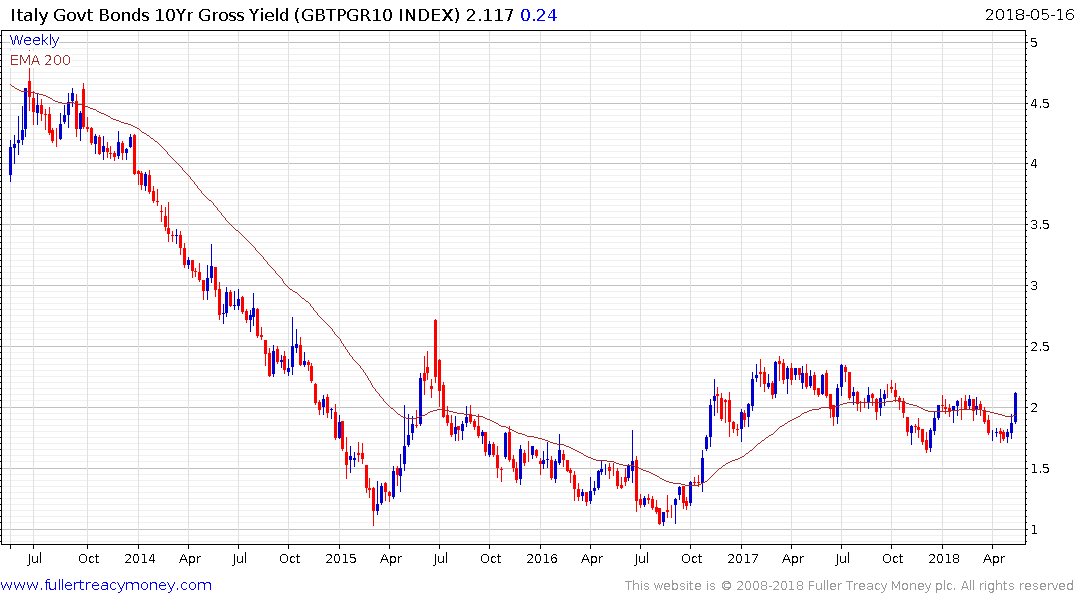 The bond market appears to be finally waking up to the possibility that two populist parties in power in one of the EUs largest economies are not going to be as easily pushed around as upstarts in Greece. The 10-year BTP yield sprang to life today not least because if the ECB is to have any bargaining power then the new administration will need to feel some of the heat from higher yields.
Back to top