Italian Premier to Resign After Condemning Salvini's Rebellion
This article by Chiara Albanese and Lorenzo Totaro for Bloomberg may be of interest. Here is a section:
While Conte's resignation adds to the uncertainty, bond investors welcomed the fact that an alternative coalition is still on the table, while the chance of snap elections in the fall diminished somewhat. Yields on 10-year Italian bonds touched 1.31%, the lowest level since 2016, while the spread over German bonds -- a key gauge of risk in the nation -- dropped to 200 basis points for the first time in nearly two weeks.

Salvini pulled his support from the governing alliance with the anti-establishment Five Star Movement this month, saying the coalition no longer has a working majority. The 46-year-old anti-immigration hardliner has been seeking to cash in on strong poll ratings and upended the political establishment with a mid-summer power grab while parliament was in recess.

At stake is whether Italy's mountain of public debt -- a chronic concern for both European officials and international investors -- will be managed by a right-wing ideologue set on confrontation with Brussels. Salvini on Tuesday promised Italians 50 billion euros ($55 billion) of tax cuts and public spending if he can take control of the government.
There was a certain inevitability about the collapse of the merger between right and left-wing populists. In fact, some might reason it is amazing it lasted this long. Italian politics is not noted for the longevity of its administrations. Annual elections are the price to pay as the political establishment strains to come to terms with giving a voice a population at odds with the continued adherence to decades of fiscal austerity.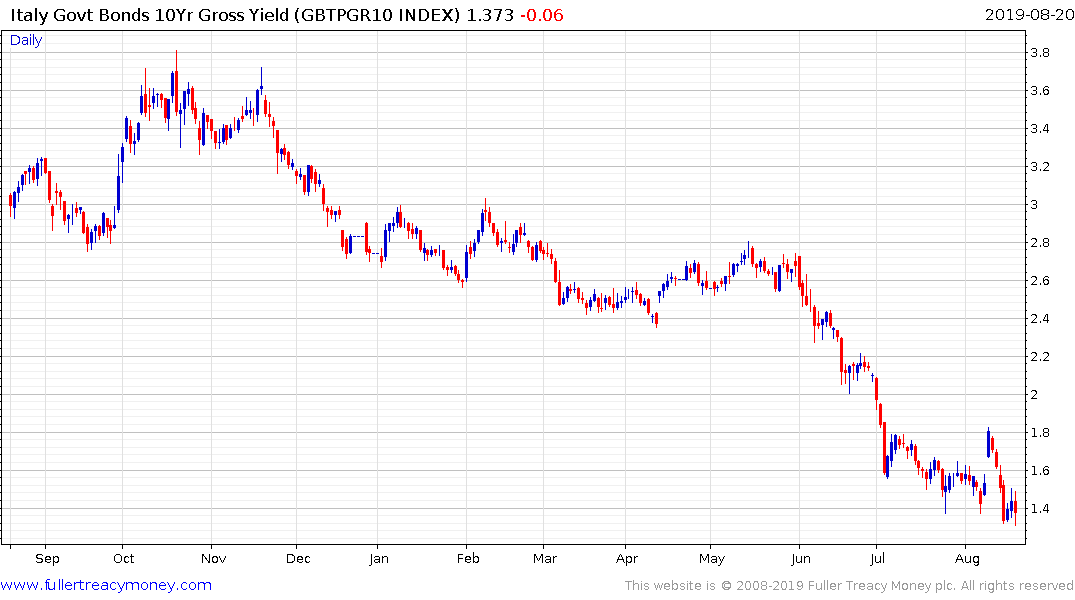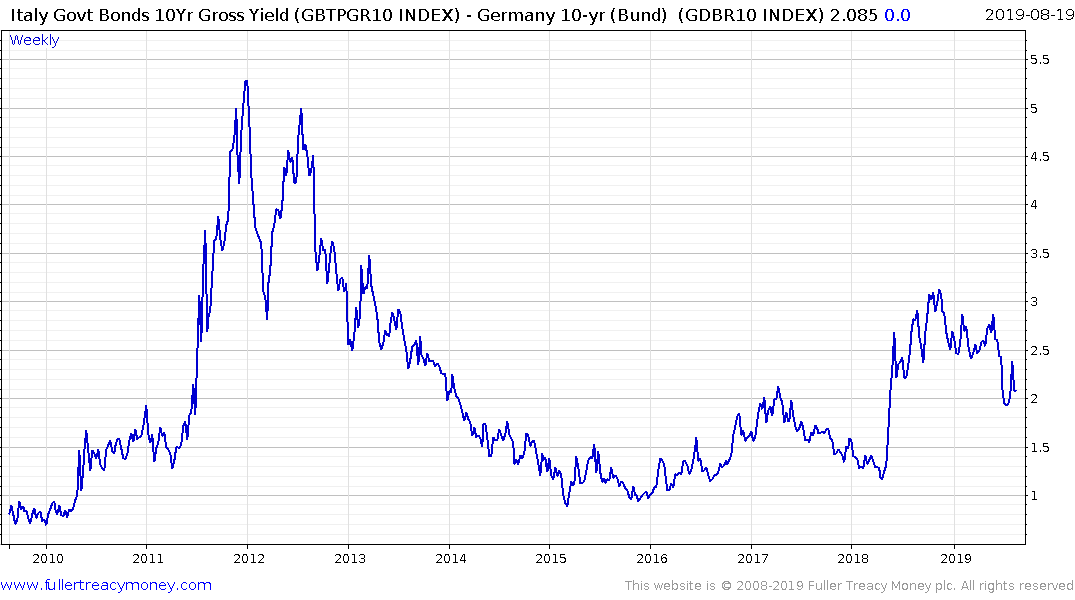 The clearest lesson from the EU's self-imposed sovereign debt crisis is governments can be brought to heel, regardless of their political leanings, when bond yields start to rise. Italian BTPs continue to compress and look likely to test the 1% levels last seen in 2015 and 2016. This demand is more about the continued compression of German Bunds than any particular evolution in the creditworthiness of Italy's government. The negative yield environment could not be coming at a better time for Italy.
Back to top