Italian Lender Carige Put Under Administration Over Capital Woe
This article by Ross Larsen for Bloomberg may be of interest to subscribers. Here is a section:
The latest boardroom exits were prompted by the rejection of its rescue plan, Carige said. Its top management were replaced in late 2018 after Malacalza won a board battle to pursue a capital-raising rather than a merger.

Italy's finance ministry is studying a plan under which Carige is bought for a symbolic price, possibly by UniCredit SpA, La Stampa reported Wednesday, without saying where it got the information. Such a deal might mirror Intesa Sanpaolo SpA's takeover of two Veneto-based banks with state support in 2017.
The painful contraction and rationalisation of the Italian banking sector continues with Carige representing the latest in a litany of failed lenders which have been unable to write off loans despite the fact they have no chance of being paid back. The result is Italy will be left with a handful of large institutions and the rest will be allowed to fail which will further concentrate risk and strengthen the ties between the state and the banking sector.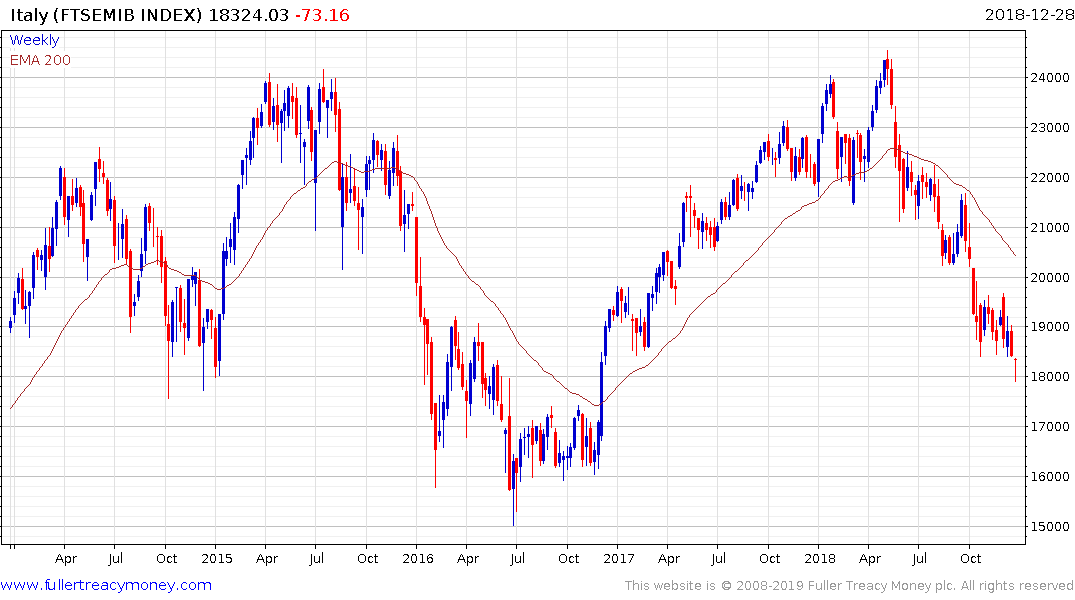 The FTSE MIB Index has been ranging since 2009/10. It failed to sustain the break above 24,000 in May and is now trending downwards towards the lower side of the range.
Back to top