It's Not The Virus: Mexico's Broken Hospitals Become Killers, Too
This article by Natalie Kitroeff and Paulina Villegas for New York Times may be of interest to subscribers. Here is a section:
Years of neglect had already hobbled Mexico's health care system, leaving it dangerously short of doctors, nurses and equipment to fight a virus that has overwhelmed far richer nations.

​Now, the pandemic is making matters much worse, sickening more than 11,000 Mexican health workers — one of the highest rates in the world — and depleting the already thin ranks in hospitals. Some hospitals have lost half their staff to illness and absenteeism. Others are running low on basic equipment, like heart monitors.

The shortages have had devastating consequences for patients, according to interviews with health workers across the country. Several doctors and nurses recounted dozens of preventable deaths in hospitals — the result of neglect or mistakes that never should have happened.

"We have had many of what we call 'dumb deaths,'" said Pablo Villaseñor, a doctor at the General Hospital in Tijuana, the center of an outbreak. "It's not the virus that is killing them. It's the lack of proper care."
The coronavirus has ripped through the perception of government effectiveness. That is particularly true of governments where lax standards of governance have been a systemic issue for decades. That makes dealing with a threat like the coronavirus all the more difficult because it is not something that can easily be overridden by false paperwork.
Mexico has one of the highest incidences of infection among healthcare workers. What that means is it will also have a workforce with antibodies a month from now. Between now and then the death count will continue to rise.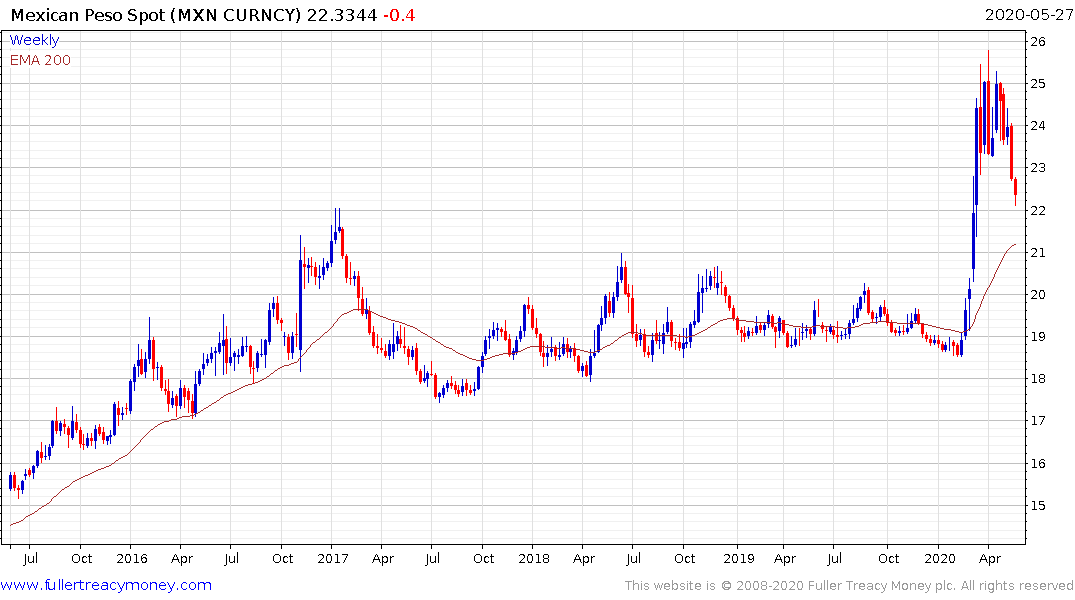 The Mexican Peso continues to rebound, not least because the Mexican administration has been reluctant to embark on a fiscal stimulus and the oil export hedge has stabilised revenues. However, the prospect of a severe recession represents a challenge if it leads to public protest movements at the intransigence of government to the plight of citizens.
This article from the Wall Street Journal highlights the similar risk of widespread infections across Africa. The massaging of figures, with a refusal to record deaths, midnight filling in of mass graves and an absence of medical personnel is a feature in many developing economies which raises the spectre of significant economic impacts for millions of people. There is no shortage of food in the world but ensuring it gets to the people who need it may be a challenge this year.
Back to top