It is Amateur Hour in Chinese Market as Penny Stocks Surge
This article from Bloomberg News may be of interest to subscribers. Here is a section:
Some individual investors, of course, try to be more selective than just focusing on the price. Shawn Gao, a 27-year- old bank manager in Chengdu, looks for shares that will benefit from government policy changes while using volume and momentum data to help guide his decisions. Even he admits, though, that he's sensitive to the absolute price level, staying away from stocks priced above 20 yuan.

What looks cheap to Chinese investors who focus on a stock's price may actually be expensive. Equities in the CSI 300 index trading below 5 yuan are valued at an average 25 times estimated earnings for the next 12 months, versus 13 times for the overall index, according to data compiled by Bloomberg.

The market impact of individuals who ignore corporate fundamentals is driving away some of the region's institutional investors, who are concerned speculative price moves will hurt performance, said David Gaud, a Hong Kong-based money manager at Edmond de Rothschild Group, which oversees about $158 billion.

"The market would need more institutionals and less leveraging on the retail side," Gaud said. "This is not liquidity which is of good quality at the end of the day."
The domestic Chinese investor has been absent from the market since 2008 and is only now returning. If we think about our experience of stock market tops and base formation completion, people are most worried about bubbles following a breakout when they are underweight. Following a multiyear advance when investors have so much confirming evidence of the bullish hypothesis and a vested interest in it continuing, there are fewer people proclaiming the existence of a bubble.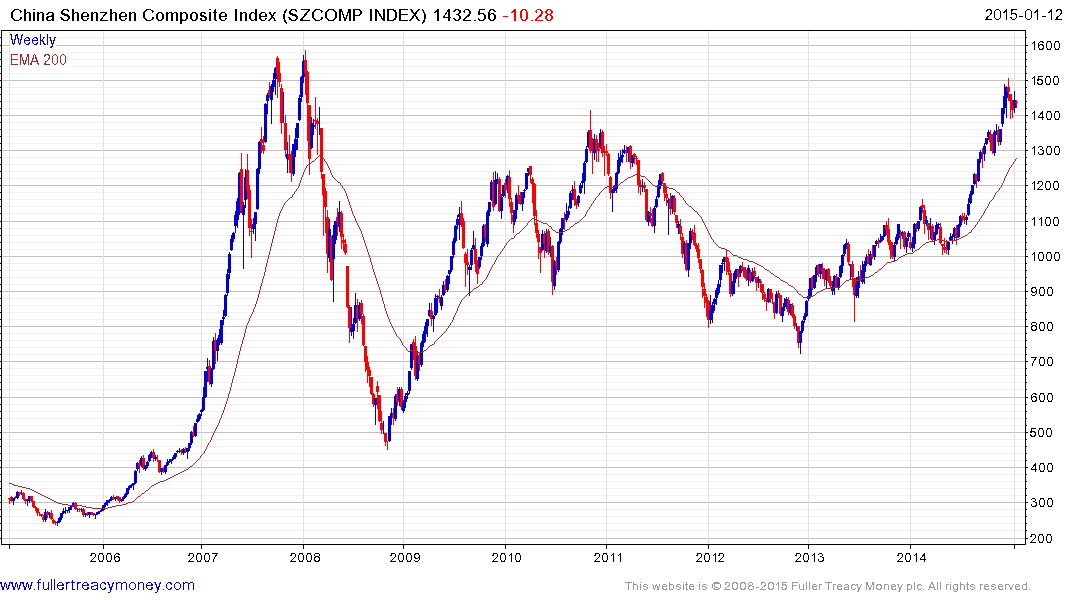 Following such an impressive breakout, it is reasonable to question how sustainable the situation is and this contributes to an eventual consolidation. However with valuations still attractive and a sea of potential buyers only beginning to get interested, the potential for a medium-term bull market is quite compelling.

In order to monitor the small cap segment of the market I added the Deutsche X-trackers Harvest CSI-500 China A-Shares Small Cap ETF to the Chart Library. The reference index bears a striking resemblance to the Shenzhen composite where smaller caps are generally listed. The Index has returned to test the region of the 2008 peak near 1500 and some consolidation of its recent gain is currently underway.
Back to top