Israeli elections primer: Final polls and what they mean
This article by Natan Sachs for the Brookings Institute may be of interest to subscribers. Here is a section:
The polls also suggest a great deal of uncertainty: Not only is the pro-Netanyahu advantage modest, but several small parties on both right and left have seen their vote totals hover around the electoral threshold for entrance into the Knesset. If they fail to clear 3.25 percent (nearly 4 seats), their votes would be discarded, potentially upending the equilibrium between the left- and right-wing blocs.

For Netanyahu, this election presents not only a battle for his political life, but possibly a battle for his personal freedom. The Israeli attorney general has decided to indict Netanyahu in three cases, including one charge of bribery, pending a hearing with the prime minister and his lawyers in July. Bibi's lawyers face the challenge of undoing what months and years of investigations have presented to the attorney general (a Netanyahu appointee). Barring their unlikely success, Netanyahu will need a coalition willing to keep him in power through one of two unpopular avenues. First, he could maintain the support of such a coalition while on trial for serious crimes (he would only have to resign by law if convicted). Or, better yet for Netanyahu, he could form a coalition willing to pass legislation granting the prime minister immunity from prosecution. With all these uncertain factors at play, it is possible that we see another round of elections before too long—maybe even within the year.
36% of the global population is voting this year with Israel and Turkey the most recent examples. And neither is going particularly smoothly. The underlying forces that are fomenting political populism are evident in most countries because the status quo has failed to deliver on rising standards of living, resulting in a much tighter focus on corruption and inequality. In a democracy like Israel, low turnout has exit polls showing either a dead heat of a win for the opposition which risks installing a left-wing government. Meanwhile in Turkey, Erdogan is intent on redoing the mayoral election in Istanbul because he did not like the first result which is a clear threat to the country's democratic basis.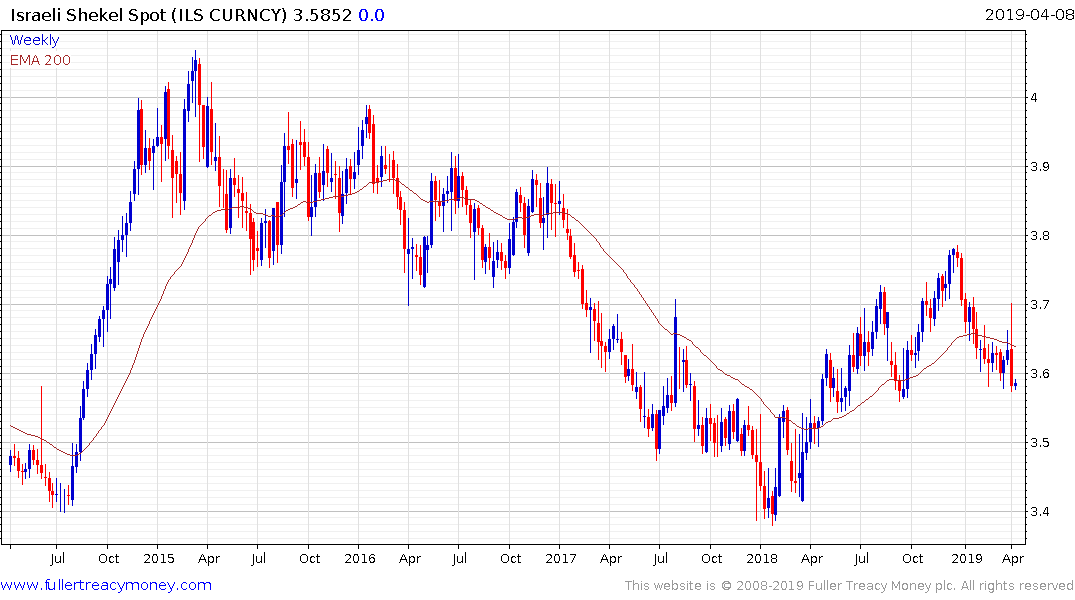 The Dollar has been ranging between 3.4 and 4 against the shekel for a decade and is currently falling towards the lower boundary.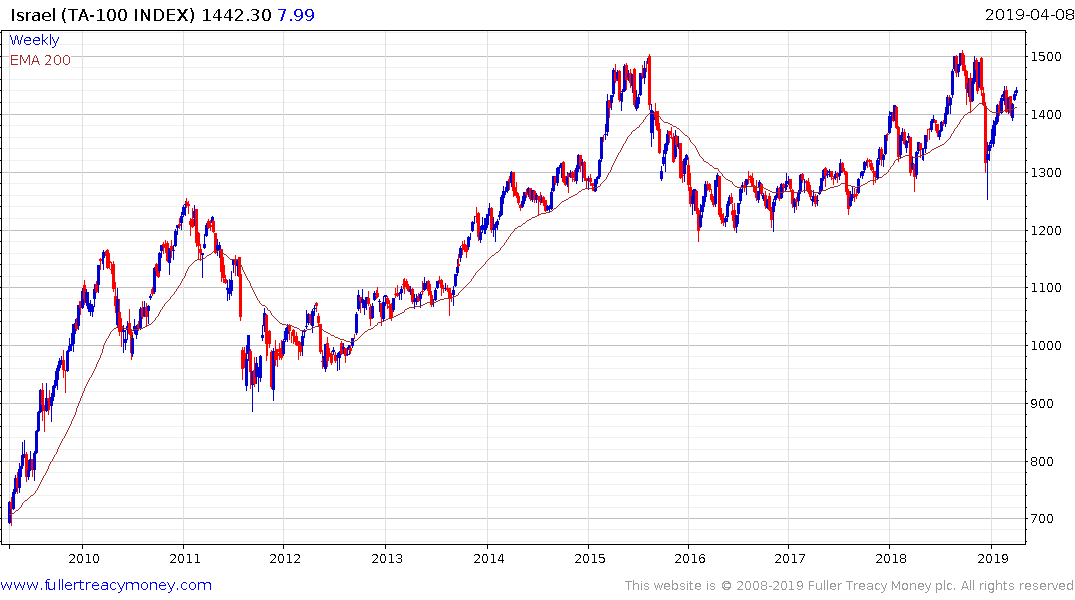 The Tel Aviv 125 Index is firming from the region of the trend mean and it moves back to test the upper side of the more than 4-year range.
Meanwhile the Turkish Lira, having unwound its oversold condition relative to the trend mean, is starting to weaken once more.
The National 100 Index needs to hold the 90000 level if support building is to remain credible.
Back to top