Iron Ore's Towering Rally Set to Roll Into 2021 as Mills Protest
This article by Krystal Chia and James Attwood for Bloomberg may be of interest to subscribers. Here is a section:
Once the biggest iron ore miner in the world, Brazil's Vale SA fell back to second spot last year after the devastating tailings dam collapse that killed about 270 people and triggered an overhaul of its waste storage facilities.

Vale is still about 100 million tons short of meeting the 400 million tons in output promised prior to the Brumadinho dam disaster. The recovery has been slower than expected, depriving the market of much-needed ore. Like its Australian rivals -- Rio Tinto Group, BHP Group and Fortescue Metals Group Ltd. -- Vale has prioritized value over volume. With current prices above $150 a ton and mining costs as low as $12 a ton, it's an approach that has reaped rich rewards.
BHP, Rio Tinto and Vale control the vast majority of the iron-ore market. They were very disciplined in refusing to raise production volumes for at least the first half of the commodity bull market. That supply inelasticity was the driver of a significant bull market and only came to a close when high price encouraged competitors into the market. Since then, many of the upstarts have gone bust. Supply might not be as concentrated as it was in the early 2000s but these companies still hold a lot of sway.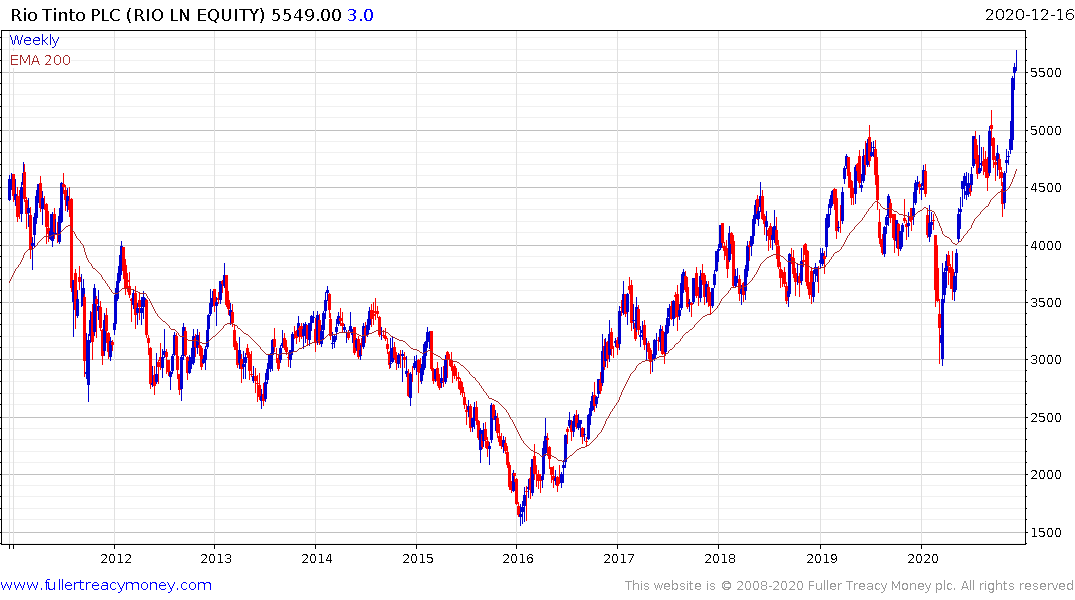 Rio Tinto briefly exceeded its 2011 peak this week and some consolidation of the short-term overbought condition appears likely.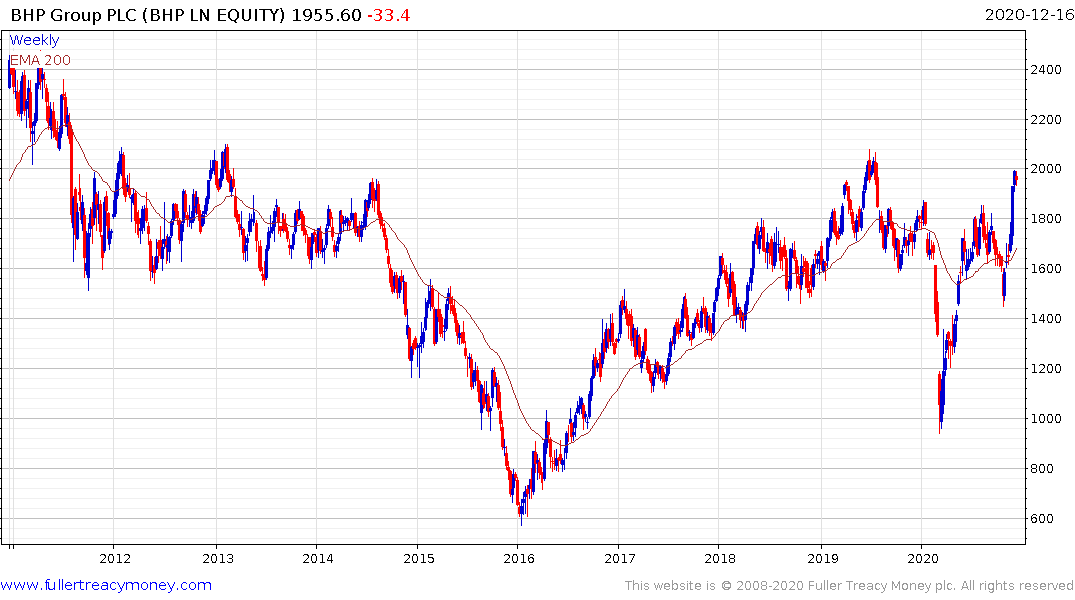 BHP also hit a new recovery high and may see some consolidation of recent gains.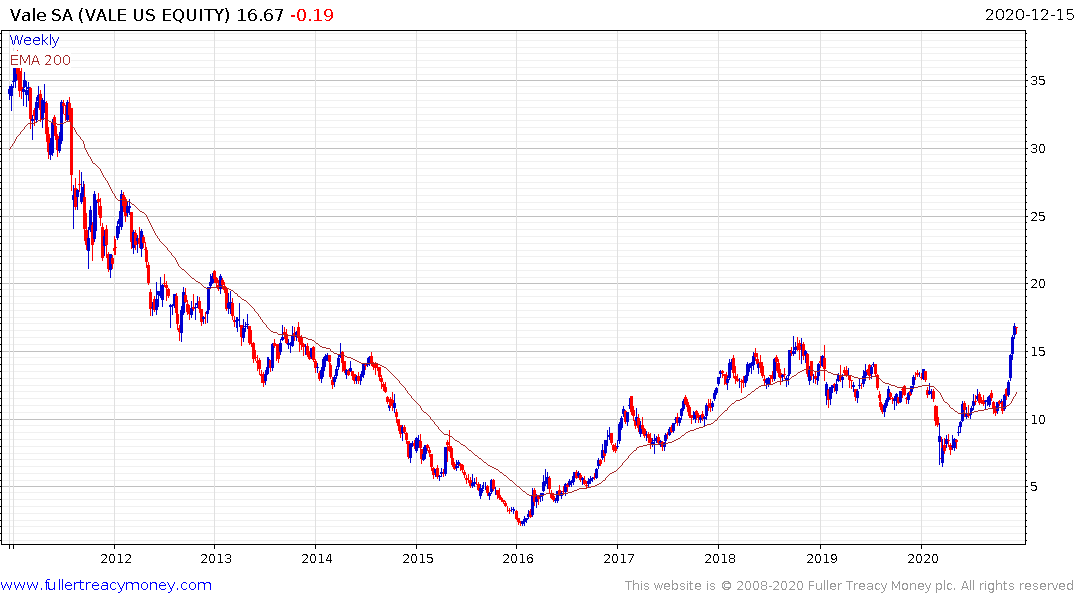 Vale has also hit new recovery highs but is come from a much more depressed level. It has a short-term overbought condition but could benefit from significant rerating if the mine disaster problem is brough to a close.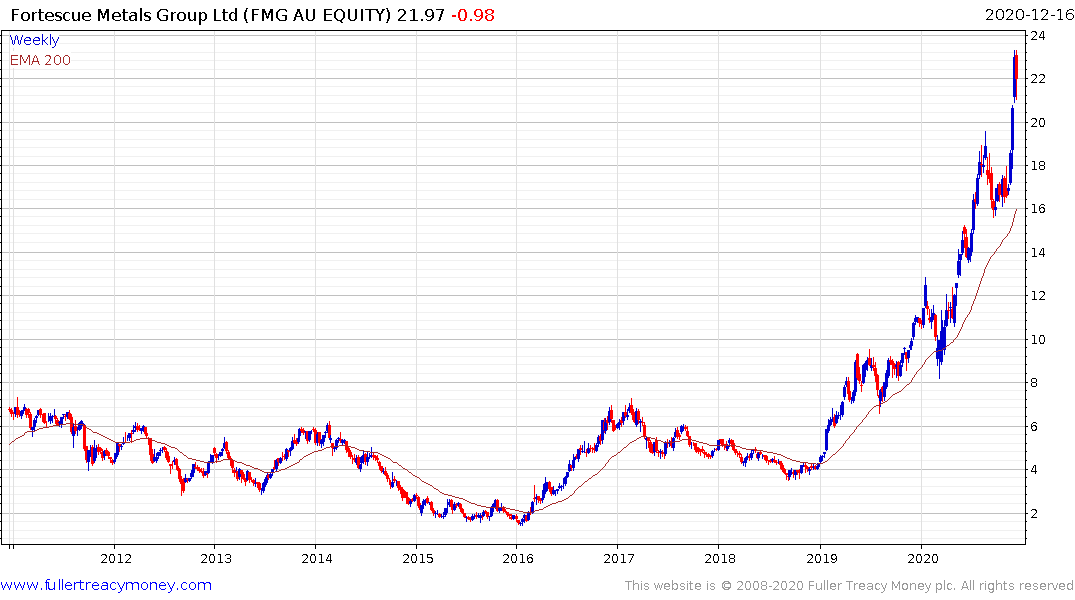 Fortescue Metals is highly leveraged to the iron-ore price as a pureplay. It has been trending higher in a step manner all year.
Back to top