Investors Signal Draghi Is Running Out of Time and Ammunition
This article by Paul Gordon, John Ainger and Piotr Skolimowski for Bloomberg may be of interest to subscribers. Here is a section:
While Draghi is using similar tactics to U.S. Federal Reserve Chair Jerome Powell in promising to react to any deterioration in the outlook, the challenge is that he's seen as having less room for maneuver. ECB rates are still at record lows and the balance sheet hasn't started to be wound down.

Moreover, he has less than five months left in office and there's no clear sign who his successor will be, nor whether they'll have the same commitment to the radical measures that hallmarked the Italian's eight-year term.

"The market believes Draghi's take on inflation is wishful thinking," said Christoph Rieger, head of fixed-rate strategy at Commerzbank AG, which predicts the ECB will cut the deposit rate toward the end of this year and extend its low-rate pledge to mid-2021. "The talk about contingencies is cheap, but to reverse the decline in inflation expectations he will have to walk the walk."

The ECB only ended their QE program in December so it is going to take some time to rebuild appetite for additional easing measures. The market is convinced of the need, particularly with German, Italian and French PMI's in negative territory, however the ECB is unwilling to act prematurely.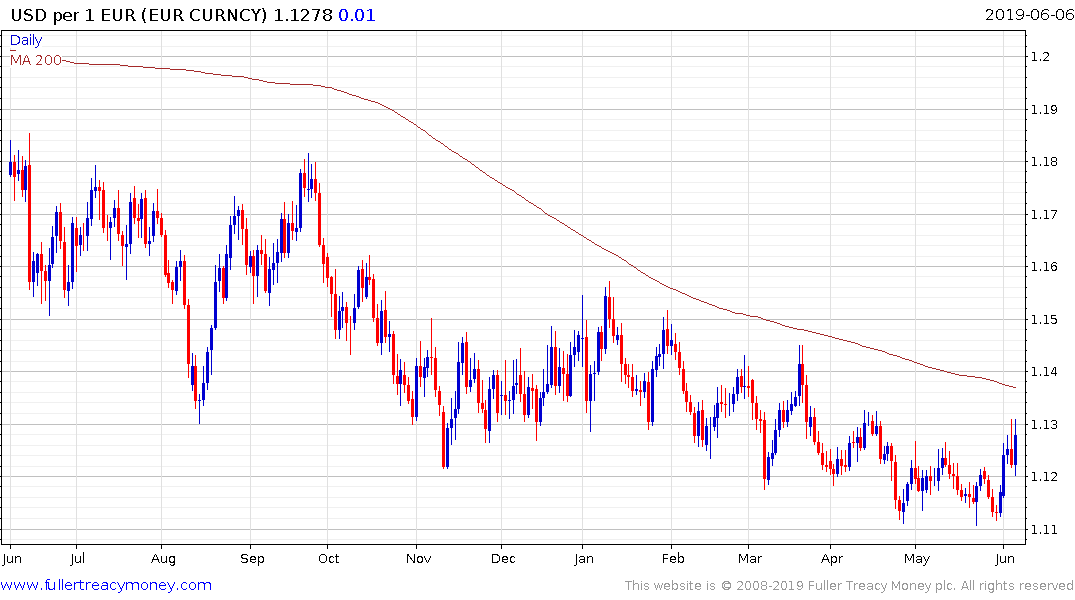 Meanwhile the clear conclusion reached over the last few days is the Federal Reserve is a lot closer to easing than the ECB and that is supporting the Euro. It retested the $1.13 level again today and the odds of it breaking its downtrend are improving.
One important consideration for the bond market is that it has been supported by unhedged foreign demand. Pundits have been making the case for months that hedging Treasury positions is too expensive to be viable but the Dollar's trend was so consistent there was plenty of room for unhedged positions.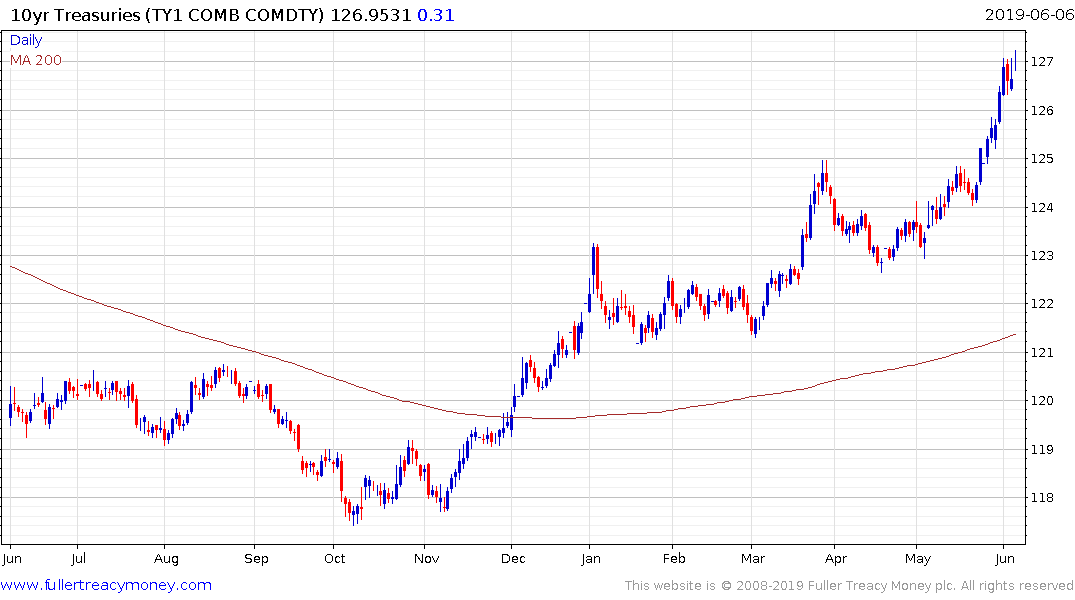 If the Dollar weakens, as appears likely, that is going to sap foreign demand for Treasuries. That suggests at least a pause is underway and the 125 level has to hold if the trend is to continue to be considered consistent.
Back to top