Investors Are Still Waiting for a Gold-Mining Merger Wave
This article by Alistair MacDonald and Ben Dummett for the Wall Street Journal may be of interest to subscribers. Here is a section:
Miners and bankers give a variety of reasons for why the gold mining merger wave hasn't come. The poor performance of gold miners' shares means that sellers want to hold out for better valuations and buyers are reluctant to use shares they believe are undervalued for acquisitions.

The S&P TSX Global Gold Index is down 51% since its 2011. The S&P 500 has doubled in value in that time.

The industry as whole has a poor record in M&A. Miners overspent during the decadelong bubble that ended in 2011. That put off investors and made some executives wary of doing deals.

In 2016, PwC calculated that big miners had written off $200 billion of the value in acquisitions and projects over the previous five years.

Executives may be reluctant for another reason, investors say. They don't want to put themselves out of a well-paid job by merging or selling their mines.
Ore grades at gold mines have been contracting for years but the massive investment in additional new greenfield sites during the bull market did not result in massive new sources of supply. Nevertheless, mining productivity remains high because production is more efficient today because of technological improvements.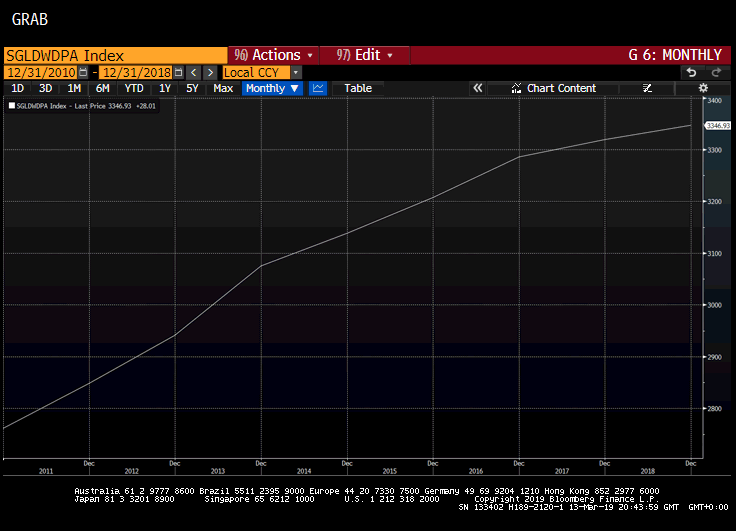 One of the clearest reasons there has not been more M&A activity in the gold mining sector is because the companies cannot source funding. The gold price has been stagnant over the last six years and many of the miners are highly leveraged already. Without some degree of comfort that prices are going to rise, banks are less willing to extend credit to the mining sector.
Standard Chartered was one of the most amenable banks to lending to the mining sector which resulted in a significant period of underperformance. That will likely have soured sentiment towards the sector. That unavailability to source credit is positive for shareholders because it reduces scope for speculative activity at the board level which has historically been bad news for shareholder value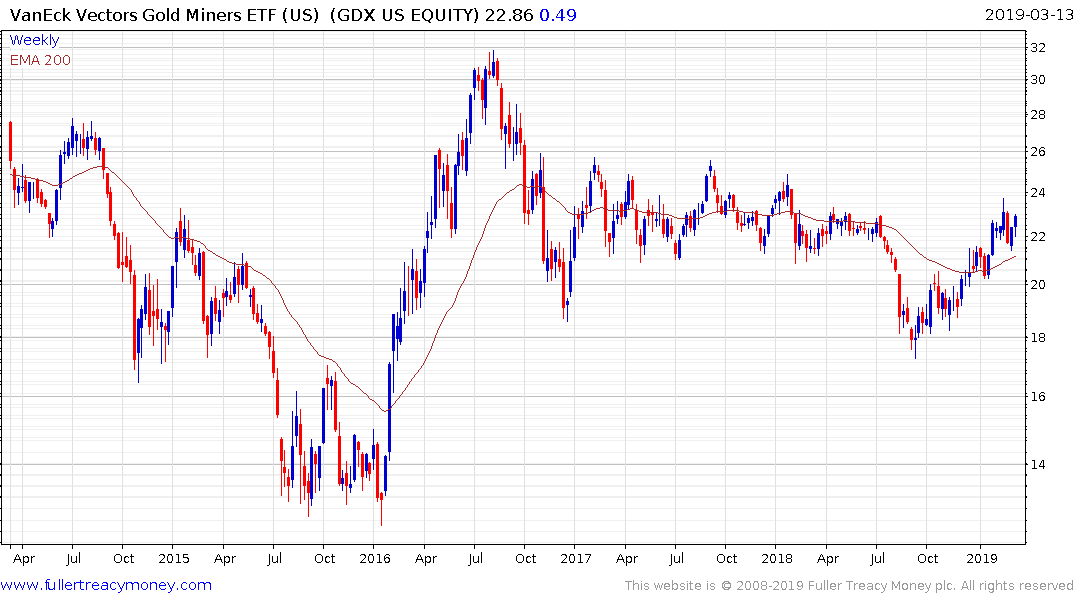 The VanEck Vectors Gold Miners ETF remains on an upward trajectory and found support in the region of the trend mean last week.
Back to top