Investment Implications of the Final Frontier
Thanks to a subscriber for this report from Morgan Stanley which may be of interest. Here is a section:
We estimate that the ~$350b Global Space Industry will grow into a $1.1+ Tr Global Space Economy by 2040. However, there is significant execution risk, and we, accordingly, estimate a wide range of potential outcomes, from ~$600 bn (-60 bps v. Global GDP) to ~$1.75 Tr (+400 bps v. Global GDP). Working with our aerospace & defense, internet, satellite, and telecom analysts, we estimate a $400 bn+ incremental revenue opportunity from providing internet access to under- or unserved parts of the world, and a ~$725 bn revenue opportunity for internet companies focused on social media, search/online advertising, and, in particular, e-commerce, if global internet penetration reaches 100%. Ultimately, this will depend on the success of the new low Earth orbit (LEO) satellites from players like OneWeb and SpaceX.

In the short to medium term, most of the value of the industry is linked to internet bandwidth. Satellite broadband is responsible for ~50% of the Global Space Economy, and ~70% of our Bull Case. The demand for data is growing at an exponential rate, while the cost of access to space (and, by extension, data) is falling by orders of magnitude. However, over the long term, the discussion expands to topics such as national security, research, deep space exploration, high speed travel, … even mining asteroids. In this report, we discuss the potential for the BFR from SpaceX to disrupt the freight transportation industry.

Space is the "ultimate high ground" for national security. With the United States military's expenditures exceeding $600 bn/ year, and global military expenditures ~$1.7 Tr, compared to NASA's budget of ~$20 bn, there appears to be substantial room to increase the investment in space. While we expect the topic of space to increase in importance, our view is balanced by a recognition of realworld budgetary constraints, and other priorities.
Here is a link to the full report.

How do companies that depend on the number of internet users reach the 3 billion or so potential customers not already under their purview? For leading technology/social media companies it's a big question because it is what their continued organic growth depends on. That is why investment continues to pour into space related ventures.
There are plans to pepper the sky with nanosatellites so that internet can be delivered to everyone everywhere. Meanwhile the invention of reusable rockets is a gamechanger because combined with the small scale of satellites the cost of getting them into orbit is on a secular downward trend.
The defense sector's bull market is already well understood and it has much to gain from the opening space up to greater commercial utility. However, what I found particularly interesting about this report were the conclusions relating to the internet related businesses that should benefit from greater access to more people.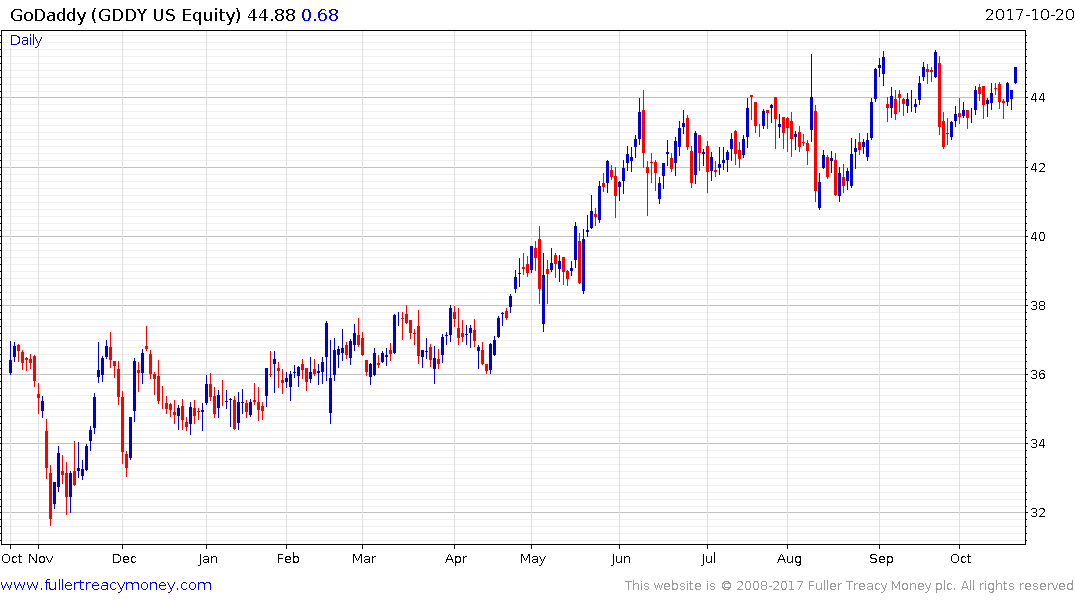 For example, two relatively recent IPOs are worthy of mention. GoDaddy IPOed a year ago and has been largely rangebound since June. It is now retesting the upper boundary and a clear downward dynamic would be required to question medium-term scope for additional upside.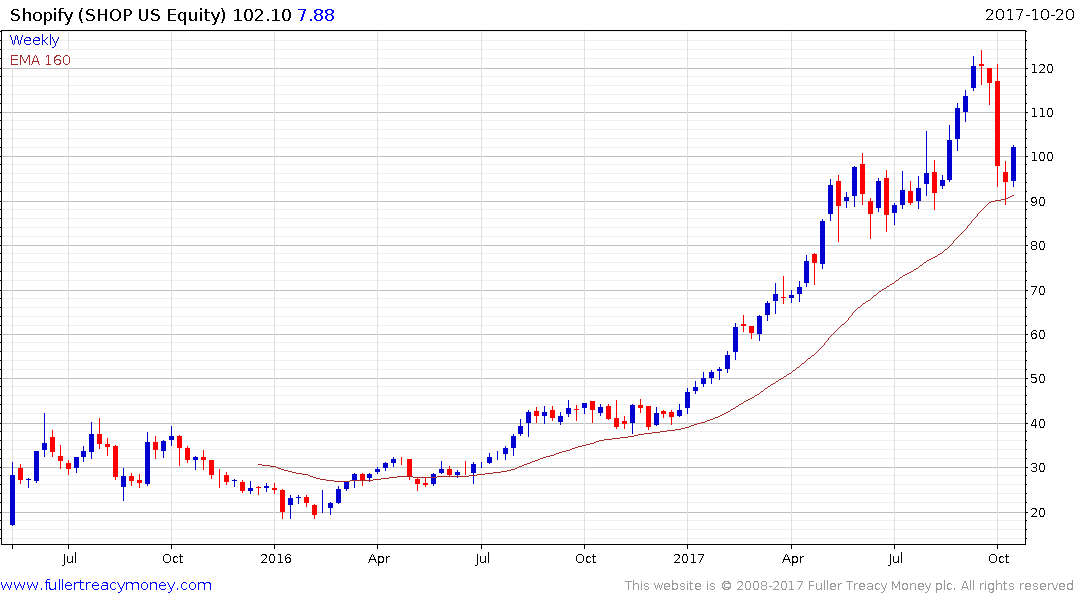 Shopify pulled back sharply earlier this month on a bear raid but has stabilized in the region of the trend mean and a sustained move below it would be required to question medium-term scope for additional upside.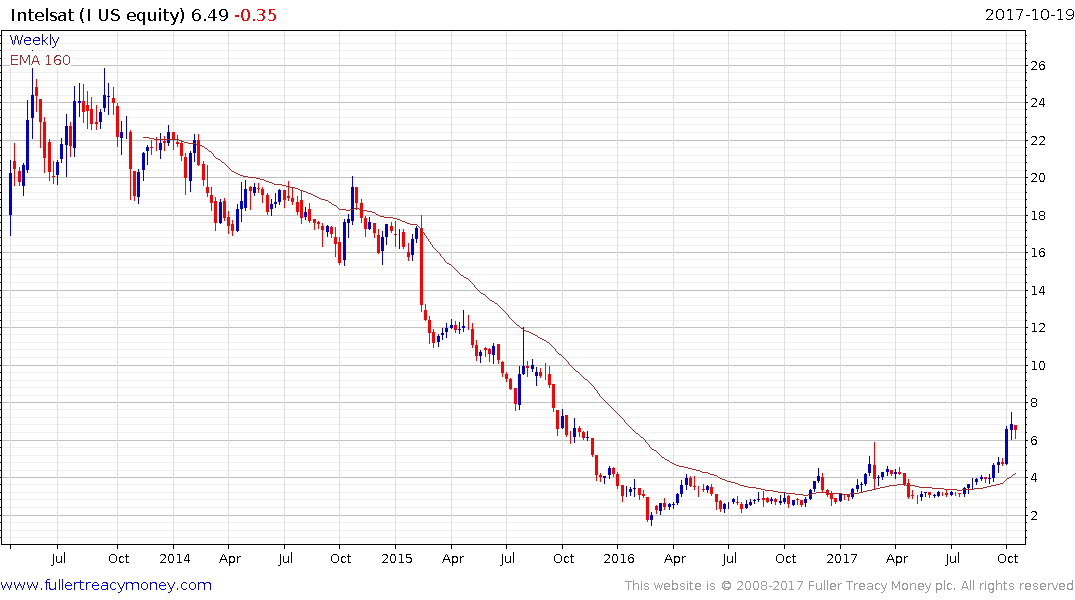 Intelsat broke out of a more than yearlong base earlier this month and a sustained move below $4 would be required to question recovery potential.
Back to top